---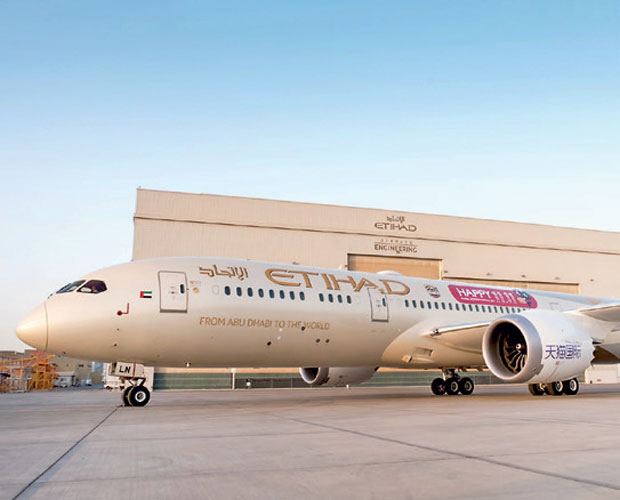 Etihad Airways in collaboration with Alibaba's Tmall and Alitrip will debut a specially branded aircraft livery for the 11.11 Global Shopping Festival 2017.

Five aircraft emblazoned with this special 11.11 exterior will depart from Abu Dhabi travelling to four destinations in Greater China - Beijing, Shanghai, Chengdu and Hong Kong. In the coming month, these five aircraft will carry this unique branding to over 40 cities across Etihad Airways'
global network.

China has over 721 million internet users and the e-commerce industry in China has grown continuously over the past decade. Tmall is the lead player in the country's e-commerce industry. Its 11.11 Global Shopping Festival has quickly become the largest and most influential online shopping festival in China.

China is the UAE's second-largest trading partner. This partnership proactively executes China's 'Belt and Road' initiative, facilitating economic ties and cultural exchange between China and the UAE. At the same time, it takes Chinese culture to Europe, the US and Africa via the Abu Dhabi hub.
From the 20th of October, five Etihad Airways' aircraft complete with the new branding will officially take to the skies over a five day period. These five aircraft include three types from the airline's modern fleet - two Boeing 787 Dreamliners will fly to Shanghai and Beijing, with two Airbus A330 aircraft flying to Chengdu and Hong Kong. Additionally, one Airbus A380 aircraft, featuring Etihad Airways' award-winning First Apartments and The Residence cabins, will fly to London, New York, Sydney and Paris. Together, these five aircraft will fly via the Abu Dhabi hub to Etihad Airways' destinations in Asia, Australia, Europe, the Middle East, Africa and the Americas. Over the course of the next month, they will carry the 11.11 branding to over 40 global destinations, carrying hundreds of thousands of travellers around the world.

To further celebrate the Tmall 11.11 Global Shopping Festival, Etihad Airways will work with their partners and top English Premier League team Manchester City Football Club to share messages celebrating 11.11. 111 lucky guests who book travel to the UK during the promotion will be eligible for tickets to see Manchester City play Chelsea at the Etihad Stadium in March 2018. Elements of the 11.11 promotion will be seen at the football club's home, the Etihad Stadium, as well as in Abu Dhabi International Airport and in Etihad Airways' inflight magazine, Atlas. These efforts are designed to drive the promotion of the 11.11 event which is aligned to Tmall's concept of 'Global Buying, Global Selling'.

Etihad Airways continues to build on its long-term relationship with Alibaba Group. The airline signed a partnership agreement with Alitrip to launch its first online flagship store in February of this year. With access to nearly 200 million registered Alitrip users, the online store has significantly enhanced Etihad Airways' digital reach in the Chinese market and made its remarkable products and services even more accessible to
Chinese guests.

By seizing the opportunities presented by the Tmall 11.11 Global Shopping Festival 2017, the two parties will expand their innovative partnership across the e-commerce arena. The two brands will continue to work together with the ultimate goal of improving their awareness and influence in the global marketplace.

Etihad Airways possesses a strong global network and best-in-class innovative technologies and services, while Tmall boasts a complete commercial ecosystem and significant big data resources. With these complementary strengths, the two parties expect even broader cooperation over time. In the near future, they will continue to discuss detailed cooperation plans for mobile payment, big data support, as well as tailored promotion, respective membership programmes and ancillary services to improve passengers' comprehensive travel experience.

Etihad Airways Commercial Executive Vice President Mohammad Al Bulooki said: "Alibaba is a very important partner for Etihad Airways. As a global airline, we continuously research and deliver services to meet our Chinese customers' needs and strive for improvement in all areas of our operation. China is an important growth market and we need to follow the market trends. Etihad Airways will work closely with Alibaba to lead the way and deliver on the high customer expectation in China, and to promote Abu Dhabi in this rapidly developing marketplace."

Alibaba Group Vice President and Alitrip Vice President Hu Chenjie said: "We are delighted to enter into this special cooperation with Etihad Airways, a prestigious, world-leading airline. With the power of Etihad Airways, we can enhance global passengers' awareness of both the Alibaba and Alitrip brands, allowing the ecological chain we painstakingly built to reach more passengers worldwide. Guided by Alibaba's global strategy, we partner with Etihad Airways, helping consumers to experience unique global destinations, especially emerging destinations such as Abu Dhabi, the rest of the UAE, as well as the Middle East and Africa."