---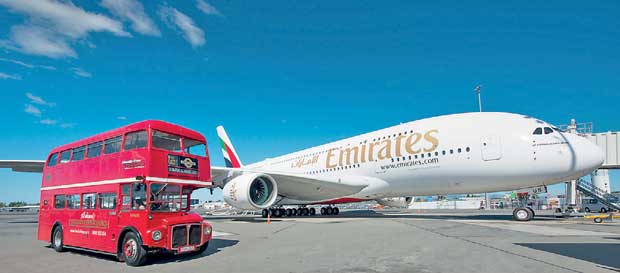 Emirates' much-anticipated one-off A380 flight to Colombo on August 14 reflects the airline's commitment to the destination and its tourism industry and is an opportunity for Bandaranaike International Airport (BIA) to show the world that it is 'A380-ready' for when demand for travel to Sri Lanka necessitates scheduled flights with this iconic twin-deck super-luxury airliner, says Emirates Area Manager Sri Lanka and the Maldives Chandana de Silva in this interview.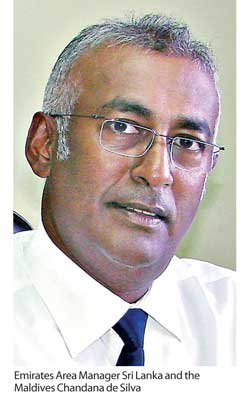 Excerpts:
An Emirates A380 aircraft is due to land at BIA on August 14. Why all the excitement?
It is because the A380 represents all things that are exciting in air travel. Although it has been in service for nine years, the A380 remains the most talked about passenger aircraft in the world today. One reason is its size, luxury features and eco-friendly aspects. The other is the fact that relatively few airports are served by the A380 aircraft. Airport runways, aerobridges and other infrastructure must conform to the specifications required for the A380 and there should be adequate passenger demand for a destination to justify A380 flights. For BIA specifically, the one-off Emirates A380 flight scheduled for August 14 is the first-ever commercial service operated with this aircraft and it is an opportunity for the airport to establish its capability of handling A380 flights, after the recent resurfacing and upgrade of the runway.

Let's talk about the size and features first. How large is the A380?
The A380 is 73 metres long, has a wingspan of 79.8 metres and is 24.1 metres in height. Its cabin length is 50.68 metres, making the aircraft's floor area 49 percent bigger than that of a Boeing 747-400 and able to accommodate 35 percent more seats. The A380 is the world's only twin-deck, two-aisle airliner and has the widest cabin of any aircraft in the world. Emirates operates the A380 in three configurations offering between 489 and 604 seats. The aircraft can be configured to carry more passengers, but we have also devoted a lot of space for passengers to relax in during the flight.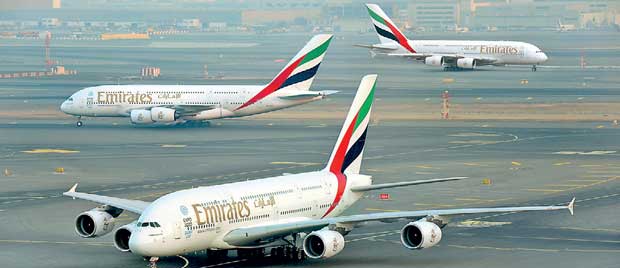 That's one of the aspects that makes the A380 iconic, isn't it?
Yes. Among the first things people talk about in relation to the Emirates A380 are the on-board shower spas, passenger lounges and First Class private suites with lie-flat beds, electrically operated door, mini bar, reading lights, work desk with built-in illuminated vanity mirror, room service, digital widescreen TV, etc. It is the ultimate in luxury air travel. The two shower spas located in the First Class cabin consist of a shower cubicle with water temperature/time control, vanity unit and wash basin, hairdryer, full-length mirror, clothes changing area and toilet. The First Class passengers also have the use of a fully-stocked bar, situated at the front of the First Class cabin on the upper deck and both the First and Business Class passengers have exclusive use of a Lounge situated at the rear of the Business Class cabin on the upper deck. In addition to a fully stocked bar containing premium branded liqueurs and spirits and a selection of hot and cold canapés and snacks, there are two sofas and a 42-inch LCD screen showing the aircraft's position and views from its external cameras. Mood lighting creates a calming ambience.

Carrying all this, one would expect the A380 to be a fuel guzzler, but you mentioned eco-friendly aspects. Please explain?
The beauty of the A380 is how environment-friendly it is. The A380 burns up to 20 percent less fuel per seat than today's next largest aircraft. The aircraft is actually more fuel efficient than a small family car, with fuel economy as low as 3.1 litres per 100 passenger kilometres. The engines chosen by Emirates for the A380 save a further 500,000 litres of fuel per aircraft per year than other engine alternatives, a key environmental benefit. In terms of emissions, the A380 produces only 75g of CO2 per passenger kilometre. It is also a very quiet aircraft, generating less than half the noise of a Boeing 747-400 on take-off.

Emirates has also won many awards for its in-flight entertainment system, which presumably is part of the A380 experience?
It certainly is. The Emirates A380 offers unparalleled entertainment on demand in all classes with our ice system and inflight connectivity through in-seat text, email and telephone services, as well as mobile and Wi-Fi services. The ice system offers more than 2500 channels of visual and audio entertainment including the very latest movies, music, audio books and games, so there is something to interest every member of a travelling family.

Is Emirates happy with the returns on its investments on A380 aircraft?
Emirates is the world's largest A380 operator with 96 aircraft already in its fleet and a further 46 on order, so the answer to your question is an emphatic 'Yes'. The A380 is the flagship of our all wide-body fleet and is extremely popular with travellers for its comfort and industry-leading on-board features. Since 2008, we have flown over 80 million passengers on our A380 fleet, and, as I mentioned earlier, it remains an aspiration of travellers the world over to experience the Emirates A380. I have no doubt that our A380 fleet is an important element in our success as a global airline.

But, as you also said, there are many destinations as yet not served by A380 flights?
That is also part of the future potential for this aircraft. On the positive side, Emirates currently operates A380 flights to 48 destinations, almost a third of our global network, and more than any other airline. Customers in Sri Lanka can experience Emirates' double-decker aircraft by connecting through our Dubai hub to Emirates' A380 destinations. Our A380 destinations are spread across North and South America, Europe, Australia and New Zealand, the Middle East, Russia and the Far East, so the chances of flying an A380 are quite high. With its quiet cabins, on-board lounge and shower spas in premium cabins, Emirates' A380 offers products and services that are unparalleled in the industry, giving all our passengers on board an unsurpassed travel experience.

Coming back to the A380 flight to Colombo, how important is it to the country, given that it is a one-off flight?
This one-off flight is a great opportunity for Bandaranaike International Airport to show the world that it is A380 ready, and that the world's largest A380 operator – Emirates – has already operated a commercial flight. Given the government's focus on developing tourism, this is an important development. Emirates' willingness to operate this flight, even on a one-off basis, reflects the strong relationship the airline has with the market and its commitment to the destination. It means that when demand for the destination grows, as it definitely will, to the point that a scheduled A380 flight is feasible, Emirates will be ready to operate on that basis.