---

4PL provider and supply chain integrator Eagle Logistics celebrated its 12th business anniversary last week with all religious activities at their corporate office in R.A. De Mel Mawatha Colombo 03.

Eagle Logistics started Business 2005 with three staff members and today the company has grown to a staff strength of over 100 with five offices in Sri Lanka and two offices in Maldives and India. The company started business as a traditional air freight export forwarder and today company is one of the innovative supply chain logistics provider to the import industry in Sri Lanka.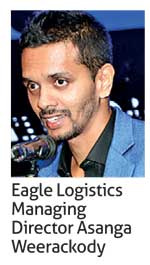 The company considered supply chain management is important as a logistics provider since logistics is being part of same. Managing Director Asanga Weerackody said that dealing with customers cargo booking coupled with origin and destination services is considered as traditional freight forwarding since global business practices changed, and supply chain managements became gaining ground.
With this change we realised the potential of being part of supply chain management and understand the whole process is important. So we started to offer multiple services other than the co-products.
Further, Weerackody said that 4PL is one of the areas the company is looking at now as it is a need to the industry. Most of the global FMCG companies here in Sri Lanka are looking at outsourcing their regular routine activities and there is no forwarder to take this burden from logistics industry in Sri Lanka as they only geared to service the export trade.

Eagle Logistics Colombo is the only forwarder in Sri Lanka who organise awareness public programmes with various import regulators such as NMRA, customs, import control and also supply chain management.

'Think Different' is the company theme and it is been practiced all the time during these 12 years; starting from recruitment where the company never recruited employees from any competitor and all the employees started their freight forwarding carrier at Eagle Logistics. HR Head Christine Jennifer stated that grooming new comers is interesting as they are fresh and they come from different backgrounds. "The first few months we understand their weakness and strength and then we match that with the position and it's always successful." DGM Ashan Fernando who is taking care of the whole operation said that he started his carrier at Eagle Logistics as a junior executive 10 years ago and the company HR policy help young inexperience people to join the logistics industry which is always looking for staff with experience.

Eagle Logistics expanded its wings to India by opening up their first office in Chennai on January 2018. The company has already set up the structure and business will commence with international freight and 4PL.