---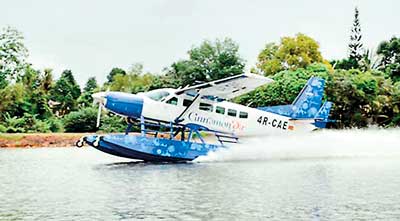 Cinnamon Air, Sri Lanka's premier domestic airline, now offers daily scheduled flights to Hambantota (Mattala Rajapaksa International Airport) from Colombo's Bandaranaike International Airport (BIA) and Cinnamon Air's secondary hub, Kandy.

Since inception in December 2013, Cinnamon Air has been progressively expanding its coverage through scheduled services to additional destinations around the country. Hambantota and its surrounding regions are attracting an increasing number of tourists due to its proximity to National Parks, good beaches, and a plethora of new hotels. In order to offer a hassle-free and comfortable travel option to this region, Cinnamon Air has expanded its daily scheduled service to serve Hambantota from Colombo via Kandy.

Flying to Hambantota from Colombo or Kandy takes less than an hour compared to 5 - 7
hours by road. In addition to stress-free and significantly shorter journeys, passengers travelling with Cinnamon Air experience the glories of Sri Lanka with a stunning bird's-eye view of the island along the journey.

Speaking on the new flight, Cinnamon Air Director Romesh David said, "Cinnamon Air has recognised the value of adding these new scheduled flights that provide visitors with quicker and convenient access to regions in the Deep South, Yala, Udawalawe and even Ella in the hill country. Through innovative and efficient service offerings, Cinnamon Air continues to expand the choices available to tourists who are now able to have combination experiences that would otherwise not be possible. This improved connectivity greatly adds to the value proposition of a multi-dimensional Sri Lanka experience in the compacted time-frames available to new age travellers"

All Cinnamon Air scheduled flights operate in code share with SriLankan Airlines, consequent to which they are also be available for sale throughout the SriLankan Airlines network and all Travel Agents around the world via Global Distribution Systems, under a "UL" designated flight number.