---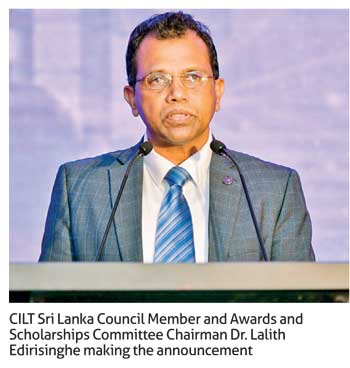 The Chartered Institute of Logistics and Transport Sri Lanka (CILT Sri Lanka) proudly announced the launch of 'CILT Sri Lanka Logistics Excellence Awards and Scholarships 2018' at the recently concluded CILT International Conference, held recently at The Kingsbury.

The Logistics and Transport industry is a vital component of the Sri Lankan economy and, as the leading professional association for the industry, CILT Sri Lanka wishes to recognise and celebrate the exceptional contributions that organisations and individuals have made to take the industry to new heights and enhance the contributions to the national economy.

Furthermore, as an effort to advance the knowledge and expertise of new entrants and youth in the industry, and contribute to their overall capacity enrichment, CILT Sri Lanka plans to award scholarships to students to support them to be the future leaders of the industry. "CILT Sri Lanka believes that industry recognition and capacity building would go a long way in developing the industry and augmenting the performance of the Logistics and Transportation sector," commented CILT Council Member and Awards and Scholarships Committee Chairman Dr. Lalith Edirisinghe.

The CILT Sri Lanka Logistics Excellence Awards candidates are to be considered under two categories, namely Individual and Corporate. The award for the individual category would be a 'Lifetime Achievement Award' bestowed on an individual who has an outstanding track record in the Transport and Logistics Industry. Similarly, there will be three awards under the corporate category to recognise the most outstanding organizations in the Transport and Logistics Industry. The three corporate awards will represent large, medium, and small categories.

Logistics and Transport education would be the key to capacity building efforts. Therefore, CILT Sri Lanka wishes to offer academic scholarships. Under the scholarship programme, CILT Sri Lanka declared that a variety of scholarships will be offered for study courses in Logistics and Transport at Diploma, Undergraduate, and Postgraduate degree levels.