---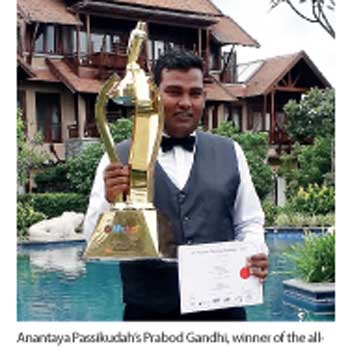 Demonstrating the resort's affinity towards finer things in life and the skilled staff that it employs, one of Anantaya Resort and Spa Passikudah's star mixologists, Welu Kadiragamu Prabod Gandhi triumphed over 15 other mixologists to win the 25th National Mixology Championship organized by Free Lanka Trading.

The 25th National Mixology Championship 2017 was conducted by the Free Lanka Trading Company in association with The Hotels Association of Sri Lanka (THASL).

Anantaya Resorts and Spas is a subsidiary of Laugfs Leisure and its five-star resort in Passikudah provides luxurious elegance for guests with 55 rooms, villas and suites combined with spa facilities situated in a quintessentially beautiful location. The resort's signature architectural beauty and service excellence continues to attract many foreign and local guests.

Gandhi joined the Laugfs family in 2016 and has since been fine-tuning his skills at Anantaya Resort and Spa in Passikudah. Gandhi's innate talent won him many awards and recognitions including the first place in the North-East region at the National Mixology Competition 2016 organized by Free Lanka Trading. In the year 2017, he clinched the Bronze medal in the category for 'Innovative Beer Cocktail at Chefs Guild Culinary Art Competition' organized by the Chef's Guild Sri Lanka.

"Gandhi is a true talent and his versatility and creativity is something we all at Anantaya Resort and Spa admire and promote at the core of our approach to hospitality. It was a pleasure to assist this young talented professional and encourage him to take part in many mixology competitions. This achievement by one of our employees reflects the essence of our service excellence and the integral desire to offer our guests the best in class hospitality and entertainment," commented Laugfs Leisure Director/Chief Executive Officer Roshan R. Perera.

Anantaya Resort and Spa Passikudah is a 15-acre exquisite beach front property that combines eco-friendly design concepts with opulence. The allure of the sea and the surrounding beauty lends an additional charm to the luxurious rooms, suites and villas adorned with an eye for refinement by expert international designers.

The ingenious design concept of the property also incorporates a built-in energy saving system.
The open-spaced style uses natural lighting to illuminate the interior while the buildings themselves are constructed from naturally available material from the region itself. The result is a harmonious blend of subtle tones, minimalistic lines and contours that highlight the natural hues and textures of the region.