---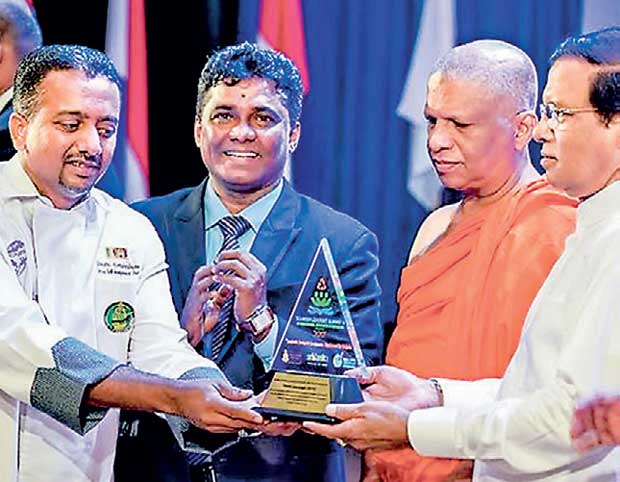 Aitken Spence Hotels' star chef, Dimuthu Kumarasinghe was recognised at the recently held Tourism Leaders' Summit and International Research Symposium Sri Lanka 2017 for 'the most outstanding contribution for industry leadership for development and promotion of Sri Lankan gastronomic tourism'.

Presented by the Alumni Association of Tourism Economics and Hospitality Management, Department of Economics and the Faculty of Arts of University of Colombo, Chef Dimuthu was the only recipient of the 'Excellence in industry leadership award' at the event.

Popularly known as DK, Chef Dimuthu has been a stalwart in the Aitken Spence Hotel chain since his return to his island home from Australia in 2000, and has brought immense glory to the company and the country. Overseeing a culinary team of over 700 chefs, Chef Dimuthu currently acts as the Group Skill Development Chef and the Culinary Brand Ambassador for Aitken Spence Hotels.

"I am very proud to have won this award," Chef Dimuthu said. "My passion for the fine art of cuisine has brought me a long way, and has enabled me to win numerous awards and titles for my country as well as my company. I owe everything to Aitken Spence Hotels for their relentless faith in me and to veteran Chef and Vice President Consultant of Aitken Spence Hotels Gemunu Goonawardene who trained me and enlightened me on the finer details of gastronomy."

The only chef in the world to ever win nine gold medals in individual events held at two separate competitions – five golds at Culinary Olympics 2004 and four golds at Culinary World Cup 2006 and national pastry team winner in Culinary Olympics 2012, Chef Dimuthu is also a Presidential Award winner for Travel and Tourism Service Excellence.

Having created the world's most expensive edible cake and being the World Record holder for Creating the World Smallest Wedding Cake in 2015, his capabilities have been duly recognised world over.

He holds varied honorary distinctions from culinary organisations from around the world including Honorary Life Member and Head Coach of the Golden Horseshoe Culinary Team Canada, at Vatel Club Luxembourg, South Indian Culinary Association, Saudi Arabian Chef Association, Turkey Chef Association, Emirates Culinary Guild and Ukraine Culinary union. He was also recently appointed as a Jury Member in the International Culinary Competitions and serves as the President of Chefs Guild of Sri Lanka (Sri Lanka's Association of professional chefs) from 2015 to date.