---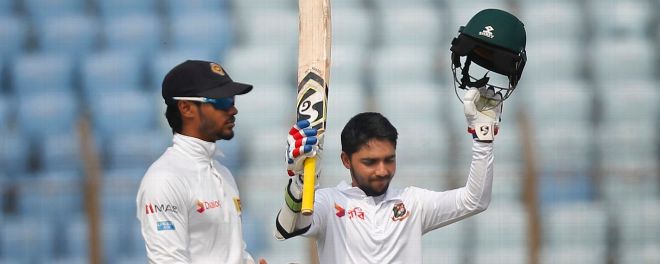 (Reuters) - Mominul Haque became the first Bangladesh cricketer to hit a century in each innings of a test match as he and Liton Das helped the hosts secure a draw in the first test against Sri Lanka on Sunday.
Beginning the final day 119 runs behind and with seven second innings wickets in hand after Sri Lanka had declared their first innings on 713 for nine, Bangladesh needed to bat out three sessions to save the match.
They eventually succeeded in their mission as Mominul followed up his 176 in the first innings with 105 and Liton made 94 after Bangladesh had resumed on 81 for three.
The duo batted through the morning session to frustrate Sri Lanka, their 180-run stand coming to an end when spinner Dhananjaya de Silva had Mominul caught in the slip.
Stand-in skipper Mahmudullah faced 65 balls in his unbeaten 28 as Bangladesh reached 307-5 when players from both sides shook hands with 17 overs remaining in the batsman-dominated contest in which 1533 runs were scored for 24 wickets in five days.
Dhaka hosts the second and final test from Thursday.
Bangladesh 1st innings
Tamim Iqbal b Dilruwan Perera 52
Imrul Kayes lbw Lakshan Sandakan 40
Mominul Haque c Kusal Mendis b Rangana Herath 176
Mushfiqur Rahim c Niroshan Dickwella b Suranga Lakmal 92
Liton Das b Suranga Lakmal 0
Mahmudullah Not Out 83
Mosaddek Hossain c Lakshan Sandakan b Rangana Herath 8
Mehedi Hasan Run Out Lahiru Kumara 20
Sunzamul Islam st Niroshan Dickwella b Lakshan Sandakan 24
Taijul Islam b Rangana Herath 1
Mustafizur Rahman c Niroshan Dickwella b Suranga Lakmal 8
Extras 0b 0lb 4nb 0pen 5w 9
Total (129.5 overs) 513 all out
Fall of Wickets : 1-72 Iqbal, 2-120 Kayes, 3-356 Rahim, 4-356 Das, 5-376 Haque, 6-390 Saikat, 7-417 Miraz, 8-475 Islam, 9-478 Islam, 10-513 Rahman
Bowling Ov Md Rn Wk Econ Ex
Suranga Lakmal 23.5 4 68 3 2.85 1w 2nb
Lahiru Kumara 15 1 79 0 5.27 1w
Dilruwan Perera 27 4 112 1 4.15 2nb
Rangana Herath 37 2 150 3 4.05
Lakshan Sandakan 22 1 92 2 4.18 3w
Dhananjaya de Silva 5 0 12 0 2.40
Sri Lanka 1st innings
Dimuth Karunaratne c Imrul Kayes b Mehedi Hasan 0
Kusal Mendis c Mushfiqur Rahim b Taijul Islam 196
Dhananjaya de Silva c Liton Das b Mustafizur Rahman 173
Roshen Silva c Liton Das b Mehedi Hasan 109
Dinesh Chandimal b Taijul Islam 87
Niroshan Dickwella c Liton Das b Mehedi Hasan 62
Dilruwan Perera lbw Sunzamul Islam 32
Rangana Herath lbw Taijul Islam 24
Suranga Lakmal b Taijul Islam 9
Lahiru Kumara Not Out 2
Extras 11b 6lb 0nb 0pen 2w 19
Total (199.3 overs) 713 decl
Fall of Wickets : 1-0 Karunaratne, 2-308 de Silva, 3-415 Mendis, 4-550 Silva, 5-613 Chandimal, 6-663 Dickwella, 7-687 Perera, 8-706 Lakmal, 9-713 Herath
Did Not Bat : Sandakan
Bowling Ov Md Rn Wk Econ Ex
Mustafizur Rahman 32 6 113 1 3.53 2w
Sunzamul Islam 45 2 153 1 3.40
Mehedi Hasan 49 4 174 3 3.55
Taijul Islam 67.3 13 219 4 3.24
Mosaddek Hossain 3 0 24 0 8.00
Mominul Haque 2 0 6 0 3.00
Mahmudullah 1 0 7 0 7.00
Bangladesh 2nd innings
Tamim Iqbal c Niroshan Dickwella b Lakshan Sandakan 41
Imrul Kayes c Dinesh Chandimal b Dilruwan Perera 19
Mominul Haque c Dimuth Karunaratne b Dhananjaya de Silva 105
Mushfiqur Rahim c Kusal Mendis b Rangana Herath 2
Liton Das c Dilruwan Perera b Rangana Herath 94
Mahmudullah Not Out 28
Mosaddek Hossain Not Out 8
Extras 3b 2lb 4nb 0pen 1w 10
Total (100.0 overs) 307-5
Fall of Wickets : 1-52 Kayes, 2-76 Iqbal, 3-81 Rahim, 4-261 Haque, 5-279 Das
Did Not Bat : Miraz, Islam, Islam, Rahman
Bowling Ov Md Rn Wk Econ Ex
Rangana Herath 28 6 80 2 2.86
Suranga Lakmal 9 1 25 0 2.78 1nb
Dhananjaya de Silva 12 0 41 1 3.42
Dilruwan Perera 26 5 74 1 2.85 2nb
Lakshan Sandakan 18 2 64 1 3.56 1nb
Lahiru Kumara 6 0 16 0 2.67 1w
Kusal Mendis 1 0 2 0 2.00
Bangladesh struggle after Sri Lanka declare at 713-9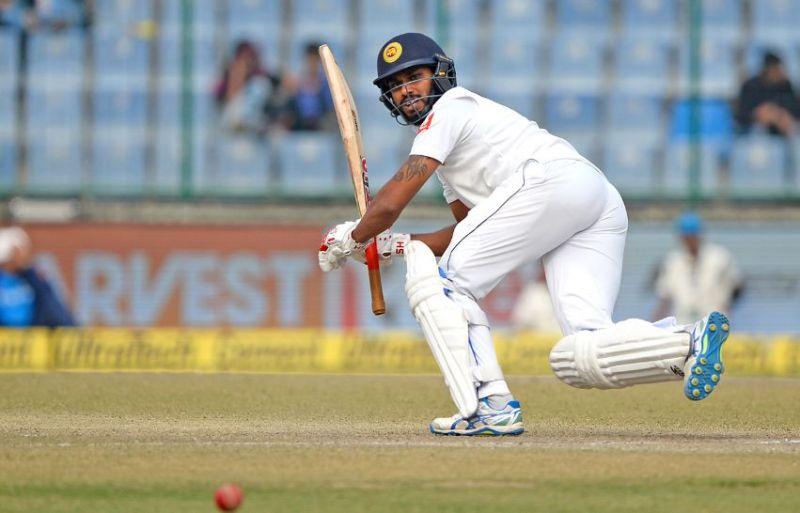 Sri Lanka spinners led by Rangana Herath took three crucial wickets late into day four to leave Bangaldesh with an uphill task of saving the opening Test in Chittagong on Saturday.
Bangladesh reached 81-3 at stumps, still needing 119 to make Sri Lanka bat again. The visitors declared their first innings at 713-9 in the final session.
Off-spinner Dilruwan Perera dismissed Imrul Kayes for 19 before left-arm unorthodox bowler Lakshan Sandakan got Tamim Iqbal caught behind for 41.
Herath then removed Mushfiqur Rahim for two with his left-arm spin in the last over of the day.
Mominul Haque -- 18 not out -- was at the crease when the players walked back after another run-filled day.
Sri Lanka declared their innings in the third over into the final session with a lead of 200 runs in response to Bangladesh's first innings total of 513.
Left-arm spinner Taijul Islam, who returned figures of 4-219, took two wickets off his successive overs to wrap up the Sri Lankan innnings.
Taijul got the all-important wicket of skipper Dinesh Chandimal for 87 off before off-spinner Mehedi Hasan removed Niroshan Dickwella for 62 to slow down the Sri Lankan progress.
Debutant left-arm spinner Sunzamul Islam got his maiden Test wicket, trapping Dilruwan Perera leg-before for 32.
Roshen Silva joined the run fest in the morning session to post his maiden Test century after Sri Lanka resumed on 504-3.
He made 109 off 230 balls before becoming the first batsman dismissed on the day.
Silva was Sri Lanka's third century maker of the innings after Kusal Mendis and Dhananjaya de Silva, who made 196 and 173 runs respectively.
Mehedi ended Silva's impressive innings when the right-hander edged a low delivery to wicketkeeper Liton Das.
Silva shared a 135-run stand with Chandimal for the fourth wicket and hit six fours and a six.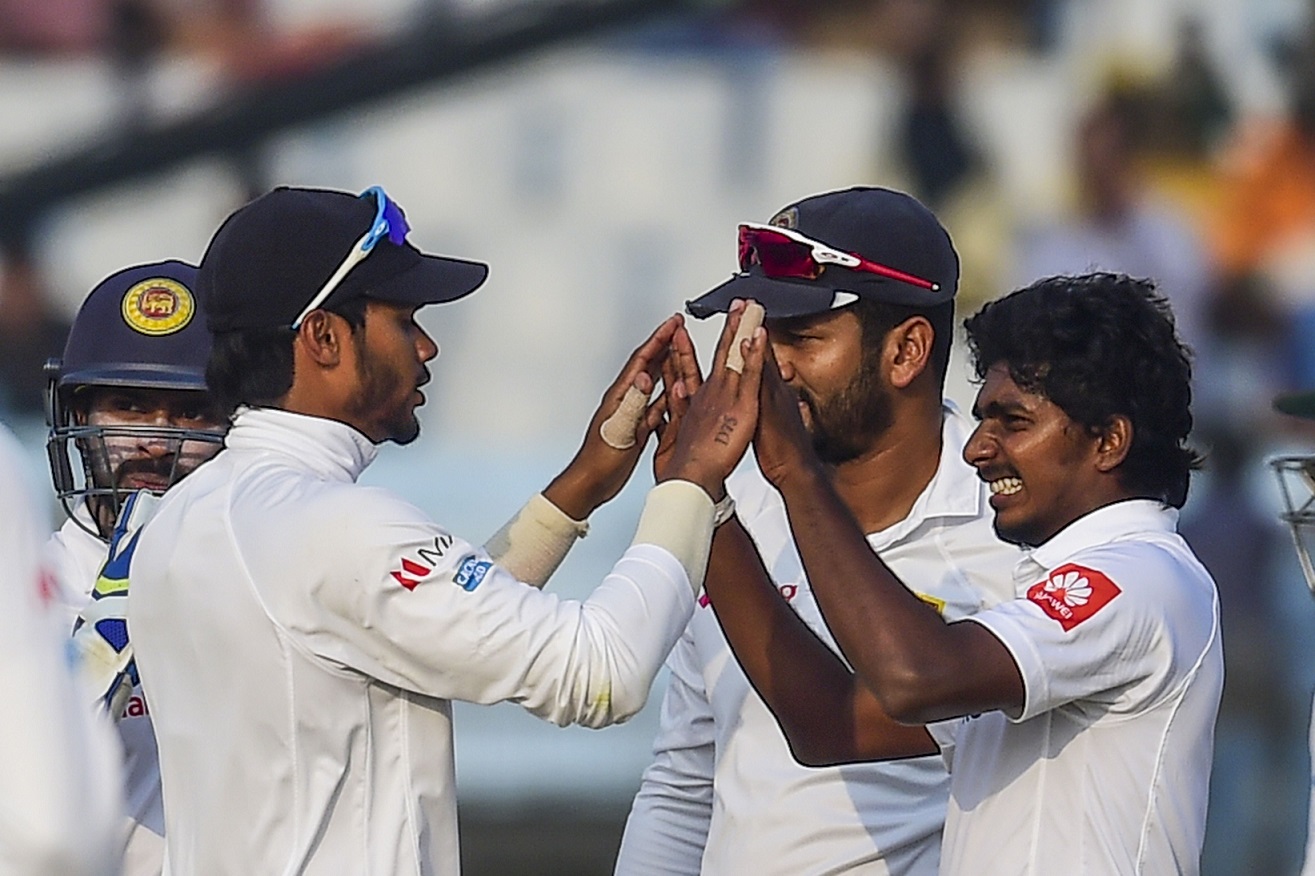 Bangladesh first innings 513 (Mominul Haque 176, Mushfiqur Rahim 92, Mahmudullah 83 not out; S. Lakmal 3-68, R. Herath 3-150)
Sri Lanka first innings (overnight 504-3)
D. Karunaratne c Kayes b Mehedi 0
K. Mendis c Mushfiqur b Taijul 196
D. De Silva c Liton b Mustafizur 173
R. Silva c Liton b Mehedi 109
D. Chandimal b Taijul l 87
N. Dickwella c Liton b Mehedi 62
D. Perera lbw b Sunzamul 32
R. Herath lbw b Taijul 24
S. Lakmal b Taijul 9
L. Kumara not out 2
Extras (b11, lb6, w 2) 19
Total (9 wkts declared; 199.3 overs) 713
Fall of wickets: 1-0 (Karunaratne), 2-308 (de Silva), 3-415 (Mendis), 4-550 (Silva), 5-613 (Chandimal), 6-663 (Dickwella), 7-687 (Perera), 8-706 (Lakmal), 9-713 (Herath)
Did not bat: L. Sandakan
Bowling: Mustafizur 32-6-113-1, Sunzamul 45-2-153-1, Mehedi 49-4-174-3, Taijul 67.3-13-219-4, Mosaddek 3-0-24-0, Mominul Haque 2-0-6-0, Mahmudullah 1-0-7-0
Bangladesh second innings:
Tamim Iqbal c Dickwella b Sandakan 41
Imrul Kayes c Chandimal b Perera 19
Mominul Haque not out 18
Mushfiqur Rahim c Mendis b Herath 2
Extras (nb1) 1 Total (three wickets, 26.5 over) 81
Fall of wickets: 1-52 (Kayes), 2-76 (Tamim), 3-81 (Mushfiqur)
To bat: Mahmudullah, Liton Das, Mosaddek Hossain, Mehedi Hasan, Taijul Islam, Sunzamul Islam, Mustafizur Rahman
Bowling:Herath 6.5-0-22-1, Lakmal 4-0-16-0, de Silva 6-0-20-0, Perera 7-1-20-1, Sandakan 3-1-3-1
Sri Lanka in driver's seat after Dhananjaya, Mendis massive stand
Both Dhananjaya de Silva and Kusal Mendis missed double centuries but their massive second-wicket stand against Bangladesh saw Sri Lanka just nine runs behind hosts first innings total of 513 on day three of the first Test in Zahur Ahmed Chowdhury Stadium, Chittagong.
De Silva added further 69 runs to his overnight score of 104 to make a career-best 173 while Kusal Mendis felt just four short of a brilliant double century in his 23rd birthday to put Sri Lanka in the driver's seat. At stump Sri Lanka were 504 for 3 with Roshen Silva and skipper Dinesh Chandimal on unbeaten 87 and 37 respectively.
Pace bowler Mustafizur Rahman earlier broke Mendis' 308-run second wicket stand with Dhananjaya de Silva, who fell for 173 runs after resuming his innings on 104.
De Silva and Mendis dominated the opening session of the day after Sri Lanka resumed their innings on 187-1.
Bangladesh had to wait for the second new ball to get their first success as Mustafizur got a leading edge from de Silva for wicketkeeper Liton Das to complete a high catch.
De Silva faced 229 balls and hit 21 fours along with a six in his fourth Test century and the second in as many Tests.
Mendis added another 107-run with Roshen Silva for the third wicket before he gave a catch to Mushfiqur Rahim at midwicket.
He survived a run-out when he had a mix-up with Roshen in the middle of the pitch after crossing his 150-run mark.
Mehedi Hasan made an awkward throw from extra cover after Mendis drove Taijul, allowing him to return to the pitch before wicketkeeper Liton could break the stumps.
Bangladesh were also unlucky in the morning as de Silva survived a strong lbw appeal on 119 off Taijul when the ball hit him on his toe before going to the slips.
With the hosts having already used both their reviews, they had no choice but to accept the decision of the on-field umpire.
Mendis hit left-arm spinner Sunzamul Islam for a boundary to bring his fourth Test hundred off 200 balls.
De Silva reached his 1,000 runs in Tests on 154, joining Roy Dias as the quickest Sri Lankan to achieve the feat in his 23rd innings.
Bangladesh first innings 513 (Mominul Haque 176, Mushfiqur Rahim 92, Mahmudullah Riyad 83 not out; S. Lakmal 3-68, R. Herath 3-150)
Sri Lanka first innings (overnight 187-1)
D. Karunaratne c Kayes b Mehedi 0
K. Mendis c Mushfiqur b Taijul 196
D. De Silva c Liton b Mustafizur 173
R. Silva not out 87
D. Chandimal not out 37
Extras (b7, lb3, w1) 11
Total (three wickets; 138 overs) 504
Fall of wickets:1-0 (Karunaratne), 2-308 (de Silva), 3- 415 (Mendis) To Bat: N. Dickwella, D. Perera, R. Herath, S. Lakmal, L. Sandakan, L. Kumara
Bowling (to date): Mustafizur 25-5-88-1 (w1), Sunzamul 37-2-128-0, Mehidy 19-0-97-1, Taijul 51-13-144-1, Mosaddek 3-0-24-0, Mominul Haque 2-0-6-0, Mahmudullah 1-0-7-0 Toss: Bangladesh Umpires: Rod Tucker (AUS), Marais Erasmus (SA) TV Umpire: Joel Wilson (WI)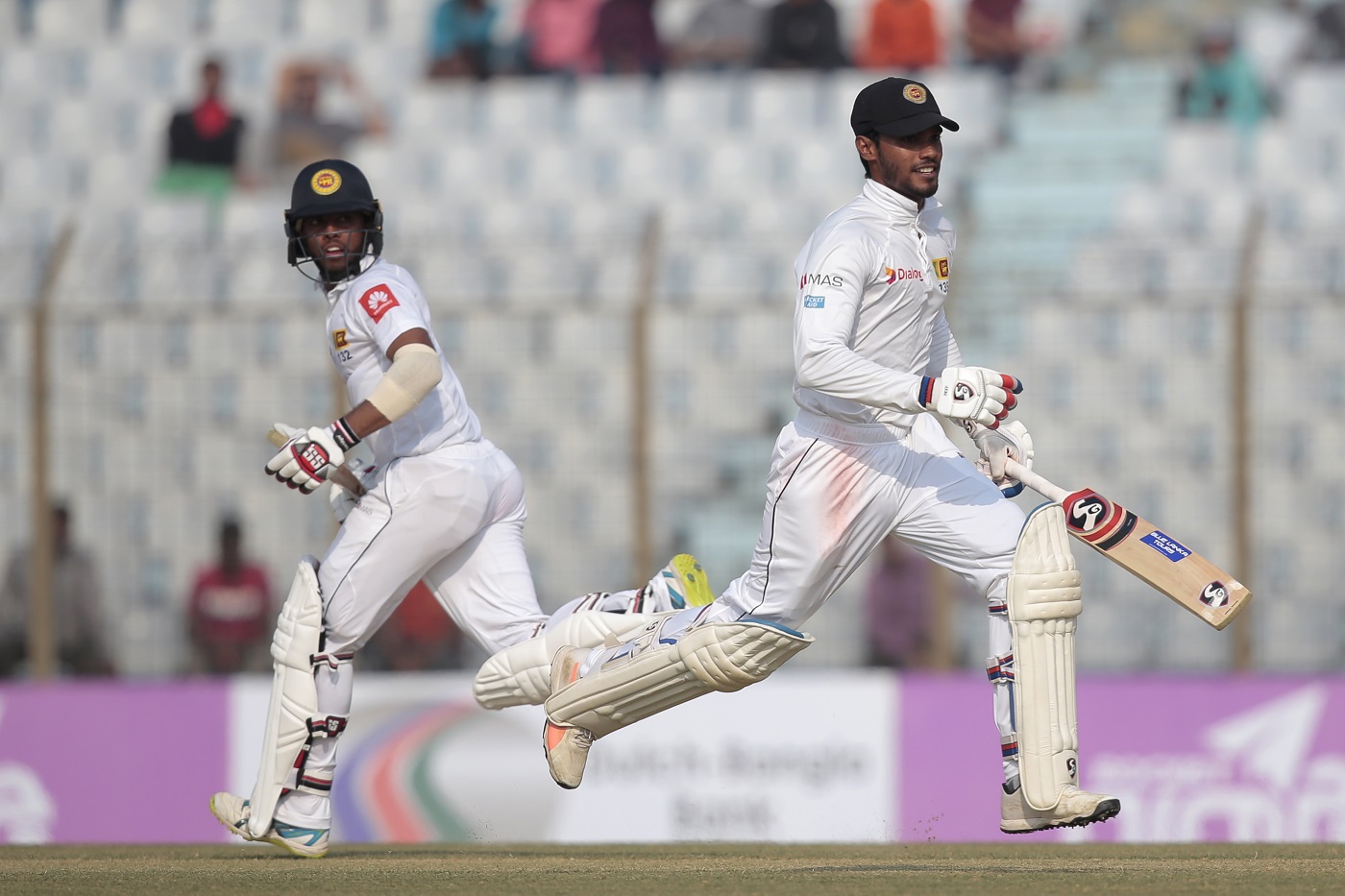 Dhananjaya de Silva struck a century and shared 187 runs in an unbroken second-wicket stand with Kushal Mendis as Sri Lanka gave a strong reply to Bangladesh in the first Test in Chittagong on Thursday.
De Silva made an unbeaten 104 while Mendis hit 83 not out, guiding Sri Lanka to 187-1 at stumps on the second day.
Earlier, Rangana Herath and Suranga Lakmal took three wickets each to help the visitors dismiss Bangladesh for 513 in their first innings.
The pair came together after spinner Mehedi Hasan got rid of Dimuth Karunaratne for a duck shortly after Bangladesh's innings ended with skipper Mahmudullah Riyad unbeaten on 83.
De Silva led Sri Lanka's batting charge with his aggressive approach and brought his fourth Test hundred off 122 balls with a cover drive off left-arm spinner Taijul Islam.
This is de Silva's second successive Test century after scoring an unbeaten 119 in Sri Lanka's last match against India in New Delhi in December.
Bangladesh, who are now leading Sri Lanka by 326 runs, wasted two reviews against Mendis and also dropped two chances offered by the right-hander.
Mehedi dropped Mendis on four off paceman Mustafizur Rahman at second slip, before Imrul Kayes grassed another chance - this time off Mehedi's bowling - with the batsman on 57.
The hosts, who resumed the day on 374-4, added 139 runs to their overnight score with Mahmudullah leading the charge on the second day.
Mahmudullah added 58 runs with debutant Sunzamul Islam for the eighth wicket, after three quick wickets rattled the home side early in the morning.
Spinner Herath brought Mominul Haque's majestic knock to an end in the third over of the day when the left-handed batsman flicked a catch to Mendis at forward short-leg. He made 176.
Mominul who hit 16 fours and a six, faced 214 balls and added just one run to his overnight score.
Herath struck again as Mosaddek Hossain lofted a catch to Lakshan Sandakan at mid-on after making just eight.
Mehedi took Bangladesh past 400 with a lovely straight drive off paceman Lakmal, before smashing Herath for a six.
But he was soon run out for 20 by Lahiru Kumara at third man.
Sunzamul made 24 runs before he was stumped off left-arm wrist spinner Sandakan.
Stumps Sri Lanka 187 for 1 (Dhananjaya 104*, Mendis 83*, Mehidy 1-45) trail Bangladesh 513 (Mominul 176, Mahmudullah 83*, Lakmal 3-68, Herath 3-150) by 326 runs
Mominul makes unbeaten 175 as Bangladesh dominate
Following their victory over Bangladesh in the final of the ODI tri-series, Sri Lanka would have been confident of carrying momentum and their form into the Test arena in Chittagong. But after Bangladesh won the toss and elected to bat, the away side were subjected to a long, trying day in the field, with Mominul Haque (175*) and Mushfiqur Rahim (92) putting on 236 runs together in 56 overs at the crease.
Bangladesh scored at an impressive 4.15 runs per over on a placid pitch, and although Sri Lanka struck twice with the new ball, the hosts finished day one sitting pretty on 374/4.
Mominul was the undoubted star, passing his fifth Test century and hitting 16 fours and one six to finish the day unbeaten on 175. He will need a further six runs on day two to pass his previous Test high score of 181, made against New Zealand in 2013.
The 26-year-old scored freely throughout his innings and combined well with the more circumspect Mushfiqur, whose 192-ball innings held the middle overs together, blunting Sri Lanka's seam attack, who struggled to find much movement.
Bangladesh were on top right from the flip of the coin, with openers Tamim Iqbal (52 from 53 balls) and Imrul Kayes (40) setting a brisk pace, which they maintained for the full 90 overs. Iqbal in particular took the attack to Sri Lanka from the off, smashing six fours and one six before Dilruwan Perera found a way through his defences. By the time his opening partner Kayes was trapped lbw by Lakshan Sandakan, Bangladesh were 120/2 from just 27.4 overs.
Thereon Mominul and Mushfiqur carved out a commanding position, plundering runs relatively easily throughout their dominant stand. By stumps, the hosts had scored their second-highest number of runs in a single day of Test cricket, falling just 10 runs short of their record of 388, set against New Zealand on day two in Wellington last year.
Mushfiqur eventually edged a wide delivery behind to Niroshan Dickwella off the bowling of Suranga Lakmal, who knocked over Liton Das' off-stump the next ball thanks to a misjudged leave. Mominul continued on, however, and in the process became the fastest Bangladesh player to reach 2000 Test runs.
He was joined by Mahmudullah – captaining in the absence of Shakib al Hasan – and the duo took the side to stumps in a commanding position. They will hope to continue where they left off tomorrow and build a daunting first-innings total.
Scoreboard
Bangladesh 1st innings
Tamim Iqbal b Dilruwan Perera 52
Imrul Kayes lbw Lakshan Sandakan 40
Mominul Haque Not Out 175
Mushfiqur Rahim c Niroshan Dickwella b Suranga Lakmal 92
Liton Das b Suranga Lakmal 0
Mahmudullah Not Out 9
Extras 0b 0lb 4nb 0pen 2w 6
Total (90.0 overs) 374-4
Fall of Wickets : 1-72 Iqbal, 2-120 Kayes, 3-356 Rahim, 4-356 Das
To Bat : Saikat, Miraz, Islam, Islam, Rahman
Bowling Ov Md Rn Wk Econ Ex
Suranga Lakmal 17 3 43 2 2.53 2nb
Lahiru Kumara 12 1 64 0 5.33 1w
Dilruwan Perera 24 4 98 1 4.08 2nb
Rangana Herath 20 1 100 0 5.00
Lakshan Sandakan 13 1 58 1 4.46 1w
Dhananjaya de Silva 4 0 11 0 2.75