---
The teams have started training for the Dhaka phase of the fifth edition of the Bangladesh Premier League which gets underway today, but the centre of all discussion at the National Academy ground in Mirpur yesterday was the news of Bangladesh head coach Chandika Hathurusingha's resignation.
The news spread like wildfire after Bangladesh Cricket Board president Nazmul Hassan revealed on Thursday that the 49-year-old had submitted a resignation letter midway through the recent tour of South Africa. Hassan said on Thursday that although Hathurusingha previously used to confide in him, the letter came out of the blue even for the BCB boss.
It can be mentioned that there has been some tension between the coach and the senior players of the team recently, while many are speculating that the distance between board and coach increased since Mominul Haque's re-inclusion into the Test squad for the home series against Australia in August this year.
BCB officials have tried in vain to communicate with Hathurusingha, and it was learned that a few of the senior players also called him but there was no response from the Sri Lankan.
Everyone seemed to be whispering about Hathurusingha's resignation and eager to know the reason behind it but there were not much in the way of shock among the cricketers except juniors like Soumya Sarkar and Mehedi Hasan Miraz, who were a bit surprised. Understandably however, none of the seniors were willing to go on record in their comments about the issue.
Former Bangladesh captain and BCB director Khaled Mahmud, who is also the current coach of Dhaka Dynamites, did however express his surprise over Hathurusingha's resignation, informing that even during his five-day visit to South Africa -- which according to the timeline provided by Hassan on Thursday may have been shortly after the letter was sent to the board -- he did not have any clue about the issue.
"We heard about it now but I had no idea about this even when I was in South Africa; he did not say anything to me. I have a very good relationship with him as we have been working together for the past two-and-a-half years. I was surprised after hearing the news and we don't know the exact reason for his resignation, hopefully we will get to know after talking to him and everything will be clear after that. He played a vital role in Bangladesh cricket and he has a great contribution in the recent progress of the team," Mahmud told the reporters yesterday.
But there were questions after the way Hathurusingha resigned as his contract with the BCB is until the 2019 World Cup, but Mahmud was not willing to blame the Sri Lankan when asked whether his sudden decision could damage the image of the board.
"I can only say on behalf of the board that the BCB has supported him throughout but every individual has his own decision and that's his personal matter. I don't think Hathurusingha will say anything which will damage the image of the board. Maybe there were personal reasons while if there is any other reason we will listen to that. But that's how it goes; if someone wants to go someone new will come," he said.
Mahmud also informed that he is ready to take up the role of head coach if the board offers it to, adding that previously he has taken the challenge of being the captain when Bangladesh were struggling to perform. However, the BCB is still hopeful of a resolution like on the previous occasions -- in 2016 -- when Hathurusingha tried to resign.
Meanwhile, another former Bangladesh captain Faruque Ahmed said that the way Hathurusingha resigned was not very professional, but added that it is only natural that a coach will not stay with a team forever.
"Foreign coaches will come and go; that's normal, but the way he gave the resignation letter was very unprofessional as he has the contract with BCB till the 2019 World Cup. I think the BCB has done well in their dealings with him. He is probably the highest paid coach employed by the country so far and he also wielded a lot of authority. But obviously he should have informed it earlier rather than resigning in such a way," Faruque said.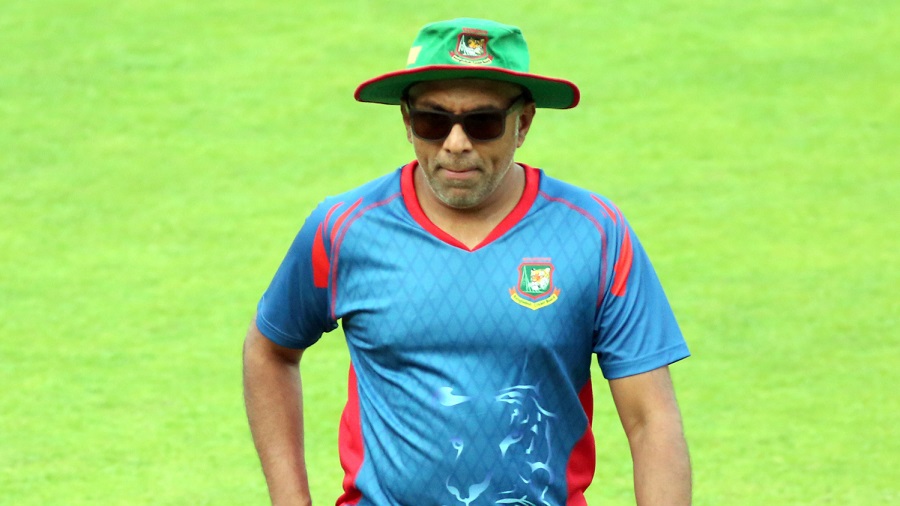 Hathurusingha resigns as Bangladesh coach; likely to take up Sri Lanka job
Bangladesh Cricket head coach Chandika Hathurusingha has reportedly tendered his resignation two years ahead of his contract ends in 2019 and may be heading home to take up the head coach of the Sri Lanka national team.
Sri Lanka Cricket was reportedly in discussions with Hathurusingha after Graham Ford parted his ways in June but refrained from making public statements given Hathurusingha's contractual obligation with the BCB.
Though Sri Lanka Cricket is yet to officially announced signing Hathurusingha, it is well-known that the former Sri Lanka opener is SLC's first choice for the vacant post. It is understood that Sri Lanka Cricket is even willing to match Hathurusingha's salary with PCB who is reportedly one of the highest paid coaches in world cricket.
Sri Lanka this week hired Thilan Samaraweera, a longtime friend and associate of Hathurusingha as batting coach. Samaraweera was Bangladesh batting consultant till mid this year and his appointment with Sri Lanka Cricket is said to have been influenced by Hathurusingha.
Under Hathurusingha, Bangladesh made great strides in World Cricket. They made the quarter-final of the 2015 World Cup and the semi-final of the 2017 Champions Trophy. They had also defeated India, Pakistan and South Africa in home bilateral series, and have climbed up the ODI rankings as a result.
In Tests, Bangladesh registered their first-ever wins against England and Australia at home, and against Sri Lanka away. The team has, however, recently returned from a dispiriting tour to South Africa.