---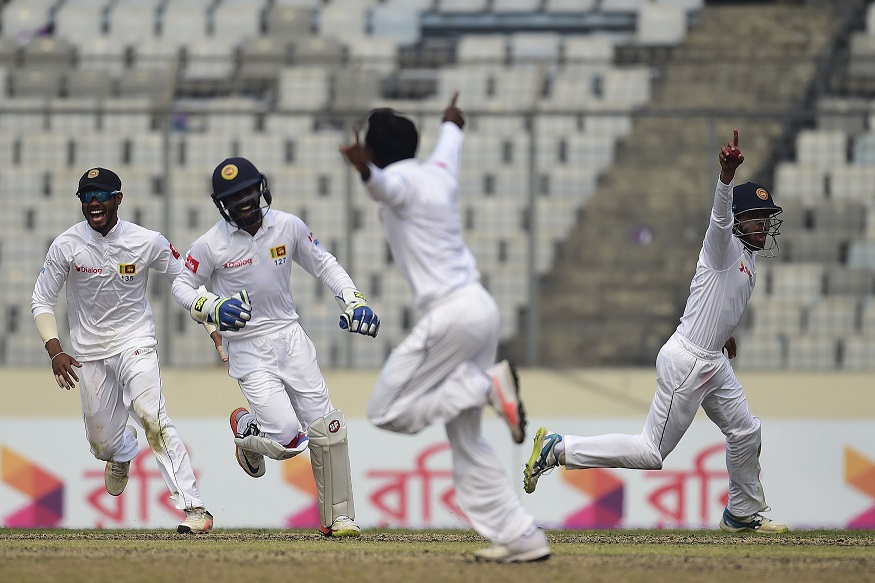 Off-spinner Akila Dananjaya claimed five wickets in an innings on debut as Sri Lanka beat Bangladesh by 215 runs in the second Test to win the two-Test series 1-0 in Dhaka on Saturday.
Set a target of 339 runs, a collapse-prone Bangladesh were all out for 123 in 29.3 overs in their second innings in the second session of the third day, without offering much of a challenge.
Dananjaya finished with 5-24 to take his match haul to eight wickets while experienced Rangana Herath claimed 4-49. Sri Lanka bowled out Bangladesh for 110 runs in the first innings to take a 112-run lead after they made 222 runs in their opening innings.
The visitors' victory was never in doubt after they posted 226 runs in their second innings, resuming the third day's play on 200-8. Roshen Silva remained unbeaten on 70, adding 48 runs with fellow overnight batsman Suranga Lakmal for the ninth wicket to extend their lead on a difficult pitch at the Sher-e-Bangla National Stadium.
Left-arm spinner Taijul Islam bowled Lakmal for 21 to end the partnership before he trapped Herath leg-before off the next ball to wrap up the Sri Lanka innings. Taijul finished with 4-76 taking his tally to eight wickets in the match but Bangladesh were always in the back foot once they started their second innings on a massively turning wicket.
Sri Lanka began their victory push as Dilruwan Perera removed opener Tamim Iqbal for two in just the second over of the innings. Herath got rid of Imrul Kayes before the lunch break as wicketkeeper Niroshan Dickwella took a catch, just a ball after he hit the left-arm spinner for a six.
Herath added Mominul Haque (33) and Mushfiqur Rahim (25) to after the lunch break before Dananjaya stepped on to the scene and did the rest. Silva, who also scored 56 runs in the first innings, was the man of the match.
The first Test ended in a draw in Chittagong. The two teams will now play two Twenty20 internationals with the first match in Dhaka on February 15.
-AFP
SCORECARD
Sri Lanka first Innings: 222 (K. Mendis 68, R. Silva 56; Abdur Razzak 4-63, Taijul Islam 4-83, Mustafizur Rahman 2-17)
Bangladesh first innings: 110 (Mehedi Hasan 38 not out; A. Dananjaya 3-20, S. Lakmal 3-25)
Sri Lanka second innings (200-8 overnight)
D. Karunaratne c Kayes b Mehedi 32
K. Mendis lbw b Razzak 7
D. de Silva b Taijul 28
D. Gunathilaka lbw b Mustafizur 17
D. Chandimal lbw b Mehedi 30
R. Silva not out 70
N. Dickwella c Mahmudullah b Taijul 10
D. Perera c Liton b Mustafizur 7
Dananjaya c Liton b Mustafizur 0
S. Lakmal b Taijul 21
R. Herath lbw b Taijul 0
Extras (lb 4) 4
Total (all out; 73.5 overs) 226
Fall of wickets: 1-19 (Mendis), 2-53 (de Silva), 3-80 (Gunathilaka), 4-92 (Karunaratne), 5-143 (Chandimal), 6-170 (Dickwella), 7-178 (Perera), 8-178 (Dananjaya), 9-226 (Lakmal), 10-226 (Herath)
Bowling:Razzak 17-2-60-1, Mustafizur 17-3-49-3, Taijul 19.5-2-76-4, Mehedi 20-5-37-2
Bangladesh second innings
Tamim Iqbal lbw b Perera 2
Imrul Kayes c Dickwella b Herath 17
Mominul Haque c Dickwella b Herath 33
Mushfiqur Rahim st Dickwella b Herath 25
Liton Das c Mendis b Dananjaya 12
Mahmudullah c Karunaratne b Dananjaya 6
Sabbir Rahman c Mendis b Dananjaya 1
Mehedi Hasan c Dickwella b Dananjaya 7
Abdur Razzak st Dickwella b Dananjaya 2
Taijul Islam c Gunathilaka b Herath 6
Mustafizur Rahman not out 5
Extras (b6, lb 1) 7
Total (all out; 29.3 overs) 123
Fall of wickets: 1-3 (Tamim), 2-49 (Kayes), 3-64 (Mominul), 4-78 (Liton), 5-100 (Mahmudullah), 6-102 (Mushfiqur), 7-102 (Sabbir), 8-104 (Razzak), 9-113 (Mehedi), 10-123 (Taijul)
Bowling: Lakmal 3-0-11-0, Perera 10-0-32-1, Herath 11.3-1-49-4, Dananjaya 5-1-24-5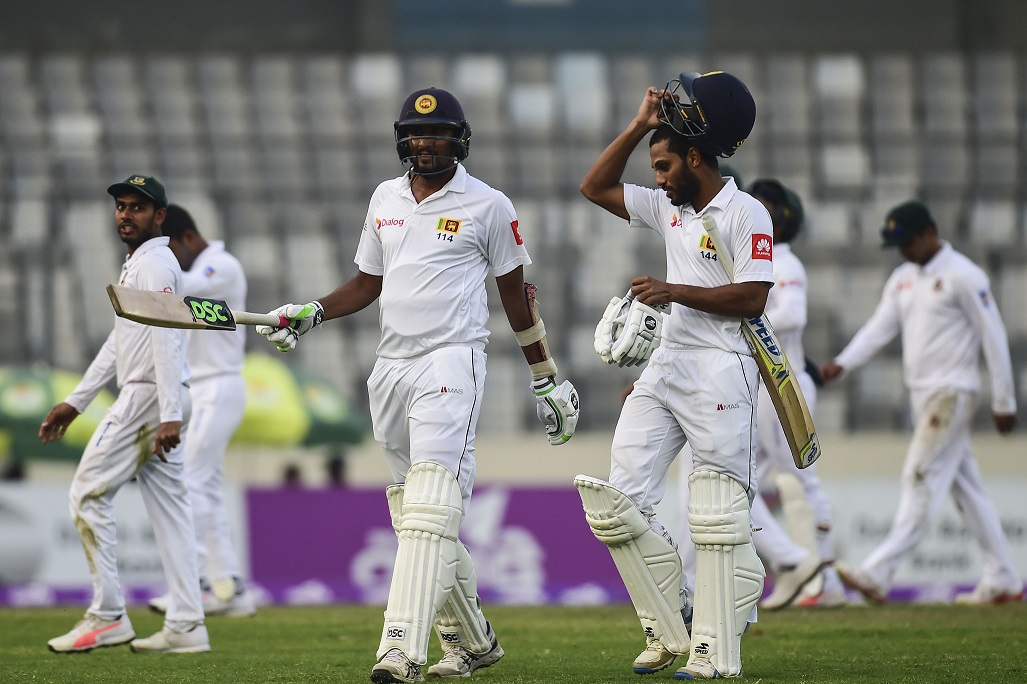 Sri Lanka strengthened its grip on the second test against Bangladesh by increasing its lead to 312 runs in its second innings on day two Friday.
Sri Lanka was 200-8 at stumps, after taking a 112-run lead on the first innings.
Roshen Silva was 58 not out, his second fifty in the match, and Suranga Lakmal on 7.
Bangladesh's highest successful fourth-innings chase was 215 in 2009 against the West Indies.
With the first test at Chittagong drawn on Sunday, Sri Lanka looks set to record a 16th win in 20 tests against Bangladesh, as early as Saturday.
Fourteen wickets fell for the second straight day.
Silva's fourth half-century in just his third test held together the Sri Lanka second innings as the Bangladesh bowlers struck regularly on a pitch offering turn and bounce aplenty.
He hit nine fours in his almost chanceless knock, facing 94 balls as his teammates struggled in the middle.
Bangladesh didn't help its cause by dropping seven catches.
After Bangladesh was dismissed for 110, opener Dimuth Karunaratne gave Sri Lanka a solid start with Dhananjaya de Silva, who made 28.
Karunarate contributed 32 before he was out after tea to offspinner Mehidy Hasan, 2-29.
Silva combined with captain Dinesh Chandimal, 30, for 51 runs to extend their dominance.
Mehidy broke the resistance of Chandimal with a delivery that kept low, and pace bowler Mustafizur, 3-35, shook up the lower order but Silva remained solid.
Earlier, Bangladesh resumed its first innings on 56-4 and lost 5-3 in three overs to give Sri Lanka a big lead.
Mehidy Hasan top-scored with an unbeaten 38.
Sri Lanka 1st innings 222 all out (Kusal Mendis 68, Roshen Silva 56, Dilruwan Perera 31; Abdur Razzak 4 for 63, Taijul Islam 4 for 83)
Bangladesh 1st innings
Tamim Iqbal c&b Suranga Lakmal 4
Imrul Kayes lbw Dilruwan Perera 19
Mominul Haque Run Out Dhananjaya de Silva 0
Mushfiqur Rahim b Suranga Lakmal 1
Liton Das b Suranga Lakmal 25
Mehedi Hasan Not Out 38
Mahmudullah b Akila Dananjaya 17
Sabbir Rahman c Dinesh Chandimal b Akila Dananjaya 0
Abdur Razzak c&b Akila Dananjaya 1
Taijul Islam Run Out Kusal Mendis 1
Mustafizur Rahman lbw Dilruwan Perera 0
Extras 0b 2lb 1nb 0pen 1w 4
Total (45.4 overs) 110 all out
Fall of Wickets : 1-4 Iqbal, 2-4 Haque, 3-12 Rahim, 4-45 Kayes, 5-73 Das, 6-107 Mahmudullah, 7-107 Rahman, 8-109 Razzak, 9-110 Islam, 10-110 Rahman
Bowling Ov Md Rn Wk Econ Ex
Suranga Lakmal 12 4 25 3 2.08 1w
Dilruwan Perera 11.4 4 32 2 2.74 1nb
Akila Dananjaya 10 2 20 3 2.00
Rangana Herath 12 1 31 0 2.58
Sri Lanka 2nd innings
Dimuth Karunaratne c Imrul Kayes b Mehedi Hasan 32
Kusal Mendis lbw Abdur Razzak 7
Dhananjaya de Silva b Taijul Islam 28
Danushka Gunathilaka lbw Mustafizur Rahman 17
Dinesh Chandimal lbw Mehedi Hasan 30
Roshen Silva Not Out 58
Niroshan Dickwella c Mahmudullah b Taijul Islam 10
Dilruwan Perera c Liton Das b Mustafizur Rahman 7
Akila Dananjaya c Liton Das b Mustafizur Rahman 0
Suranga Lakmal Not Out 7
Extras 0b 4lb 0nb 0pen 0w 4
Total (62.0 overs) 200-8
Fall of Wickets : 1-19 Mendis, 2-53 de Silva, 3-80 Gunathilaka, 4-92 Karunaratne, 5-143 Chandimal, 6-170 Dickwella, 7-178 Perera, 8-178 Perera
To Bat : Herath
Bowling Ov Md Rn Wk Econ Ex
Abdur Razzak 17 2 60 1 3.53
Mustafizur Rahman 12 2 35 3 2.92
Taijul Islam 19 2 72 2 3.79
Mehedi Hasan 14 3 29 2 2.07
each.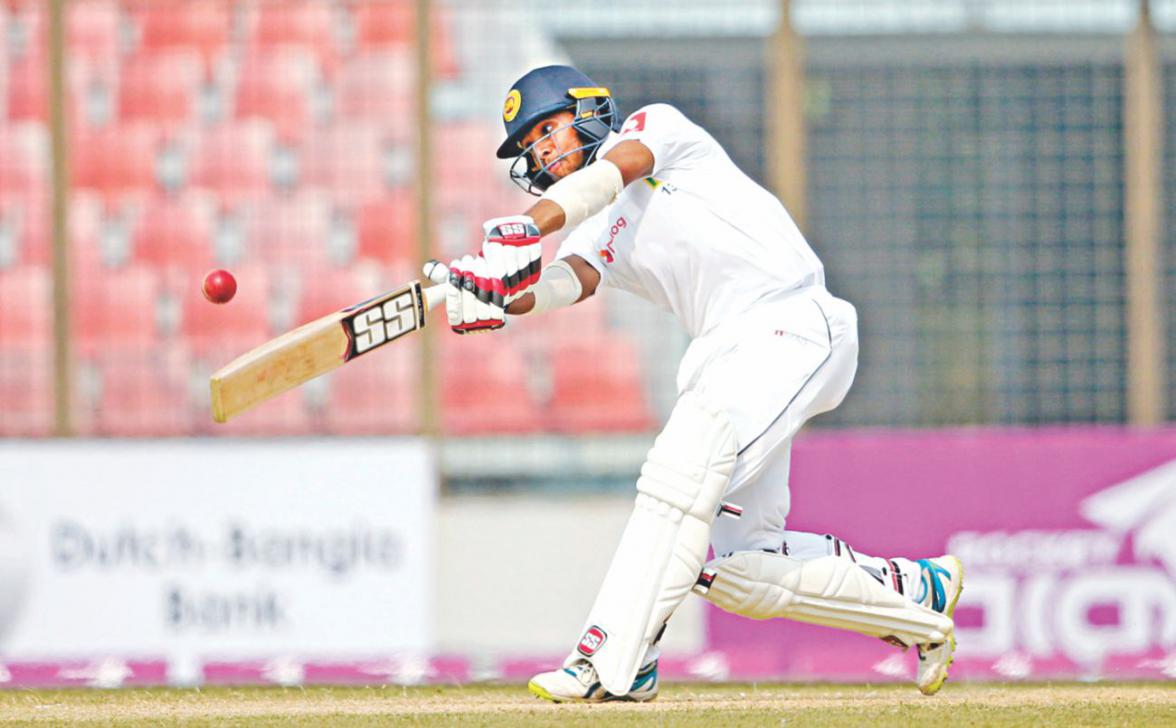 Sri Lanka hit back with four wickets after being bowled out for 222 as bowlers led by Bangladesh spinner Abdur Razzak dominated day one of the second Test in Dhaka on Thursday.
Razzak, making a Test return after four years, and fellow left-arm spinner Taijul Islam claimed four wickets each to wrap up the Sri Lankan innings shortly after tea.
Sri Lanka paceman Suranga Lakmal then picked up two wickets to leave the hosts tottering at 56-4 at stumps. Liton Das, on 24, and nightwatchman Mehedi Miraz, on five, were batting at close of play.
Lakmal drew first blood after taking a return catch off his own bowling to remove Tamim Iqbal for four in just the third ball of the Bangladesh innings.
But it was Mominul Haque's run out in the very next over that left the hosts in trouble. Haque, who scored centuries in both innings of the drawn first Test in Chittagong, returned without scoring.
Lakmal then bowled Mushfiqur Rahim for one before Dilruwan Perera ended the brief resistance of Imrul Kayes, who made 19.
"I think the game is still balanced because we have to take another six wickets, we have to bat another innings and we have to bowl them out in another innings," said Sri Lanka batting coach Thilan Samaraweera.
"For me, I think we were 30 runs short. Normally, on a Dhaka wicket 240, 250 is a very good score," he said.
Earlier 35-year-old Razzak returned impressive figures of 4-63 to land the opening punch for Bangladesh after the visitors elected to bat first.
Taijul complemented Razzak's effort and claimed the final wicket of Roshen Silva, who made 56 after Kusal Mendis top-scored with 68 for the Sri Lanka.
Silva was involved in two dogged partnerships with Perera (31) and Akila Dananjaya (20) against a persistent Bangladesh bowling attack.
"I think it is definitely a result-oriented wicket and the match, given its current state, may not go in to the fifth day," Razzak said after opening day's play.
"It wasn't an unplayable wicket in a larger sense. This type of turn is evident in a lot of places. It wasn't stopping or keeping low," he said.
Razzak, who played the last of his previous 12 Tests in 2014, struck three times in the morning session including getting skipper Dinesh Chandimal for a first-ball duck.
Mendis brought up his 50 in 81 balls with a six off Taijul but Razzak rocked Sri Lanka with two wickets in two balls.
Sri Lanka 1st innings
Kusal Mendis b Abdur Razzak 68
Dimuth Karunaratne st Liton Das b Abdur Razzak 3
Dhananjaya de Silva c Sabbir Rahman b Taijul Islam 19
Danushka Gunathilaka c Mushfiqur Rahim b Abdur Razzak 13
Dinesh Chandimal b Abdur Razzak 0
Roshen Silva c Liton Das b Taijul Islam 56
Niroshan Dickwella b Taijul Islam 1
Dilruwan Perera c Mominul Haque b Taijul Islam 31
Akila Dananjaya c Mushfiqur Rahim b Mustafizur Rahman 20
Rangana Herath c Mushfiqur Rahim b Mustafizur Rahman 2
Suranga Lakmal Not Out 4
Extras 0b 5lb 0nb 0pen 0w 5
Total (65.3 overs) 222 all out
Fall of Wickets : 1-14 Karunaratne, 2-61 de Silva, 3-96 Gunathilaka, 4-96 Chandimal, 5-109 Mendis, 6-110 Dickwella, 7-162 Perera, 8-205 Perera, 9-207 Herath, 10-222 Silva
Bowling Ov Md Rn Wk Econ Ex
Mehedi Hasan 13 0 54 0 4.15
Abdur Razzak 16 2 63 4 3.94
Taijul Islam 25.3 2 83 4 3.25
Mustafizur Rahman 11 4 17 2 1.55
Bangladesh 1st innings
Tamim Iqbal c&b Suranga Lakmal 4
Imrul Kayes lbw Dilruwan Perera 19
Mominul Haque Run Out Dhananjaya de Silva 0
Mushfiqur Rahim b Suranga Lakmal 1
Liton Das Not Out 24
Mehedi Hasan Not Out 5
Extras 0b 1lb 1nb 0pen 1w 3
Total (22.0 overs) 56-4
Fall of Wickets : 1-4 Iqbal, 2-4 Haque, 3-12 Rahim, 4-45 Kayes
To Bat : Mahmudullah, Rahman, Razzak, Islam, Rahman
Bowling Ov Md Rn Wk Econ Ex
Suranga Lakmal 7 3 15 2 2.14 1w
Dilruwan Perera 8 3 25 1 3.12 1nb
Akila Dananjaya 3 1 4 0 1.33
Rangana Herath 4 0 11 0 2.75