---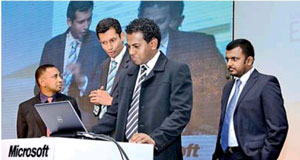 Microsoft Sri Lanka launched the next generation of office software; the Cloud based Office 365, at their Partner Conference recently.

Through the launch, Microsoft now offers Cloud services alongside its office products bringing together Microsoft Office, Microsoft SharePoint Online, Microsoft Exchange Online and Microsoft Lync Online.

Cloud computing which allows users remote access and storage of documents over a common network, is a converged infrastructure system touted as allowing enterprises to get their applications up and running faster, with improved manageability and less maintenance.

"This launch is a significant achievement for Sri Lanka. Office 365 is not just another global product we are launching in Sri Lanka. This is a service, which is made specifically available for Sri Lanka, and I am proud to say that Sri Lanka is amongst a few selected countries in South East Asia to have this service available." Country Manager for Microsoft Sri Lanka & Bangladesh, Sriyan de Silva Wijeyeratne said.

"With Office 365, businesses of all sizes, big and small, can now access enterprise-ready business solutions with a predictable monthly or annual subscription, effectively removing the need for significant upfront investments in IT infrastructure and maintenance. Office 365 will be a driving force that enables improved business productivity and collaboration while simultaneously boosting output. Today's launch will level the playing field for local companies by giving them access to powerful IT capabilities," he added.

Commenting on the flexibility afforded to users of Office 365, Director, Enterprise Partner Group at Microsoft Sri Lanka, Imran Viscassim said: "Customers pay only for the services they use without having the hassle of maintaining all their computing needs and resources themselves. They can also scale their IT capacity up or down almost instantaneously as circumstances dictate. Cloud is the next best thing for most companies and Office 365 based cloud services is the next big offer from Microsoft to serve the needs of the customer. It aids these transformative changes and enables customers to improve their business productivity and bottom line."

Office 365 is available in a wide range of service plans designed to meet the needs of businesses of all sizes through an array of choices, from simple email to comprehensive suites. Customers can also get Microsoft Office Professional Plus on a pay-as-you-go basis with cloud-based versions of the industry's leading business communications and collaborations services. Each of these plans come with the advanced I.T. controls, security, 24x7 IT support and reliability that is synonymous with Microsoft.