---


Today, during Google's opening day keynote at Google I/O 2012, the company announced a new Asus-branded tablet called the Nexus 7. It was hardly a surprise given the flood of leaks over the past few days, but I was eager to pick up a unit and tear open the box. Here's what I've found so far.

The Nexus 7 sports a 7-inch, IPS (in-plane switching) screen, with a resolution of 1,280x800 pixels. The tablet is also the first 7-incher to house a 1.3GHz Nvidia Tegra 3 quad-core CPU, which includes a 12-core GPU.

Rounding out the specs are a Micro-USB port, 1GB of RAM, a 1.2-megapixel front camera (no back camera included), a gyroscope, GPS, accelerometer, microphone, and 802.11a/b/g/n Wi-Fi.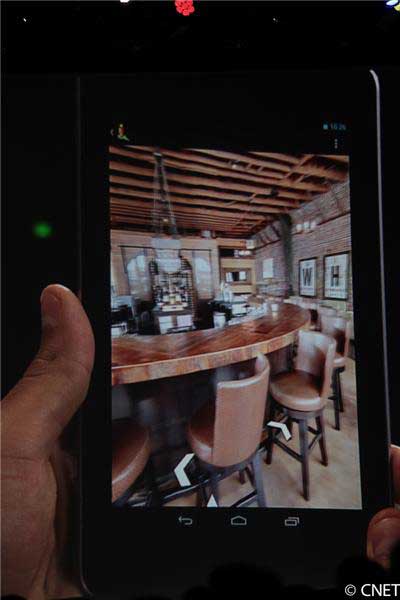 Android 4.1's new gyroscope-enabled compass feature for Google Maps.
(Credit: James Martin/CNET)

The device measures 10.45mm thick, weighs 0.7 pound, and has a textured, grippy backside with both "Nexus" and "Asus" embossed on the backside. Built by Asus, the Nexus 7 feels lighter than the Kindle Fire and has this soft, textured back that feels a lot like Acer's recent line of tablets and makes it more comfortable to hold.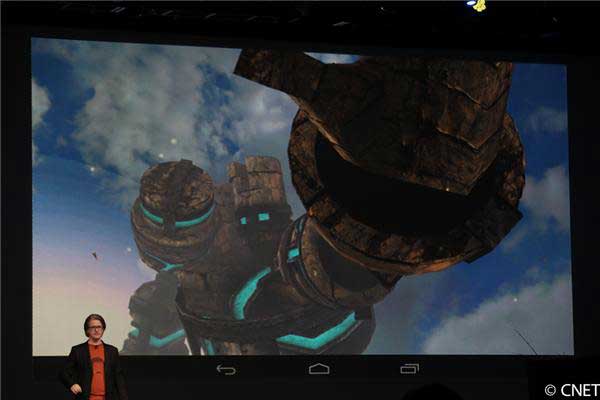 Horn looks impressive running on the Nexus 7. Hopefully, it comes out soon.
(Credit: James Martin/CNET)

The Nexus 7 will be the first device to run the latest version of the Android 4.1 OS, also known as Jelly Bean. One of the purported new Android 4.1 features is improved precision when typing on the soft keyboard. After taking it out of the box, I wanted to quickly put this to the test. I usually make lots of mistakes while texting, but when signing in to my Google account on the Nexus 7, I was able to type fast without making a single mistake. This rarely happens to me on any touch-screen device.

Though the OS is just as customizable as before, the way it's presented on the tablet by default feels much more controlled, focused, and possibly a bit less intimidating to the uninitiated.

Riptide GP ran smoothly, and, of course, it includes the Tegra 3 splashy effects. I also got a 1080p movie to play on the tablet, and it looks great with that 1,280x800-pixel resolution scrunched to such a small, 7-inch screen. Google says to expect 9 hours of 720p HD video battery life.

So far, I'm impressed with what I've seen. The screen looks great, feels responsive, and the tablet already demonstrates its power well in games and movie performance. That lack of expandable memory or a back camera is a bummer, but it's understandable given the dirt-low price for something that feels very well built.

The Nexus 7 is available now from the Google Play store starting at $199 for the 8GB storage configuration and $249 for 16GB. Units will ship in mid-July. Purchasing from Google Play also gifts you a $25 credit to spend on Google Play media.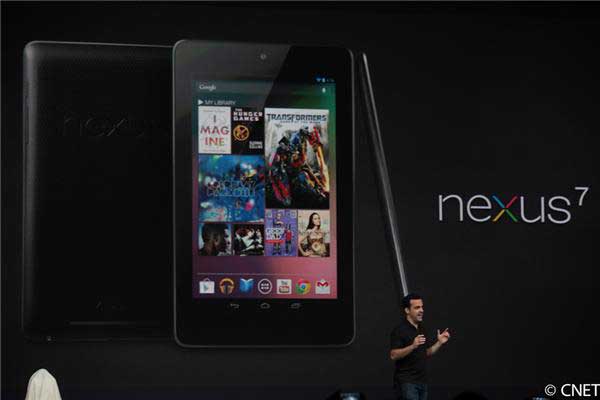 The Nexus 7 at Google I/O.
(Source : news.cnet.com)