---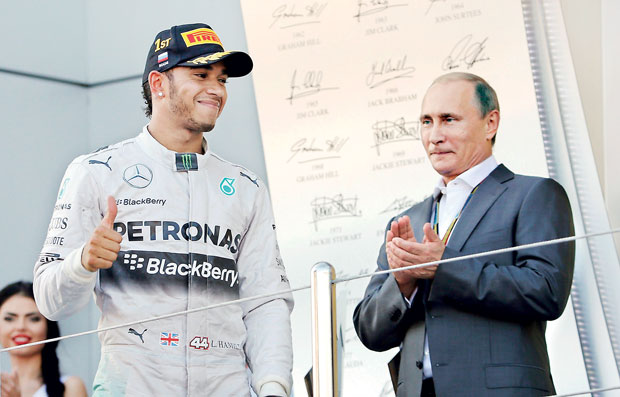 SOCHI, Russia (Reuters) -
Lewis Hamilton won the inaugural Russian Formula One Grand Prix and extended his championship lead to 17 points yesterday in a Mercedes one-two that clinched the team's first constructors' title.
The Briton, who started on pole position, chalked up his fourth win in a row and ninth of the season after German team mate Nico Rosberg locked up at the first corner and damaged his tyres in a costly error.
With 100 points still to be won from the final three races, thanks to double points in Abu Dhabi, Hamilton has 291 points to Rosberg's 274 with everything still to play for.
Hamilton, the 2008 world champion, also became only the fourth driver in F1 history to win nine races in a single season and equalled Nigel Mansell's British record of 31 career victories.
On a warm and sunny afternoon in the Black Sea resort, Rosberg kept himself firmly in contention with a fine recovery drive from 20th place after his second lap pitstop.
"Nico did a great job to return from his mistake," said Hamilton. "To get the first championship for Mercedes Benz is amazing, a beautiful day.
"It's very cool to have won the first race here."
Finland's Valtteri Bottas finished third for Williams, and set the fastest lap, in a race watched by Russian President Vladimir Putin at a circuit snaking around some of the landmark venues from this year's Winter Olympics.Putin also presented the trophies, in what Hamilton described as a 'kind of surreal' moment, with the drivers making sure he had left the podium before spraying the champagne that had lain virtually untouched last weekend following Jules Bianchi's horrific accident in Japan.
The one-two was the ninth of the season for Mercedes, one shy of McLaren's 1988 record, and formally ended Red Bull's run of four titles in a row.
"It will be going just up the road to Brackley and congratulations to Mercedes on what they have achieved this season, they have been phenomenal," said Red Bull principal Christian Horner. "We will be working hard to take the trophy back the 12 miles to us in 12 months' time." Mercedes returned to Formula One with a works team only in 2010, after pulling out in 1955, while the constructors' championship did not exist before 1958.
Before the start, the 21 drivers had stood silently in a circle on the starting grid in a tribute to Bianchi, who remains critically injured, while the Russian national anthem sounded.
The 25-year-old Marussia driver was in all their thoughts following his crash into a recovery tractor at Suzuka and the sport breathed a collective sigh of relief that the race in Russia was uneventful.
While Hamilton had an easy afternoon on the track, others remained haunted by Suzuka.
Marussia entered only one car for the race, keeping Bianchi's in the garage, with Britain's Max Chilton lasting just 10 laps before returning to the pit lane and retiring.
Rosberg, who started alongside Hamilton on the front row, got ahead of his team mate at the start but then locked up and went wide, 'flat spotting' his front tyres in the process.
"It was just a mistake on my side...after that the tyres were just square, vibrating so much. I thought that was it," the German told reporters.