---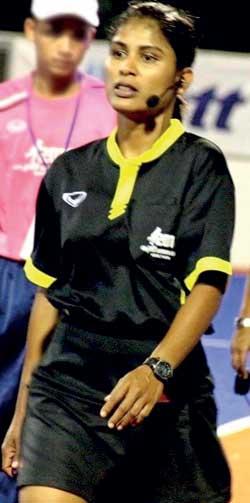 By SusilPremalal
Women's hockey could be developed in the South Asian region if major competitions in the region are held annually or at least once in two years, according to former Sri Lanka captain turned umpire Dinesha Perera.
"Women's hockey has become a popular sport in Sri Lanka and South Asian countries. However, apart from the Asian Championship conducted by AHF (Asian Hockey Federation) and the World Hockey League organized by the International Hockey Federation (FIH), there are no international tournaments for countries in the South Asian region. As a result, it has become a hindrance for the development of women's hockey especially in South Asia," said Perera who achieved the distinction of being the only international women's hockey umpire in Sri Lanka.
An outstanding hockey player from her school days who went onto excel at national level, Perera started her hockey career at the tender age of nine, representing St. Paul's Milagiriya and Sirimavo Bandaranayake Balika Vidyalaya. She was also selected to represent the Combined Colombo Schools team, Sri Lanka Schools team and the Western Province team.

She also captained Colts Cricket Club and the Colombo Hockey Association teams during her playing career, being a regular member of the national team for many years and captained Sri Lanka at the World League Hockey Tournament 2012 held in Kuantan. Malaysia. Significantly at the AHF Cup Hockey Tournament held in 2003 in Singapore, she became the second highest goal scorer of the tournament which paved the way for Sri Lanka to win the silver medal.

A qualified national and international umpire, she successfully completed the Asian Hockey Federation Umpiring course held in Malaysia in 2012. She has officiated in 13 international matches to date in addition to umpiring over 50 local matches. Among the major international competitions she officiated were the AHF Championship in 2016 and 2019 and the Women's World Hockey League in 2016 and 2017. She also officiated at the under 18 Asia Cup Tournament in Bangkok (2011) and Under 21 Asia Cup tournament in Singapore in 2012.

"Women's hockey was introduced as a medal event for the first time at the 2016 South Asian Games (SAG) in India but it was surprisingly axed at the 2019 SAG in Kathmandu," said Perera who successfully completed the AHF Level 1 and Level 2 coaching courses in Malaysia in 2011 and 2013 respectively, being the only woman coach from Sri Lanka to achieve the Level 2 certificate.

"If more tournaments are held annually, women's hockey can be developed and promoted at school, club and national level in South Asia, just like women's football grew with the staging of the SAFF (South Asian Federation Football) women's tournament and age group competitions at under 18 and 16 level which was much looked forward and gave schoolgirls international exposure," pointed out Perera who represented the country at the under 16 Junior Asia Cup, Under 18 AHF Cup as the vice captain and captained the Sri Lanka Under 21 team in 2001.