---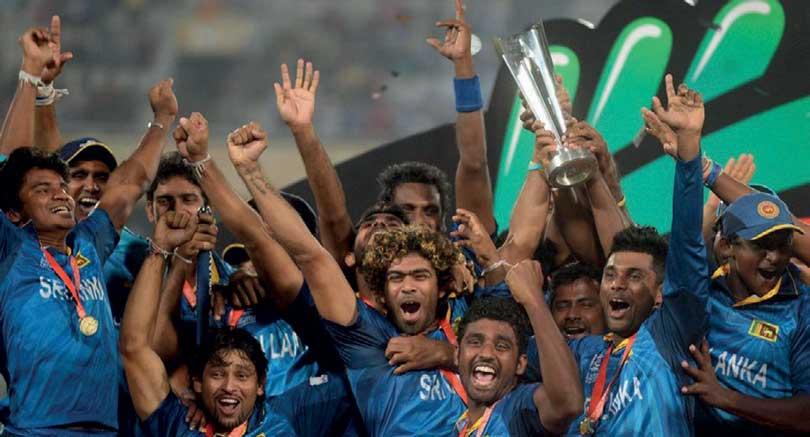 Sri Lanka won the T20 World Cup in 2014
By Amindha de Alwis
The seventh edition of the ICC Men's T20 World Cup is slated to get underway later this year while the global impact of the Covid-19 pandemic has cast uncertainty on whether the event will be conducted as per schedule.
As things stand, Sri Lanka will kick-off their campaign on October 18, a week before most of the other established full-member Nations, as they take part in the First-Round of the tournament – a de-facto qualifier – in order to secure a berth in the Super 12 Round.

Sri Lanka failed to secure automatic qualification to the Super 12s by virtue of being ranked outside of the top eight teams in the ICC T20I Rankings as of December 31, 2018.

The team has since risen to seventh position in the rankings table but will nevertheless be required to compete alongside Bangladesh and the six sides who made it through the ICC T20 World Cup Qualifier held in the UAE last year for the remaining four positions in the Super 12s.

Sri Lanka has been placed in Group 'A' along with Ireland, Oman and Papua New Guinea, while Bangladesh, Scotland, Netherlands and Namibia make up Group 'B', with the top two sides from each group moving forward in the tournament.

While it has been widely deemed an ignominy for a team which was crowned tournament champions a mere two editions ago to have to go through a qualification round in order to join the more heralded teams, the Sri Lankans may see a silver lining to their situation.

With sport around the world grinding to a halt owing to the Covid-19 pandemic, cricket has already seen several international assignments cancelled or postponed and while domestic cricket can be expected to return at some stage, it remains unclear as to the timeframe required for countries to return to engaging in international fixtures.
There remains a very real possibility that, if the T20 World Cup does proceed as scheduled teams would go into the tournament with little to no top-level cricket under their belts in the months preceding the tournament.
In such a scenario where teams are deprived of match practice, the three extra competition games that the teams making it through the First-Round would have played could prove the catalyst for a strong performance over the rest of the tournament.

Additionally, the extra game-time would provide an opportunity for Sri Lanka to get their eye in and adapt to Australian conditions which has historically proved a major hurdle for visiting sides and was recently exhibited in how the Sri Lankan batting unit, in particular, struggled to cope with the extra bounce on offer during their T20I tour to Australia last year where they were comfortably defeated in all three games.

Sri Lanka, however, cannot afford to be complacent lest they slip up against opposition they would not have encountered much of before but with two teams going through from each group (as opposed to only one in the 2016 and 2014 editions), it would require an extraordinarily poor display for Sri Lanka to fail to move forward.
Ireland, an outfit with a history of upsetting fancied sides in major events, will be Sri Lanka's first opposition in what will be the tournament opener at Geelong. The shortest format of the game has historically been Ireland's weakest, but they have shown improvement in recent times; particularly since moving Kevin O'Brien to accompany Paul Stirling at the top of the order in T20Is to form what has been a prolific opening partnership; producing three 100-run stands in just over a year including a 75-ball assault versus the West Indies in January this year that saw them put on 154 for the opening wicket and take Ireland to a win over the T20 World Cup defending champions.
Papua New Guinea will be participating in their first major senior ICC event after having finished runners-up at the global qualifier last year.
The team led by Assad Vala relied more on collective team performances than individual brilliance in their qualification run and are known to be a dynamic unit in the field.

Rounding up Group 'A' are Oman, a team that has made rapid strides in both T20 and 50-over cricket lately, evidenced by them currently occupying the top spot on the ICC's Cricket World Cup League-2 table which is the ICC's second division of ODI cricket.

Oman possess one of the more well-rounded bowling attacks at associate level and their opening bowler, left-arm seamer Bilal Khan, was the leading wicket-taker of the tournament at last year's qualifying event.
At the forefront of Oman's rise has been former Sri Lanka cricketer Duleep Mendis who has been Head Coach of the side since 2012.