---
By Naushad Amit in Nepal
Sri Lanka track and field athletes added four golds to the country's medals tally, with two more coming from wushu and weightlifting, on the fifth day of the 13th South Asian Games at the Darashath Stadium in Kathmandu, Nepal today (05).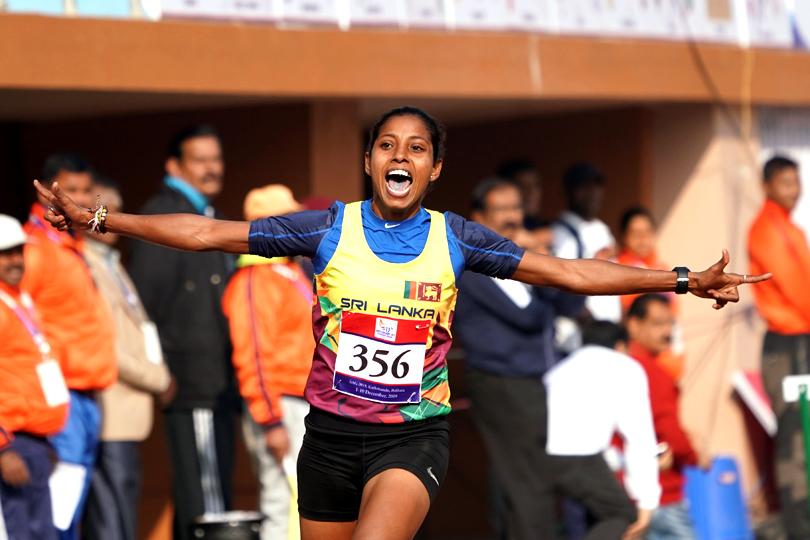 Sri Lanka's medals hopes were further strengthened with another five silver and three bronze medals claimed from shooting, table tennis, tennis, weightlifting and karate.
Sprinters Aruna Darshana and Dilshi Maheesha, hurdler Lakshika Sugandi and triple jumper Hashini Prabodha won gold medals, to put Sri Lanka back on the saddle in track and field events among South Asian nations.
Sri Lanka started off day 5 with a gold medal from Lakshika Sugandi, who edged out India's Aparna Roy to win the Women's 100m Hurdles event. Lakshika won the gold medal with a timing of 13.68 secs, with a quick run in the final few metres to push Roy, who clocked 14.37 secs, to second place.
Sri Lanka had the possibility of claiming a top two finish, as Ireshani Rajasinghe failed to dominate the Indian silver medalist, and claimed the bronze medal clocking 14.18 secs. Rajasinghe, could have easily converted her bronze to a silver or a gold, if not for her brief stoppage at the start.
She later said that it was due to confusion if there was a false start, but after realizing it was not, she continued her run to claim the bronze.
Sri Lanka won three back-to-back gold medals in the Men's 400m, Women's 400m and Women's Triple Jump stealing the limelight, all before noon.
Aruna Darshana, Sri Lanka's favourite and top medal prospect, made a perfect run to claim the gold in the Men's 400m final after clocking 46.69 secs, while Lakmal Priyantha followed in close to claim the silver with the timing of 46.79 secs, underlining the Lankan dominance.
India's K. Jeevan won the bronze medal after finishing the run at 0.47.42 secs.
Sri Lanka claimed another gold in the Women's 400m final, with Dilshi Maheesha dominating the rest of the runners to finish the race in 53.40 secs.
India's Priya Habbanath won the silver medal finishing behind Maheesha with a time of 54.31 secs, while Sahib Asra claimed the bronze medal with a timing of 54.38 secs.
Sri Lanka enjoyed another one-two finish in the Women's Triple Jump event, as the favourite in the event and gold medal hope Vidusha Lakshani was bettered by her compatriot Hashini Prabodha.
Prabodha achieved a jump of 13.21 metres in her third attempt, after failing twice, and the leap was sufficient to give her the gold medal, over Lakshani, who jumped 13.14 metres.
Besides the two Lankan athletes, the other four triple-jumpers failed to hit the 13-metre mark. India's Bharabi Roy, who claimed Bronze, jumped 12.77 metres.
Hurdler Roshan Dhammika and triple jumper Safreen Ahmed added the remaining two Bronze medals for Sri Lanka taking the entire count to nine in athletics on the fifth day.
Dhammika clocked 14.42 secs in the Men's 110m Hurdles to win the Bronze medal, finishing behind Gold winner Muhammad Naeem of Pakistan (0.14.30sec) and India's Surendhar Jayak (0.14.37sec) in a close finish.
Safreen Ahmed gave Sri Lanka a Bronze medal in Men's Triple Jump, with a clearance of 15.95 metres, which he achieved in his fifth attempt.
He was bettered by India's Karthik Unnikri, who won the Gold medal after clearing 16.47 metres and Mohammed Salahudin, also of India, who claimed the Silver with a jump of 16.36 metres.
Wushu
Sri Lanka's Thilini Gunasekara won the Women's Taijijian All-round gold medal with 18.66 points above Nepal's Mina Glan, who claimed the silver medal with 18.44 points. Dipti Das of Bangladesh won the bronze medal with 16.65 points.
Sanju Kumari claimed the bronze medal in Women's Nandao All-round event, after accumulating 14.74 points.
Nepal's Nima Gharti Magar won the gold medal with 18.91 points while the silver medal went to Bangladesh's Morzina Akther, who earned 16.30 points.
Weightlifting
Y. D. I Kumara claimed a gold medal in the Men's 55kg weight category, while the Sri Lanka lifters managed to add three more silver medals today in Pokhara.
The three silver medals were won by Thilanka Palangasinghe, in the Men's 61kg, B.G.D. Hansani in the Women's 49kg and D.M.S. Samarakoon competing in the Men's 45kg categories.
Table Tennis
The Table Tennis men and women teams who won a bronze and silver respectively on Wednesday added three more bronze on Thursday.
The first bronze came for the Men's Doubles via Chameera Ginge and Krishan Wickremaratne.
The second was for the Mix Doubles and the players involved were Udaya Ranasinghe and Ishara Madurangi. Ishara Madurani and Hansani Piyumila were awarded the bronze medal for the Women's Doubles.
Tennis
Despite losing all their matches on Thursday, the Sri Lankan Ladies ended up with silver at the Satabadado Stadum.
In their individual matches Anika Seneviratne and Anjelika Kurera lost their matches.
In the Women's Doubles game Alana Seneviratne and Rukshika Wijesuriya also lost their games but their previous performances were sufficient to end up as the second best in the ladies effort.
Golf
Sri Lanka ladies team improved on their team lead by two strokes on Thursday, courtesy Grace Yatawara (Gross 76), Thuhashini Selvaratman (Gross 80), Tania Minel (Gross 81).
The men's team improved on their first day's score when they were tied with Bangladesh to take a two-stroke lead and appear clear Silver contenders. With two more days of golf Sri Lanka will look to catching up and beat the leaders Nepal in the Men's and maintain their lead in the Ladies competition.
Karate
Karate added two silver medals through T.K.H. Lakmal (Individual) and Male Kumite team.
Akila Harhini Bandara (individual) and Ladies Kumite team won the bronze.
Pistol Shooting
The 25-metre Pistol Shooting women's team comprising Ruwini Abeymanne, Gimhani Kendawela and Amali Kulatunga won the silver medal behind India.
Sri Lanka earlier won the bronze medal in the 50-metre Rifle 3 Position Men's Team event behind Pakistan and Bangladesh.
The men's shooters were Mangala Samarakoon, P.K. Danushka and Y.K. Kodikara.