---
By Naushad Amit in Nepal
Matthew Abeysinghe added another gold medal to his tally as Sri Lanka claimed two silver and five bronze medals on the second day of the swimming competition of the 13th South Asian Games in Satdobato, Kathmandu yesterday (06).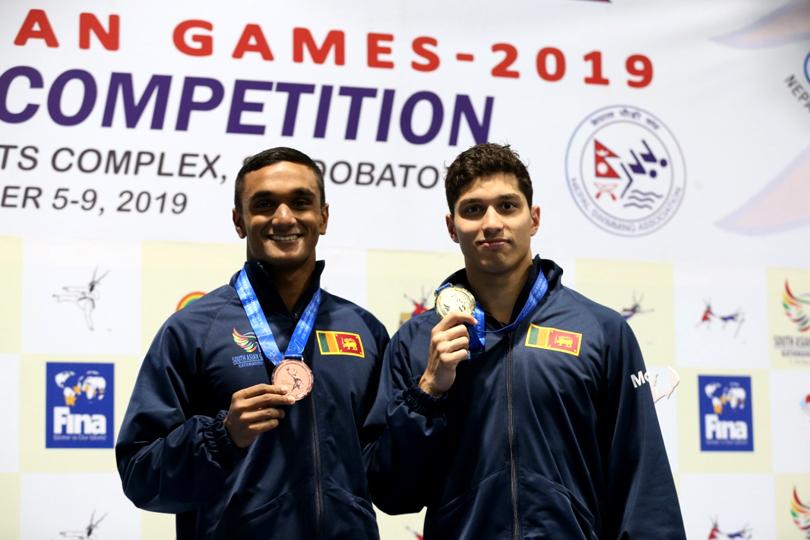 Abeysinghe swam the Men's 50m Freestyle event in a record 22.16 secs, to better the existing Sri Lankan record of 22.65 secs that he set at the Commonwealth Games in Gold Coast, Australia in 2018.
Right behind the Lankan gold medalist, who has nine national records to his name, was India's Virkam Khade who finished with a time of 22.22 secs to win silver. Akalanka Peiris (22.94 secs) won the bronze medal.
Peiris renewed the Sri Lanka record and claimed the silver medal in the Men's 200m Backstroke final clocking 2:01.55 secs, while his team mate Kavindra Nugawela claimed the bronze medal with the timing of 2:05.74 secs. Peiris bettered the record of 2:05.09 secs set by Andrew Abeysinghe at the US Junior Championship in Minneapolis, USA.
India's Srihari Nataraj bagged the gold medal, finishing at 1:59.69 secs.
Dilanka Shehan gave Sri Lanka their second silver medal of the day, by finishing the Men's 1500m Freestyle event in 16:57.12 secs, behind India's gold medalist Kushagra Rawat, who clocked 15:08.83 secs.
Sri Lanka bagged a bronze medal in the Women's 200m Backstroke event, after Ganga Seneviratne completed the race in third at 2:27.25 secs, behind Nepal's Gaurika Singh and India's Rajiv Patel.
Kiran Jaasinghe won a bronze medal in the Men's 100m Breaststroke event, clocking 1:02.84 secs, behind India's Likith Selvaraj and Danush Suresh, who won the gold and silver.
Sri Lanka's fifth bronze medal came from Ramudi Samarakoon, who finished the Women's 100m Breaststroke final at 1:15.17 secs, behind India's Annie Jain and Chahat Arora, who finished milliseconds apart.
As expected Grace Yatawara's golfing ladies became darlings of the 'club sport' by bringing home two golds in the Ladies Individual and the Ladies Team event at the Gorkana Forest Golf Resort.
Yatawara, who broke the course record on day one, maintained her lead over the next three days to give Sri Lanka their first ever gold in Individual Ladies golf, as well as the gold in the Ladies Team event alongside Thuhashini Selvaratnam and Tania Minel Balasuriya. Selvaratnam clinched the Individual bronze.
The men's team had to settle with the bronze in the Team Event.
The Sri Lankan women cricketers beat hosts Nepal by 41 runs at Pokhara and secured a berth in the final against Bangladesh, which will be played on Sunday. Electing to field, Sri Lanka posted 118-7 and confined Nepal to 77-9.
Cyclists won the silver through Dinesha Dilrukshi and Udeshi Kumarasinghe and a bronze from Avishka Madonza.
In fencing Roshan Arachchige won a bronze in Men's Sabre and Ali Saeedudden won a bronze in Men's Epee. J.A.C. Lakmal won a silver medal in the Men's 67kg event, with a total lift of 263 kgs.
He lifted 119 kgs in the snatch and 144 kgs in clean and jerk, while Chinthana Geethal Vidanage won a bronze medal in the Men's 81kg category.