---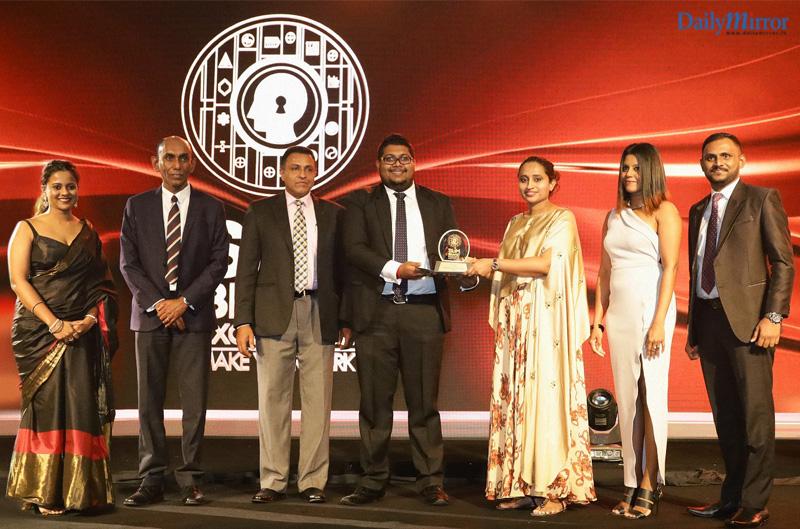 Gayan Kalugamage, Assistant Manager – Mobile Financial Services, Mobitel accepting the Gold Award from Thilanka Abeywardena, Vice President Events, SLIM along with Jayamali Weerahandi – Assistant Manager, Brands, Mobitel (Extreme Left), Rishani Gunaratne – Manager Mobile Financial Services, Mobitel, Shehan Perera – Assistant Manager, Mobile Financial Services, Mobitel.
Reiterating its dominance in the digital payment industry, mCash, Mobitel's mobile money platform, was bestowed with a Gold award under 'Online Brand of the year' at the recently concluded 2019 SLIM Brand Excellence Awards 2019.
SLIM Brand Excellence hails brand champions for their exceptional achievements in innovating brands, which strive to deliver superior convenience through their outstanding marketing efforts. mCash is the industry leader in providing online digital services to infuse greater convenience for its customers, while transforming the way financial transactions are conducted. As a result of the platforms' sheer convenience and consistency, mCash has become one of the most popular mobile financial services platforms in the country.
Celebrating its 6th anniversary last month, mCash has received notable accolades during the year for its innovation and convenience, being anointed the 'Most Popular Electronic Payment Product' - Silver Award, in the FinTech category, at LankaPay Technnovation Awards 2019, Sri Lanka's first and the only annual payment technology innovation awards ceremony. Winning the Gold Award as 'Online Brand of the Year' at the SLIM Brand Excellence Awards for 2019 is yet another feather in its cap.
As Sri Lanka's Biggest Financial Services Retail Network, mCash is forging partnerships with strategic partners to widen its reach to transform the way Sri Lanka conducts its financial transactions. Demonstrating the rising use of digitally-backed products and services in the financial services space, mCash was a pioneer in launching Digital Loans in partnership with LOLC Finance via the mCash platform, the one and only innovative digital financing product in the market where customers can simply apply for a loan through their mobile phones. mCash Digital Loans has already garnered attention from the international finance industry. The International Business Magazine recently recognized and awarded mCash Digital Loan as the 'Best Digital Finance Partnership Sri Lanka' and 'Most Innovative Digital Financing Product Sri Lanka' for 2018.
In an eventful year, mCash further forged partnerships with leading finance and insurance companies such as Merchant Bank of Sri Lanka, HNB Finance and Sri Lanka Insurance Corporation (SLIC) to implement breakthrough innovations for payments and collections. The revolutionary mobile money platform has also entered into a strategic partnership with Visa and Mastercard to further enhance Digital Inclusivity in Sri Lanka.
As a result of these partnerships, mCash customers can now look forward to an array of benefits such as exciting new products and services, while simultaneously expanding mCash's influence as the most versatile and convenient money platform. MCashs' Business to Business (B2B) solutions is transforming business, particularly the mCash Robust Platform, which is empowering sectors such as Banking, Insurance, Finance and Travel to name a few.
mCash facilitates an array of financial services via the mobile phone such as deposits, withdrawals, sending & receiving money, paying utility & institute bills, shopping, online payments, making charitable donations, digital standing orders and robust B2B business solutions. To register for mCash simply dial #111# from your Mobitel phone and to start using the mCash Account, Top Up the mCash account using the mCash extensive retailer network that includes small corner shops to leading retail outlets adding up to 16,000+ touch points island-wide including Mobitel Branches, SLT Teleshops, Singer showrooms, Abans showrooms, Keells Super, Lanka Bell, Amana Banks, Pay&Go Kiosks, Sanasa Development Bank or top up mCash directly from the mCash App by adding your Bank Account or using Commercial Bank, HNB, PABC and Cargills Bank Mobile; Internet Banking facility. mCash rewards customers with popular unbeatable offers during Valentines, Avurudu, Christmas seasons etc. Available at the click of a button, customers can top up their mCash Account digitally using Internet & Mobile Banking Platforms of leading banks.