---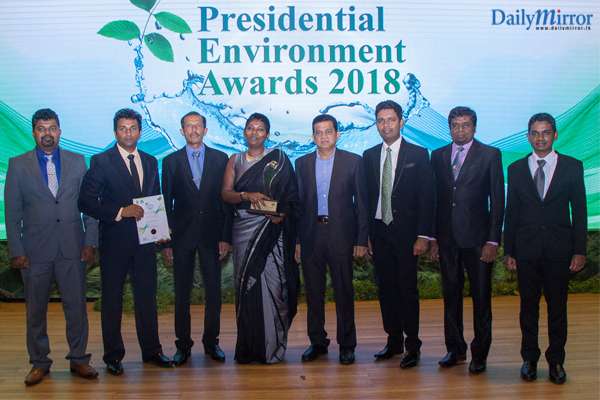 The Unilever Ceytea team with the award
Unilever Sri Lanka's Ceytea Factory was recognized for its contribution towards environmental conservation with a Gold Trophy in the Food and Beverages Industries category at the Presidential Environment Awards 2018.
Located in Agarapathana, the Ceytea Factory is globally the largest supplier of iced tea to the Unilever business.It is a strong proponent of the Unilever Sustainable Living Plan which sets out to decouple the company's growth from its environmental footprint, while increasing its positive social impact.
Embedding sustainability into its day to day supply chain operations, the factory has managed to minimize its impact on the environment over the past 10 years.Bringing its energy and water consumption levels down by 46% and 55% respectively during this period, Ceytea has also cut down on its CO2 emissions by 82%.It has also begun an innovative waste management program in 2018 under which about 70% of the waste generated through the manufacturing process is being used as fuel for its bio-mass boiler and the remaining 30% is being sent to manufacture fertilizers for tea gardens.
Furthermore, the Ceytea team works closely with the Nuwaraeliya Pradeshiya Sabha, the Agarapathana and Dayagama Police and members of the local communityon promoting sustainable waste disposal in the neighboring towns of Dayagama, Agarapathana, Gleinline, Holbrook and Nagasena.The Arunella Waste Management project spearheaded by the factory has achieved the complete elimination of waste being dumped in and around the Kothmala Oya, allowing 20,000 people in the area to begin using the river water again.
Commenting on this, Carl Cruz, Chairman - Unilever Sri Lanka, said, "We are honored to receive a Gold at the Presidential Environment Awards. As laid out in the Unilever Sustainable Living Plan, we seek to make sustainable living more commonplace. Championing this cause, our Ceytea Factory has had a positive impact on the local communities and ecosystem. We are delighted to see these efforts being recognized at this prestigious forum."
Organized by the Central Environmental Authority (CEA), the Presidential Environment Awards seek to reward the individuals, institutions, Organizations, Environmental Journalists and Industrial activities which have made unique contribution to the field of environmental conservation and protection. The forum's main objective is to appreciate the enthusiasm of individuals and organizations towards environmental conservation and protection while sustaining their active involvement in the long run for clean and green production and services.