---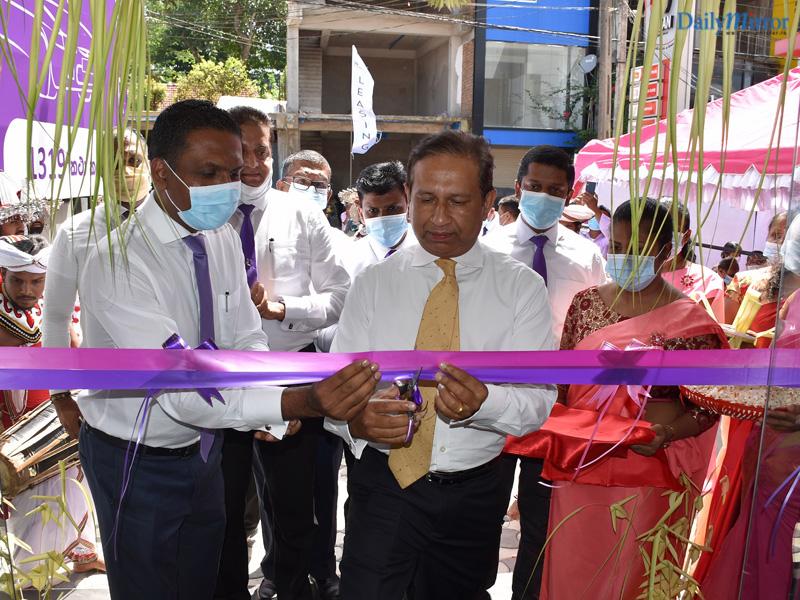 Channa de Silva – Chairman, Sarvodaya Development Finance and Nilantha Jayanetti – CEO, Sarvodaya Development Finance at the opening ceremony of the recently relocated Kamburupitiya branch
Sarvodaya Development Finance, a licensed Finance Company approved by the Central Bank of Sri Lanka, has relocated its Kamburupitiya branch to provide an enhanced service to its valued customers in the area. The new branch is located at #7, Banduwatta, Akuressa Road, Kamburupitiya.

Sri Lanka is widely known as the number one exporter of true cinnamon or Ceylon cinnamon to the global market. While the country's biggest cinnamon farmers are from Kamburupitiya area, the relocation of the branch to its new address will provide these farmers added convenience. The National Cinnamon Research and Training Center (NCR&TC), the only such research station on cinnamon, is also located in the same part of the country. It is responsible for the Research and Development on all aspects of cinnamon cultivation and processing for the benefit of the vital industry.

Sarvodaya Development Finance has built a reputation in the industry for serving areas of the country where low income communities, who are often not served to by other financial institutions, reside in. In keeping with this approach, the company is constantly looking at ways to relocate branches into strategic areas to better serve these customer segments. Sarvodaya Development Finance is proud to be the only financial institution in these less-populated areas and provides a pathway to these communities to access financial services to improve their lives.
Expressing his views, Channa de Silva – Chairman of Sarvodaya Development Finance commented, "Sarvodaya Development Finance has always believed in building a close relationship with our customers and going beyond merely providing financial solutions. We enrich the cinnamon growers' lives not only by providing financial assistance but also by organizing various awareness programmes to educate them on the different aspects of developing their business, such as packaging, marketing and finance. This all-round knowledge, together with our financial solutions, accelerates their growth and sets them on the road to a brighter future."

CEO of Sarvodaya Development Finance Nilantha Jayanetti stated, "This is the latest in a number of branch re-locations carried out by Sarvodaya Development Finance in the recent past. This move is in line with our goal to better serve the underserved communities of the country. Agriculture has been an important part of the country for centuries and there is a great emphasis placed on the importance of agriculture, especially after the recent pandemic situation. As a responsible financial institution, we always prepared to uplift key sectors of the economy by providing financial solutions"

Sarvodaya Development Finance is the development finance arm of the Sarvodaya Movement, one of Sri Lanka's largest and most respected not-for-profit organisations. Sarvodaya Movement is a leading people's organisation in Sri Lanka with a history of 60 years' operating in more than 5,000 villages currently in the country. Guided by the principles of the Sarvodaya Movement, which is based on the value of empowering rural and village communities, Sarvodaya Development Finance has nearly 30 years of committed history in providing development finance services across Sri Lanka, serving through 30 branches and 21 service centers. While remaining in development finance, Sarvodaya Development Finance has now expanded into SME business, leasing and other ancillary finance businesses.