---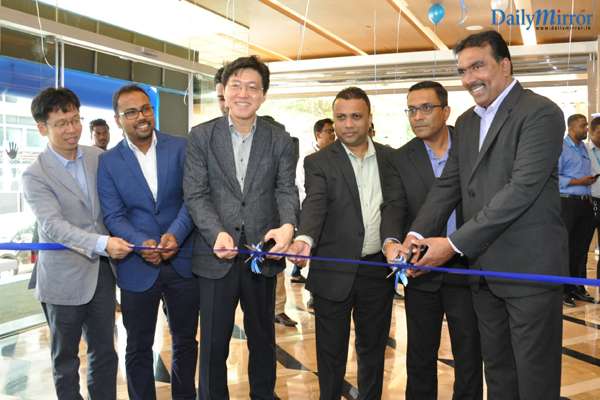 Standing left to right, Yong - Keun Hwang - Director Mobile, Samsung Sri Lanka, Shantha Fernando - General Manager and Head of Mobile Biz, Samsung Sri Lanka, Hanbae Park - Managing Director, Samsung Sri Lanka, Buddhika Ranasinghe - Cost Accountant, Damro, Harsha Wijekoon - Deputy General Manager, Damro Calvin Croner – Director, Damro
Samsung Sri Lanka unveiled the new Samsung Experience Showroom dedicated to mobiles at Marino Mall recently. The Samsung Experience Store offers an entirely new and unprecedented experience for shoppers who will be greeted and guided by friendly and professionally trained staff providing customers an opportunity to get a hands-on experience of the smartphones. Samsung's Galaxy A series of mobile phones, including the newly launched Galaxy A7 and Galaxy Note9 and the full range of Galaxy J Series are available at the Experience Store along with a range of accessories. This is the second Samsung concept store to make its mark at Marino Mall, with the first one dedicated to consumer electronic products which was launched at the Marino Mall earlier this year.
In keeping with this, the newly-launched store will showcase the brand's latest smartphone models and the enhanced features each device offers. The new Samsung Experience Store was opened at Marino Mall in the presence of HanBae Park – Managing Director, Samsung Sri Lanka; Shantha Fernando – GM/Head of Mobile Business, Samsung Sri Lanka; Nalaka Gunathilaka – Director, Damro; Calvin Croner - Director, Damro; Harsha Wijekoon - Deputy General Manager, Damro; and Buddhika Ranasinghe - Cost Accountant, Damro.
Commenting on the occasion, the General Manager and Head of Mobile Business of Samsung Sri Lanka, Shantha Fernando said, "The Samsung Experience Store opening further reinforces our presence in the market and strengthens our position as the market leading smartphone brand in the country. As a lifestyle hub, Marino Mall offers the right ambience and shopper profile who will appreciate the high quality and superlative performance of the recently-launched Samsung high value smartphones. Samsung is proud to partner with one of its national distributors, Damro, the owners of Marino Mall, to explore emerging opportunities."
Samsung continues to expand its customer base by entering into strategic partnerships to develop its distribution network in Sri Lanka. As Sri Lanka's most preferred mobile brand, Samsung has carved out a leadership position for itself in the local smartphone industry. Besides Damro, Samsung's portfolio of authorized distributors includes JKOA, Softlogic, Singer and Singhagiri.