---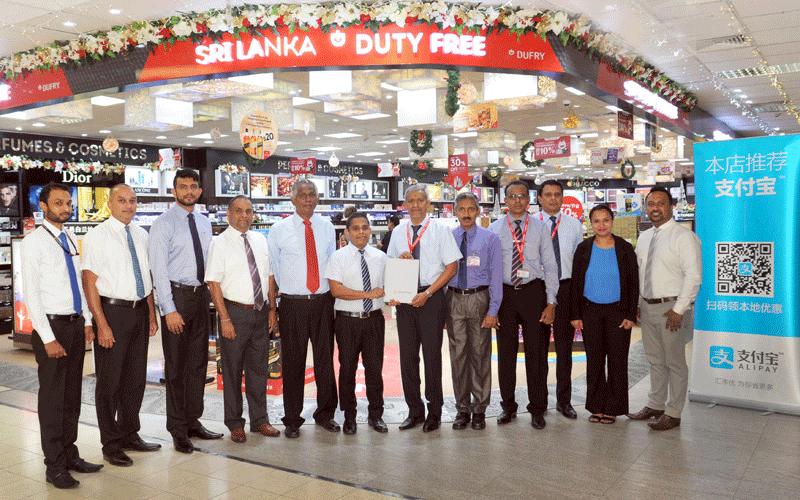 From left: Ayeshan Weerapura (Sampath Bank), Asela De Silva (Sampath Bank), Dilrukshan Hettiarachchi (Interblocks Ltd.), Dushyantha Dassanayake (Sampath Bank), Tissa Nanayakkara (Interblocks Ltd.), Rajendra Ranasinghe (Sampath Bank), Errol Maraes (Dufry Shops Colombo Ltd.), Rajatha Medawewa (Airport and Aviation Services (Sri Lanka) Ltd.), Chaminda Weerathunga (Dufry Shops Colombo Ltd.), Pradeep Wanasinghe (Dufry Shops Colombo Ltd.), Karin Makavitage (Interblocks Ltd.), Saman Liyanage (Interblocks Ltd.)
Sampath Bank announced its partnership with Dufry - Sri Lanka Duty Free on Alipay payment acceptance.
Dufry Duty Free stores located in both the arrival and departure lounges at Bandaranaike International Airport will now be able to accept payments over Alipay, one of the world's largest online and offline payment platforms operated by Ant Financial Services Group.
Dufry - Sri Lanka Duty Free now offers mobile based point-of-sale solutions enabling shoppers to pay via the Alipay mobile app if they wish to do so.
Given the popularity of Alipay in China, the move is set to make the duty free retailer's offer even more appealing to the growing numbers of Chinese tourists visiting Sri Lanka, as well as the Chinese nationals living and working in the country. Chinese shoppers will appreciate the convenience of paying for their duty free purchases over Alipay, a platform that they are accustomed to.
"Sri Lanka is witnessing a steady rise in the number of Chinese nationals travelling to the country for both business and leisure. We are delighted to partner with Sampath Bank and offer these customers the convenience and familiarity of paying through Alipay, a platform they use extensively at home in China - in our duty free stores at Bandaranaike International Airport. We look forward to welcoming them to our stores where they can explore our extensive selection of products from around the world," said Dufry Shops Colombo Ltd Finance Director Errol Moraes.
"As the first bank in the country to have partnered with Alipay, we have seen the payment platform help our merchant partners attract more Chinese customers and grow their business. Connecting Dufry - Sri Lanka Duty Free to the Alipay network, we look forward to seeing their stores at Bandaranaike International Airport, the island's primary air travel gateway, witness similar growth," said Rajendra Ranasinghe Assistant General Manager Inward Remittance/KPO/BNO. "We will continue to work with our partners on making electronic payments more accessible to businesses and consumers around the island."
"Having developed the platform for technical integration and working in partnership with Sampath Bank and introducing Alipay to Sri Lanka, we are excited to welcome Dufry - Sri Lanka Duty Free onboard the Alipay network. Allowing us to offer Chinese travellers the same safe, efficient and convenient payment services that they are used to at home, will help attract more customers to Dufry's shops at Bandaranaike International Airport. We will continue to work with partners like Sampath Bank to take our suite of payment solutions to more businesses and consumers across Sri Lanka." said Interblocks Ltd Managing Director/CEO Dinesh Rodrigo.
Dufry - Sri Lanka Duty Free, the premier duty free stores at Bandaranaike International Airport, Colombo, Sri Lanka are managed by 'Dufry Shops Colombo Limited' which is part of Dufry Group, the world's largest duty free travel retailer headquartered in Basel, Switzerland. Dufry has its presence in 65 countries around the globe including United States, Canada, the UK, Germany, Spain, Switzerland, Sweden, Finland, Brazil, Chile, Russia, Australia, South Korea, China, UAE, Uruguay and now in Sri Lanka, covering all 6 continents with over 2,300 stores.
AliPay is the payment arm of the worldwide ecommerce giant Alibaba. AliPay is one of the largest online payment solutions in China where mobile payments have become the de facto payment option for Chinese nationals, even surpassing usage of cash.
Established in 1987, Sampath Bank has become a state-of-the-art financial institution that continues to be a market leader today thanks to its constant innovation and customer focused approach to business. Its unique tailor-made solutions, superior services and convenience of access have allowed Sampath Bank to further differentiate itself from the competition and stand out as the bank of choice for many in Sri Lanka.