---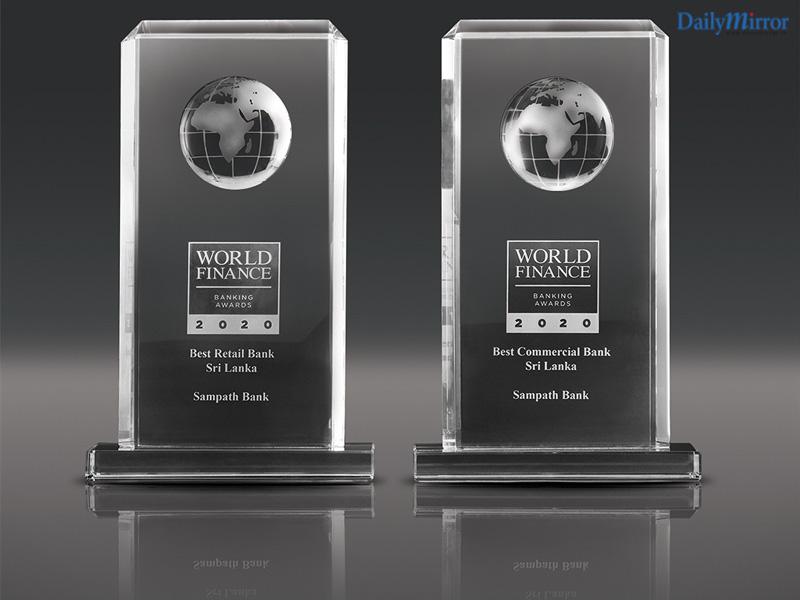 Continuing its winning streak for the 7th consecutive year, Sampath Bank was recognized as Sri Lanka's 'Best Retail Bank' and 'Best Commercial Bank' yet again, at the prestigious World Finance Banking Awards organized by the UK based World Finance magazine.
Sampath Bank is the only Sri Lankan bank to have been recognized at this year's event and the only Bank in the country to have received both these awards every year since 2014.
The two awards from World Finance join an impressive line-up of awards and accolades conferred upon the Bank at some of the most pre-eminent forums in Sri Lanka and around the world. Recently, Sampath Bank was rated Sri Lanka's Most Loved Banking brand in the LMD Brands Annual listing of the country's most loved brands. Such recognitions further underscore the Bank's strong financials including steady profitability growth and healthy liquidity levels as well as its steadfast commitment to customer service and innovation.
"We are honoured to be recognized amongst the world's best banking and financial service providers at the World Finance Banking Awards. We are especially delighted about being the only Sri Lankan bank to win both the 'Best Retail Bank' and 'Best Commercial Bank' awards at this forum, 7 years in a row. Awards such as this give us added impetus to work together as a team and deliver greater value to our customers and all other stakeholders," said Nanda Fernando, Managing Director, Sampath Bank.
The World Finance Banking Award is one of the most respected accolades in the banking and financial services sector, globally. The renowned World Finance magazine has been celebrating achievement, innovation and brilliance since 2007, through these annual awards that recognize banks' excellence across several criteria.
Sampath Bank is a 100% local bank that has deeply rooted itself in the lives of the people of Sri Lanka. Established in 1987, the bank has become a state-of-the-art financial institution that continues to be a market leader today thanks to its constant innovation and customer focused approach to business. It has introduced many firsts to the Sri Lankan banking sector including introducing ATMs to Sri Lanka, extended banking hours and slip-less banking to name a few. As part of its visionary 2020 approach, the bank is steadily transforming itself into a 'tech company engaged in banking,' from the traditional approach of a bank engaged in technology.