---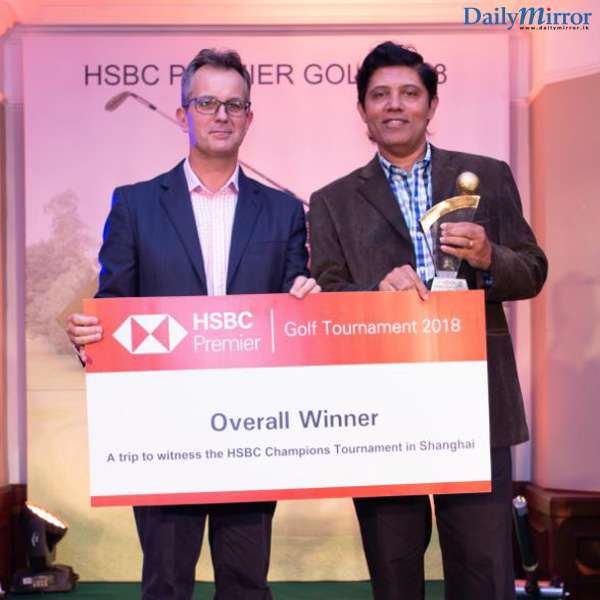 Sachin De Silva became the overall winner of the 6th HSBC Premier Golf Tournament and Olga Ashely Herath was adjudged winner of C, Seniors and Ladies division. They will bothfly to Shanghai to witness the HSBC WGC Champions Golf tournament from 25-28 October 2018.
The popular tournamentheld during the weekend witnessed 94 Premier golfers and their families come together to enjoy a fun-filled day of Golf at thepicturesque Nuwara Eliya Golf Club.
Sachin De Silva became the overall winner totake home the HSBC Premier Challenge Trophy 2018 with a score of 38 points and was also winner of the A&B Divisions. Olga Ashley Herath was adjudged overall winner in the C, Seniors and Ladies Division with a score of 36 points on a B/B9. Priyanga Hapugalle won the B Division with 34 points and Ahalya Rajan won the Ladies Division with 36 points, while Prasanna Gunathileke won the Seniors Division with 32 points.
The two overall winnerswere each presented with fully sponsored hospitality packages to watch the HSBC WGC Champions held in China, an opportunity to seemany top golfers in the world at the Sheshan International Golf course in Shanghai in October.
Expressinghis thoughts on winning the tournament, Sachin De Silva said, "As a first timer playing this amazing tournament, the experience was unreal. It felt great to have won."
Olga Ashley Herath stated, "I feel ecstatic about my win. I was determined to play well but winning the big prize came as a total surprise. It's definitely the icing on the cake. Thank you HSBC for organizing such a comprehensive HSBC Premier Golf event this year and offering a WGC hospitality package which is on every Golfers bucket list."
Ahead of the main tournament, this year too Golfers were invited to play a pre-event 'Swing under the Stars' which brought an element of fun to game and a challenge for players. Rohith Silva, become the ultimate winner of the pre event held on 14 September.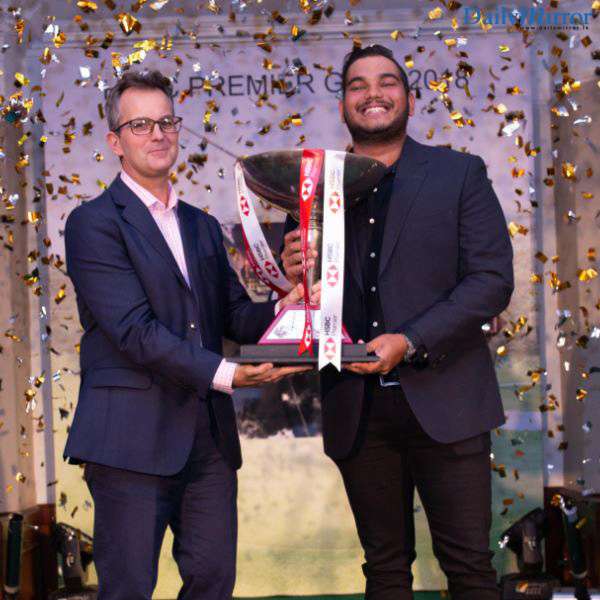 Nadeesha Senaratne, Country Head of Retail Banking and Wealth Management commented, "We were pleased to have completed a very successful tournament in Nuwaraeliya and enjoy the experience with our customers who are avid golfers and enjoy playing Golf as part of their lifestyle. The tournament was equally competitive and exciting and congratulations to both winners, Sachin De Silva andOlga Ashley Herathwho will now enjoy their experience at the WGC HSBC Champions Tournament in Shanghai alongside world-class golfers."
Coining with this year's tournament, customers were treated to exclusive benefits on dining, lodging and travel to make their journey more rewarding. For the first time this year,HSBC also offered non-Golfers the opportunity to celebrate with great deals and experience the magnificent Far East throughout September with a 20% saving on Cathay Pacific to fly to Shanghai or anywhere in the world when they book before 30 November 2018 to fly until February 2019. Special hospitality deals have also been extended to customers to experience a touch of far eastern hospitality here in Sri Lanka with 50% discounts at Shangri-La Golf Resort & Spa Hambantota on B/B until 30 September. Customers can also savour 'Cardholder Dines Free' at the Long Feng – Cinnamon Lake and Toa at the Cinnamon Grand restaurants until 30 September 2018.
The tournament was concluded with an entertainment packed awards ceremony at the Grand Hotel in Nuwara Eliya.
The complete list of winners is as follows:
| | | |
| --- | --- | --- |
| Overall Winner (A&B) | Sachin De Silva | 38 points |
| Overall Winner (C, Seniors & Ladies) | Olga Ashley Herath | 36 points ( BB9) |
| Winner A division | Sachin De Silva | 38 points |
| Winner B division | Priyanga Hapugalle | 34 Points |
| Winner C division | Olga Ashley Herath | 36 Points |
| Winner Seniors | Prasanna Gunathileke | 32 Points |
| Winner Ladies | Ahalya Rajan | 36 Points |
| Runner up A division | Chanaka Perera | 32 Points |
| Runner up B division | Deanath Kulatunge | 29 Points |
| Runner up C division | Radesh Daluwatte | 34 Points |
| Runner up Seniors | Nimal Perera | 28 Points |
| Runner up Ladies | Niloo Jayathileke | 31 Points |
| Winner 'Swing under the Stars' | Rohith Silva | |
| Longest Drive on the 18th | Sachin De Silva | |
| Closest to the Pin on the 13th | Romesh Abeyratne | |
| Best Score on the 3 Hidden Holes | Prasanna Gunathileke | |