---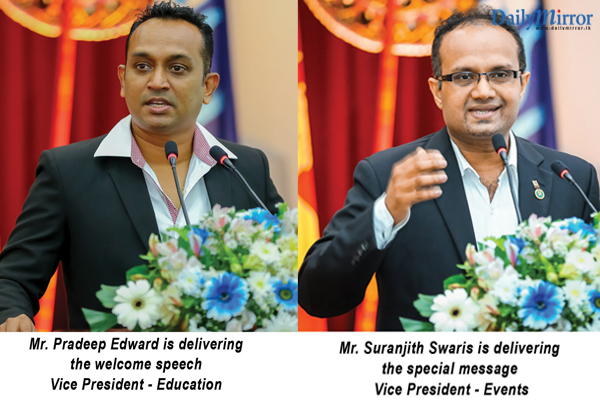 When lookingat the big-picture from a truth-seeking perspective, Marketing could bedescribed as a 'Way of Life'.
The Sri Lanka Institute of Marketing (SLIM),being the national body for Marketing,is the fully-fledgedprofessional body for marketers in the island.Youngsters canconfidently look forward to enrollingwith SLIMon their quest towards becoming vibrant marketers. SLIM - PCM (Preliminary Certificate in Marketing),a three-month certificate programme celebrated its maiden inauguration in 1988 and will celebrate its 30th anniversary in 2018.
The inauguration of the SLIM - PCM programme for 2018 was held on the 13th ofJanuarywith the participation of school leavers, young executives, marketers, entrepreneurs, business fraternity and parents. The programme was themed "Your Future is Secured."
SLIM- PCM opens doors for young executives and school leavers to venture into the fascinating yet philosophical world of Marketing. The basics and fundamental theories of marketing in the PCM curriculum aresuited not only for potential marketers, but also for non-marketers who aspire to better their lifestyles with the knowledge in marketing. PCM students will also be provided with knowledgeregarding the Sri Lankan context in Marketing, which is a vital aspect. The national body for marketing will award them with a valid certificate, which is recognized by the corporate fraternity in Sri Lanka.
Vice President of SLIM, Pradeep Edward, the CEO ofLanka Hospitals Diagnostics (Pvt) Ltd said, "Adaptability and standardization aspects of products and services practiced by the marketing fraternity around the world could be also applicable for an institute. SLIM's area of expertise is its ability and flexibility to groom marketers to suit both Sri Lankan and global contexts"
"PCM lecturers will mentor you onthe practical aspects of marketing and how to secure a career path with the highest growth rate. It is the shortest route to an MBA and PCM lays the foundation for obtaining a Postgraduate Diploma in Marketing (PGDipM). You can also pursue Branding, Digital Marketing and Sales Management. Hence without confining your marketing studies to PCM, move forward", heencouraged.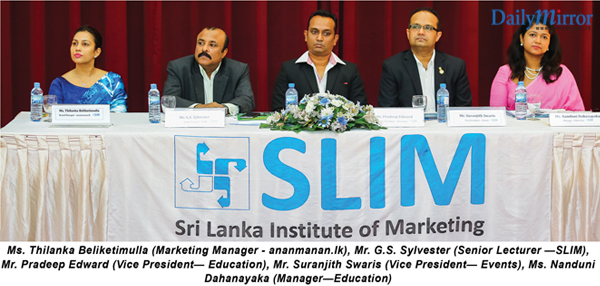 Vice President of SLIM, Suranjith Swarisexagge rated on the fact thatpeople even from non-marketing disciplines and entrepreneurs also follow PCM, as they understand marketing is essential for entrepreneurship and business growth."Marketing is not merely a qualification, but alifestyle. PCM is the first step of the ladder to this captivating world of Marketing. Your target should be to be in the shoes of a Marketing Manager in less than five years", he told the new batch of students".
Senior lecturerof SLIM, marketing consultant, trainer, tutor and the Chairman of theEducation Reforms Committee of SLIM, G. S Sylvester enlightened the commitment and hard work of SLIM lecturers towards the students.
Ms Thilanka Beliketimulla commenced her Marketing studies with SLIM-PCM and at present is the Marketing Manager at MJ Innovations (Pvt) Limited (Ananmanan.lk & Hadakari.com.) said, "After commencing my Marketing studies at SLIM with PCM, I realized the importance ofMarketing for one's career andlife as a whole. PCM motivated me to qualify in Marketing and grow myself to reach what I dreamt for. SLIM is in the process of taking me to the helm of my career life, making me eligible to function as a Marketing Manager in the corporate sector."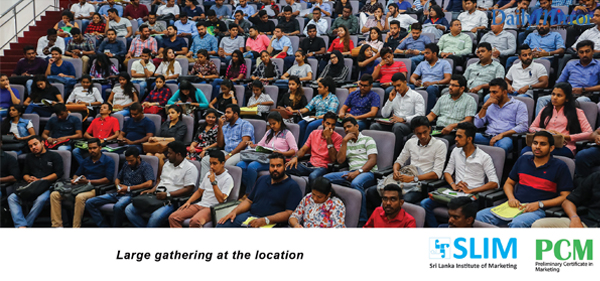 CEO/Executive Director of SLIM, Sanath Senanayake said, "SLIM PCM enjoys wider acceptance and recognition among potential employers as the course has a blend of theory and sense of practical application. SLIM specializes in grooming budding marketers to suit the global contexts. SLIM qualifications are well accepted by the corporate sector due to the credibility of its courses and training programmes. Thus, we contribute to the nation by creating professionals with wealth of knowledge and expertise".