---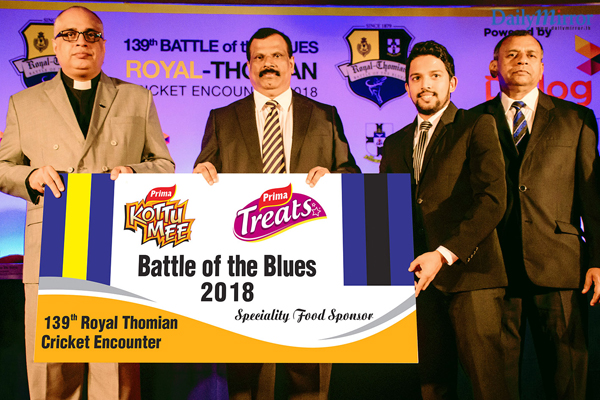 From left : Rev. Fr. Marc Billimoria, Warden, S. Thomas ' College, Mt. Lavinia, B.A Abeyrathna, Principal, Royal College , Colombo, Achala Ramanayake , Brand Manager , Ceylon Agro Industries
As the excitement reaches its peak in anticipation of the 139th Battle of the Blues, Prima KottuMee and Prima Treats prepares to take on the role of Specialty Food Partner for the 12th year running.

The Royal-Thomian Big Match will be played on the 8th, 9th and 10th of March at the SSC Grounds in Colombo, and Prima KottuMee and Prima Treats will be right there supporting the Blues by providing the papare bands and offering a full range of the products available courtesy of both brands. Big Match goers will be able to indulge in Prima KottuMee noodles, marinated chicken, sausages and drumsticks. Whilst spicing up palettes with delicious food, Prima KottuMee and Prima Treats will also be adding color to the event in the form of their vibrant branding that resonates the youthful liveliness and energy the brands embody.

With this initiative, Prima has fuelled big match fever in the country. With two of Prima's most youth-friendly brands in play the Battle of the Blues will most definitely be fun thamai.