---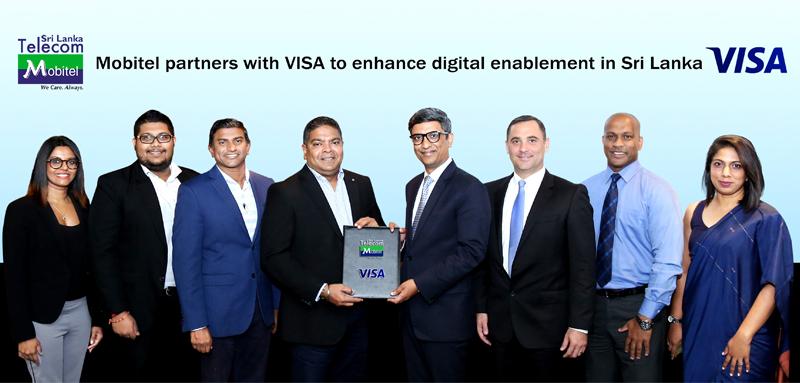 (L to R): Representing Mobitel, Rishani Gunaratne, Manager, Mobile Financial Services, Gayan Kalugamage, Assistant Manager, Mobile Financial Services, Isuru Dissanayake, Senior General Manger, Marketing, Nalin Perera, CEO, Mobitel, T. R. Ramachandran – Group Country Manager, India-South Asia, Anthony Watson, Country Manager Sri Lanka and Maldives, Nalin Dissanayake – Director MS&A Sri Lanka and Maldives, Avanthi Colombage – Director Business Development Sri Lanka and Maldives, representing Visa Worldwide.
Mobitel had forged a dynamic partnership with Visa recently to enhance digital enablement in Sri Lanka via its widely-used mobile money platform, mCash. Mobitel's mCash has revolutionized the mobile money concept in Sri Lanka and continuously introduces innovative features and creates ways in which it can be more inclusive and adapted to customer lifestyles. Sustaining this effort to offer greater benefits to customers, Mobitel's partnership with Visa will enhance mCash usability, allowing customers to experience an array of exciting new products and services. In addition, the partnership will propel the reach of mCash services across its 20,000+ partner network by empowering them with many benefits that will further enhance their digital capabilities to serve customers. mCash facilitates a wide array of financial services via the mobile phone such as Top Ups, Withdrawals, Sending & Receiving Money, Paying Utility & Institute bills, Shopping Payments, Online Payments, making Charitable Donations, Digital Standing Orders and robust B2B Business Solutions.
Commenting on the partnership, Nalin Perera, CEO of Mobitel said, "Delivering unmatched customer services is our priority at all times and we are pleased to forge a partnership with Visa to offer mCash customers innovative and enhanced usability. This cooperation will encourage greater use of digital transactions among millions of users."
Adding further, R. Ramchandran, Country Manager for India and South Asia said, "We are excited to be partnering Mobitel in our efforts to further drive mobile commerce in Sri Lanka. Thanks to this partnership, we look forward to enabling millions of Sri Lankan consumers on the Visa network for a fast, seamless and secure payment experience on their mobile phones."

mCash works in partnership with leading corporates across various sectors in order to make its mobile payment platform available for enhanced convenience and speed in conducting financial transactions. In addition to extending financial inclusion, mCash has redefined the way consumers carry out transactions with the use of a mobile phone. mCash has experienced immense growth over the last few years with a large clientele and growing customer base that continues to expand countrywide.