---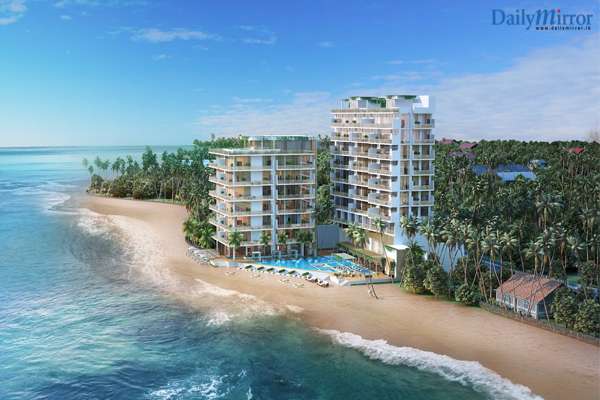 Sri Lanka Sotheby's International Realty is rapidly entrenching its globally recognized real estate sales and marketing credentials in Sri Lanka with the launch of its newest project - Serenia Residences in Talpe, Galle – in partnership with the developer, Serenia Holdings, offering ultra-modern, minimalist beachfront apartments set on 100 metres of virtually private beach in the south of Sri Lanka. This property will be the first such exclusive luxury real estate project which leverages on the global popularity of Sri Lanka's 'golden mile' of beaches. Global buyers are acting fast to invest in these luxury beachfront apartments being marketed by Sri Lanka Sotheby's International Investment, lured by the unparalleled location of the property in close proximity to the Indian Ocean, its luxury design, and the presence of the Sotheby's brand. Investors have the opportunity to invest early in the project as it has just just broken ground and Access Engineering has scheduled for completion in 2020. The Sotheby's brand reflects the ultimate endorsement of luxury that is trusted and respected by affluent consumers who look for a trusted real estate partner while making the significant purchase of an ultra-luxury project in familiar or at times overseas foreign locations.
Serenia Residences is a private collection of an exclusive 47 beachfront residences, every one of which is oriented to uninterrupted ocean views. Along with spectacular ocean panoramas, owners are greeted with an Italian Camagni open-plan kitchen and expansive living area that serves as the home's hearth in the middle of the residence. All bedrooms, fitted with European wardrobes, enjoy unobstructed views of white sandy beaches and ocean. Ensuite bathrooms are lined in Italian tile and anchored by tubs and rain showers. Floor-to-ceiling windows and generous terraces wrapped in glass offer stunning views of Indian Ocean and provide a great outdoor living space, perfect for soaking up the spectacular scenery
Commenting on the property, Charles Phillpot - Sotheby's International Realty, Sri Lanka said, "We are committed to offering global clients diverse types of properties and we are pleased to offer the stunning beachside Serenia Residences that overlook the Indian Ocean, offering one of the best locations that the island of Sri Lanka has to offer. This is truly an investment that offers an international lifestyle, making it the perfect investment and holiday home. We are marketing Serenia across the Sotheby's International Realty network (www.sothebysrealty.com) which currently has more than 22,000 affiliated independent sales associates located in Germany, Australia, Italy and Hong Kong approximately 960 offices in 72 countries and territories worldwide. The property has already been viewed by 1,500 buyers globally."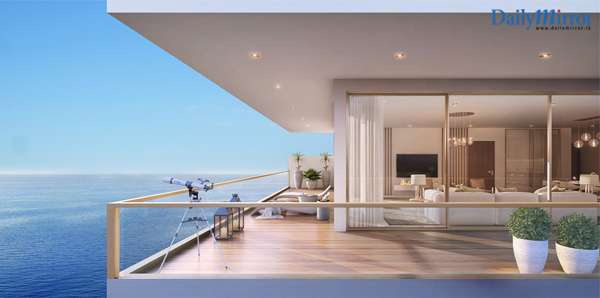 The project has attracted affluent owners and investors - both professionals and business owners - from countries as diverse as UK, Germany, Thailand, Hong Kong, India and Australia, apart from high net worth Sri Lankans, who are thrilled about investing in Serenia, a beachside property on Sri Lanka's famed beaches for endless moments of sun and sand while luxuriating in the ultra-high quality of interiors. Nowhere else in Sri Lanka does beach, culture, cuisine, energy and passion for living coexist so perfectly. In one single day, you can dine on the beach, visit art gallery, surf, shop in boutiques in old colonial city, snorkel with tropical fish, and then come home to escape it all.
This quiet, purely residential community known as the "Million Dollar Golden Mile" comprises of multi-million dollar residences with lush natural landscapes, the life- giving ocean all around and stimulating centres nearby. Talpe is surrounded by all major cultural and touristic locations of southern coast of Sri Lanka. For further enquiries, please email: sales@sereniaholdings.com or call (94) 117 215 215 or (94) 770 88 77 80
Sri Lanka Sotheby's International Realty
Sri Lanka Sotheby's International Realty (Sri.Lanka@sothebysrealty.com) is a partnership between India Sotheby's International Realty and Sri Lanka Sotheby's International Realty. India Sotheby's International Realty has been in existence for the past four years and is now in an expansion mode, opening an office in Kolkata in the near future besides having offices in Mumbai and New Delhi. The India office has partnered with Sri Lanka Sotheby's International Realty to market Sapphire Residences and expresses the confidence that the Sotheby's brand has to flank the natural growth of the region.
Sri Lanka Sotheby's International Realty's team comprises of real estate professionals with extensive experience in international sales and marketing and across diverse sectors of the real estate industry.
The office is located at New Baladaksha Mawatha, Colombo 03, between Taj Samudra and Shangri-La Hotel.
Sri Lanka Sotheby's International Realty is focused on partnering luxury real estate projects in Sri Lanka, preferring to associate with developers from an early stage whereby it can position the project in a unique way that differentiates it and guarantees its success. The real estate expert also undertakes a host of operational, marketing and research oriented initiatives to address the requirements of the Sri Lankan property market. The Sri Lankan real estate laws allow foreigners to own property, which makes it easy for Sri Lanka Sotheby's International Realty to market the project worldwide.
As the preferred website in the world of luxury real estate, the Sotheby's global website is akin in popularity to the Amazon portal, as it offers a wide range of luxury properties from luxury colonial villas to condominiums. Properties are served through search engines on the most influential real estate and media partner portals worldwide and the Sotheby's website cascading platform automatically promotes properties through over 100 affiliate websites.