---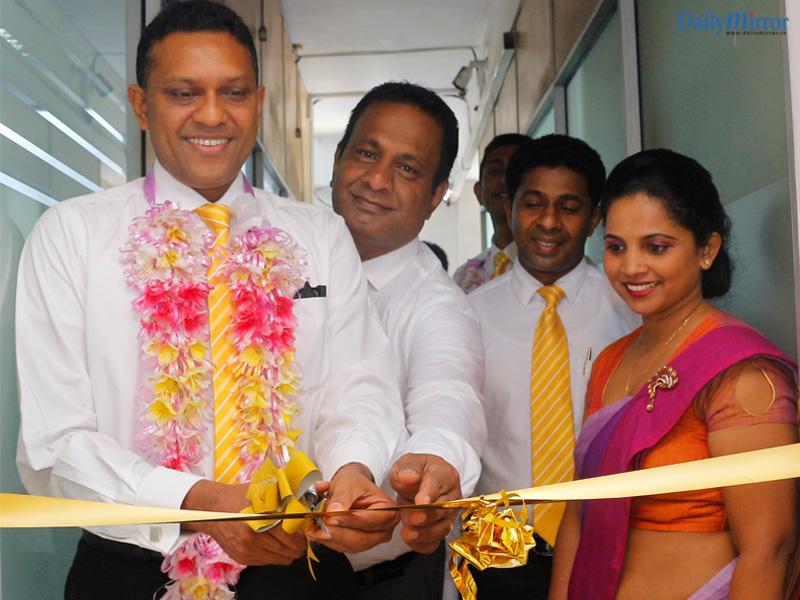 Mr. Jude Fernando, Director / Chief Executive Officer of Janashakthi Insurance PLC (extreme left) opening the new branch.
One of Sri Lanka's foremost Insurers, Janashakthi Insurance PLC, in its continued commitment to delivering service excellence within the Life Insurance industry, recently opened its 50th, innovative Life branch. The newly established Kegalle branch heralded in this important milestone for the Company.
This 50th branch is asignificantlandmark in the Company's journey of establishing a brand new, digitally enabled, dedicated Life branch network across the island. Having returned to its roots as a standalone Life Insurance provider, Janashakthi Life initiated the task of setting up a new and improved network of Life branches last year, with the inauguration of its model branch in Nugegoda. Over the last few months, the Insurer has been steadily continuing on its journey to expand its reach across the island with 73 such digitally-led branches planned in total.
These digitally enabled, customer-friendly new branches are the physical representation of the numerous enhancements the Company has undertaken in its solutions and processes as part of its digitalisation journey. The new branch network was specifically designed to enable the Janashakthi Life sales staff to offer state-of-the-art Insurance solutions to its customers through recently launched digital innovations such as its Advisor Virtual Office (AVO) system.
Speaking on this occasion, Jude Fernando, Director / Chief Executive Officer of Janashakthi Insurance PLC said, "Last year was a year of transformation for the Janashakthi Life brand, where we unveiled a larger organisational strategy covering all aspects of our business including brand, processes, technology, infrastructure, and people. Establishing our dedicated Life branch network is just one important step in this larger organisational strategy, which is aimed to help us become a progressive, future-ready Insurer. As we step into our 25th year in operation, we are thrilled to be able to provide our customers these truly innovative solutions to cater to their evolving lives and needs."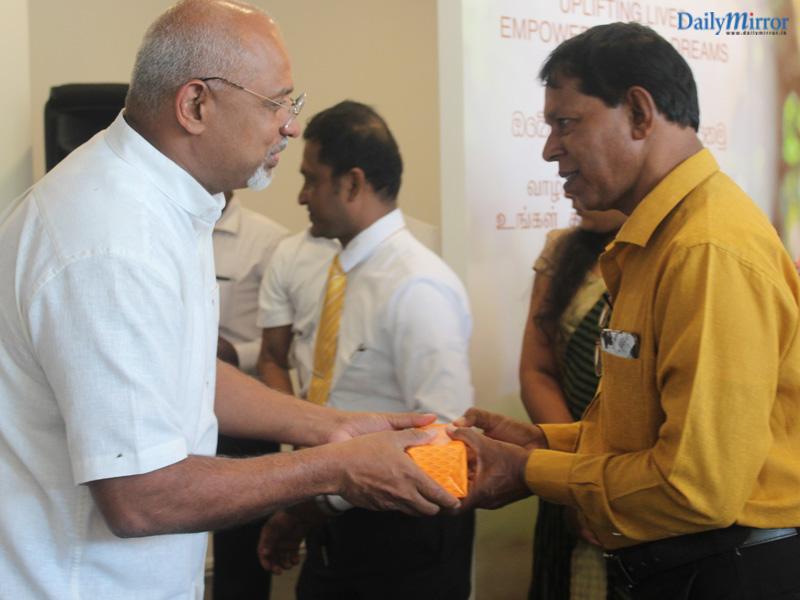 Mr. Prakash Schaffter Chairman of Janashakthi Insurance PLC (Left) handing over a token of appreciation to a customer.
Founded in 1994 as a Life Insurance company, Janashakthi Insurance PLC made its mark in the industry as an innovator and household name over a span of over 24 years. Janashakthi has a strong presence across the island, with an expanding Life Insurance network and a dedicated call centre. In line with its newly launched purpose of uplifting lives and empowering dreams, Janashakthi Life remains committed to becoming a leader in the Life Insurance industry by delivering a service beyond Insurance to its customers and stakeholders. For more information on Janashakthi Life, please visit www.janashakthi.com.