---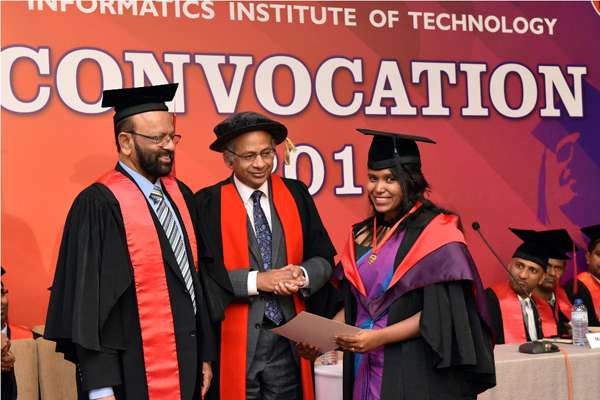 S. A. D. Nimesha Nishadi Ashinshanie receiving the "Dr Gamini Wickramasinghe Gold Medal"
Informatics Institute of Technology (IIT), the pioneer in British higher education in Sri Lanka and the country's premier IT and Business campus, held its first-ever Master of Business Administration (MBA) convocation with Canterbury Christ Church University (CCCU), UK.
Representing the university at the Convocation was Prof. Rama Thirunamachandran - Vice Chancellor and Principal of CCCU while Dulith Herath - CEO Kapruka.com attended as the Chief Guest. During the ceremony, degrees were conferred to students who had successfully completed the MBA of CCCU after which the "Dr. Gamini Wickramasinghe Gold Medal" award for outstanding performance was presented to S. A. D. Nimesha Ashinshanie.
The Canterbury Christ Church University (CCCU) is a modern university with 16,000 students across Kent and Medway. Its courses span a wide range of academic and professional subject areas. The Master of Business Administration (MBA) degree of the CCCU is a postgraduate programme of study that prepares students to develop their career towards a management role by enabling them to address complex problems that face organisations in today's dynamic business environment. Each module gives an in-depth, international perspective that helps the students get a better understanding of the current inter-connected, globalized economy. By successfully completing the programme, students are given the chance to boost their employability credentials and further their careers by earning a world-class postgraduate qualification, without even having to leave the country.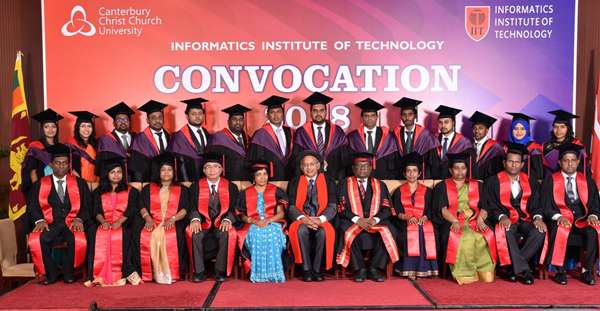 Delivering the Welcome Address at the ceremony, Prof. Jayantha Wijeyaratne - Director of the IIT stated, "IIT is considered as the leading higher education institute in Sri Lanka that offers degrees from highly-reputed universities in UK. Canterbury Christ Church University is one such university. Our collaboration with the Canterbury Christ Church University commenced in 2016 with the offering of this MBA degree programmes. IIT has a proud history extending to nearly three decades. During this period, IIT has endowed more than 3,000 graduates who are doing extremely well in Sri Lanka as well as in many other countries, contributing to the wellbeing of the mankind. This batch of graduates will be added to that flourishing cohort of alumni. I am confident that with the knowledge gained and skills developed by following this degree programme, they will reach the pinnacle in their careers much faster than their contemporaries."
Prof. Rama Thirunamachandran - Vice Chancellor and Principal of CCCU stated, "The graduates who received the degrees and awards are important to the Institute because they have contributed to it and will continue doing so in their work or further study. Graduates will be joining a successful alumni who work in a wide range of industries here in Sri Lanka, and also worldwide. We hope that the Institute has helped them to develop the knowledge and skills to meet the challenges and opportunities presented by whatever path they follow."
Informatics Institute of Technology (IIT) was established in 1990 as the first private higher education institute that awards reputed British degrees in the field of ICT and Business. In addition to the Canterbury Christ Church University (CCCU), UK, IIT offers degree programmes from the Robert Gordon University, UK and the University of Westminster, UK. IIT has played a pivotal role in strengthening the IT and Business sectors in Sri Lanka over the years by producing world-class graduates. These graduates have gone on to become successful entrepreneurs and IT/Business professionals in both local and international corporate and government entities. Since its inception, IIT has produced thousands of graduates who have excelled in over 250 organizations around the globe.