---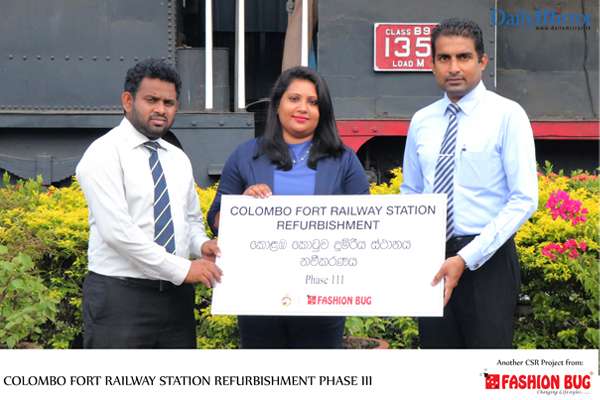 (L-R) Amith Chandana – Marketing Executive of Fashion Bug, Samadhi Abeysinghe – Marketing Manager of Fashion Bug and Champika Nanayakkara – Station Master of Coastal Line, Sri Lanka Railways.
Continuing their promise to be a socially responsible corporate entity, one of Sri Lanka's leading fashion brands, Fashion Bug recently announced the completion of the third phase of refurbishment of the Fort Railway Station. Under the project all the signage and direction boards in the station were renewed and repainted.
The CSR project, which commenced back in 2013 is conducted by the request and with the support of the Sri Lanka Railway Department. Throughout the past years Fashion Bug has been instrumental in maintaining the quality of the signage – an immense help for the commuters who use the public transport daily.
The Fort Railway Station is the main train terminal and the busiest in the country, serving probably thousands of travelers on a daily basis. It is the main stop for both short and long distance trains. With the rise in the use of public transport by tourists in the need to experience the local feel, the number of foreigners patronizing railway stations has also increased. Accurate and clear signage has thus become crucial in any such terminal, and even more so in the main ones.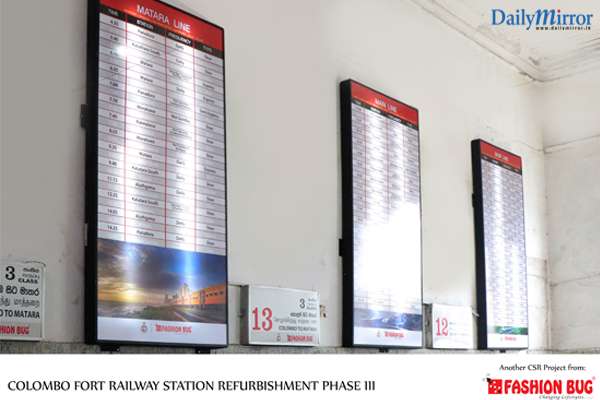 The refurbished boards
Commenting on the completion of the latest stage, Shabier Subian – Director of Fashion Bug said, "Fashion Bug has always placed social responsibility at the core of all our operations. Therefore we allocate a large amount of our funds for the many CSR projects that we are involved in. The refurbishment of the signage at the Fort Railway Station is one of our long standing projects. We humbly rejoice in the fact that we can be of help to all the train passengers. It is also an instance where a private corporate contributes to public service, which is the way forward in building our economy and society as a whole".
Fashion Bug has initiated many social responsibility projects in areas such as sports, education, health and public service. The award winning CSR campaign, Sisu Dirimaga, is a platform established to serve educational needs such as awarding scholarships and conducting career guidance programmes. Over 14000 students have benefited from this programme since inception. Under Sisu Dirimaga, an annual art competition,Roo Siththam, is conducted, which is focused on harnessing young creative talent and attracts over 60,000 entries from all across the island. Apart from the Railway, the Postal and Health sectors have also benefited under the refurbishment projects, thus projecting their vision of 'Changing Lifestyles' in more ways than one.