---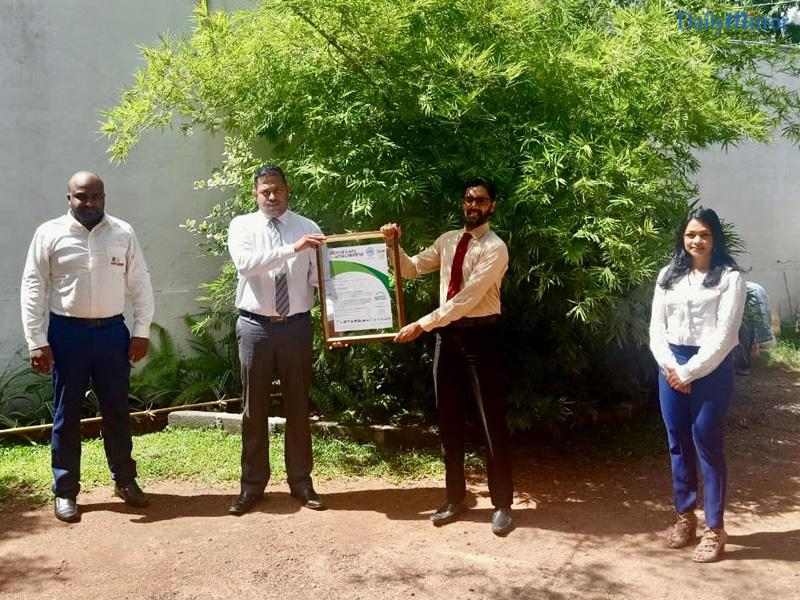 The handing over of the "CarbonNeutral®" certificate; (From left to right): Javaskar Yogarajah- Service Manager Gpc, Exterminators, Travis Ferreira - Director / CEO, Exterminators, Sajeewa Ranasinghe - Asst. Manager - Sustainability Assurance and Advisory Services, CCC and Ruwanthi Halwala - Asst. Manager - Client Relationship Management, CCC.
Renowned Sri Lankan Pest Management Company, The Exterminators (Pvt) Ltd, was recently recertified as "CarbonNeutral®" for the sixth consecutive year. Already equipped with numerous accreditations including ISO 9001, ISO 14001, ISO 45001 and ISO 22000 as well as being Sri Lanka's first Integrated Management System (IMS) certified Pest Control and SME Company, Exterminators was also the industry's first to obtain this globally recognised sustainability certification in the Asian region.

The certification was awarded to Exterminators by Natural Capital Partners in the UK whose CarbonNeutral Protocol underpins the criteria required to be certified as CarbonNeutral®, which is used by over 300 companies in 33 countries to communicate their stance on sustainability. The certification process included an extensive analysis of the company's operational greenhouse gas (GHG) emissions, which was conducted by Sri Lanka's leading Integrated Sustainability Solutions Provider, The Carbon Consulting Company (CCC), and its independent verification was performed by the regional partner of Natural Capital Partners, The Sustainable Future Group (SFG). The final step involved Exterminators supporting a Renewable Energy Project that generates internationally registered Carbon Credits to offset their organisational carbon footprint, which was facilitated by CCC and SFG.
As an environmentally conscious organisation, Exterminators regularly measure, monitor and manage their operational Carbon Footprint, providing them with an industry edge and the ability to implement changes and processes on a regular basis. The company's new sustainability-focused technological solutions include the 'SMART GUARD, dubbed "the world's most advanced termiticide replenishment system"; the 'SMART MISSILE', an organic termite station that was the first in the world to be certified 'CarbonNeutral®'; and the 'PACCP 2000 Model', a preventive integrated pest management system that is designed to significantly increase the effectiveness of pest management, whilst significantly mitigating the impact on non-target species and the environment.

"Maintaining this certification status is an important milestone for our company in the new decade", stated Marlon Ferreira Founder/Managing Director of Exterminators. "We have always strived to combat pests in the greenest possible way, and will continue to do so by providing game-changing pest management solutions in Sri Lanka and the region by designing, developing and articulating environmentally sustainable and health and safety conscious business codes and practices."

The CEO of CCC, Sanith de S Wijeyratne, commended Exterminators' long-term commitment towards monitoring and negating their organisational carbon footprint for the past 6 years. "Exterminators is a prime example of an industry leader in sustainability. By being proactive, they have paved a path for other businesses in the industry to follow toward combating the global crisis of Climate Change by regularly measuring, monitoring, managing and mitigating their carbon emissions, which will also reduce their bottom-lines."

For over 22 years, Exterminators have helped to prevent diseases, control nuisances and protect homes and businesses with pioneering solutions. They have won over 50 national and international awards for business, brand excellence and entrepreneurship as well as three international awards for environmental leadership, best practices and sustainability, and was also nominated by the UK-based Green Organisation as a 'Green World Ambassador' in 2019.