---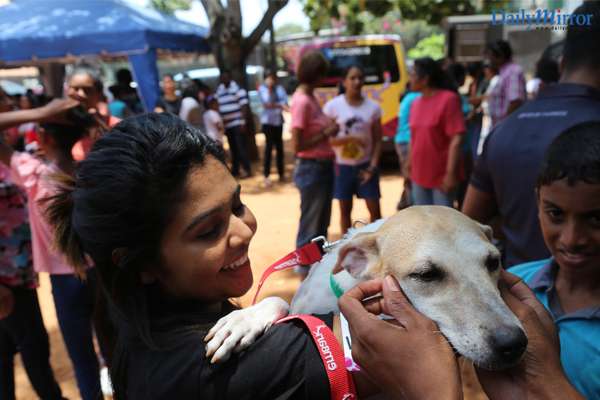 A happy day it was indeed when a 31 homeless street dogs found their forever homes in the loving arms of the kind children and adults who visited Embark's 'Adopt A Dog Day' at Lyceum International School, Nugegoda on the 15th of September. Students from grades 1 to 8 were invited to attend along with their families and friends. The organizers were delighted by the fact that all the puppies and adult dogs who had been put up for adoption found good homes and new families in record time. In fact, Embark ran out of dogs as the demand was so high, but this was just the first adoption day of many more to come at the Lyceum Schools, so everyone who missed out can find their forever friends at future adoption days.
Adoption is the best means to stand against puppy mills and factory-style breeding, which regularly puts profit before animal welfare and often leads to horrendous consequences for the animals involved. By adopting a homeless dog, one helps save a life and gains a loyal companion. Adoption provides a beautiful Sri Lankan street dog, who often has little chance of survival on the streets, with a safe and happy life.
Present at the adoption day were Mr. Mohan Lal Grero, the Founder of Lyceum, Mrs. KumariGrero, the Coordinating Principal of Lyceum, Ms. Otara Gunewardene, the Founder/Director of Embark and Ms. NardhyaGrero, the organizer of the event.
Lyceum's mission to produce global citizens who will reshape the future merged with that of Embark, which is to improve the welfare of street dogs in Sri Lanka while fostering a harmonious existence between people and animals. What was witnessed between the canines and children was love and harmony in the purest form. After all, what better way to ensure a bright future for people and animals than to teach the next generation to love and care for all animals.