---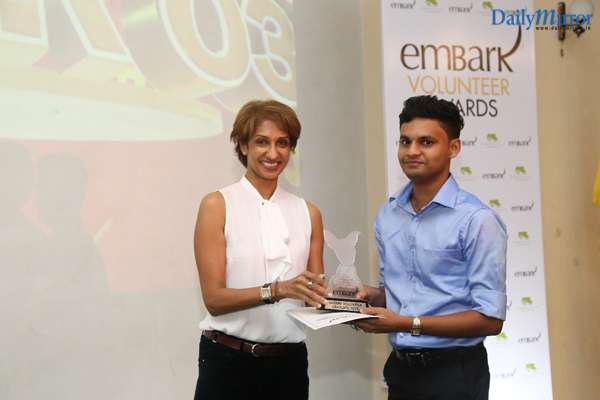 The Embark family gathered together on 17th December at the LakshmanKadirgamar Institute for the Embark Volunteer Awards, in commemoration of its International Volunteers' Day. The purpose of the event was to recognise and honour the loyal volunteers that have dedicated their time and energy to Embark's cause.
Embark is currently supported by 900 active volunteers, engaged in various events and activities conducted by the organization; including adoption days, foster care, CNVR projects, mobile treatments, hospital visits, dog walks, baths and feeding, educational activities, workshops, fundraisers, follow ups on adopted dogs and other operational support.
All volunteers are enrolled in the Embark Volunteer Graduate Program. The program is a multi-tier flexible leadership development program that emphasises and facilitates volunteers registered with Embark. This ensures that volunteers have a comprehensive leadership experience that prepares them to be principled, global-minded leaders, while encouraging compassion towards animals.
The volunteer graduate program consists of three tiers. Each tier advances the volunteers as they increase their volunteer contributions. The Embark Volunteer Awards recognised and honoured volunteers that completed each tier. 45 volunteers completed the 1st tier, while 10 accomplished the 2nd tier. Commendably, 5 volunteers graduated Tier 3 at the award ceremony, namely – Shaun De Hoedt, Nicole Clarke, Akash Sivakumaran, Maleesha Gunawardana and Hashini Guruge.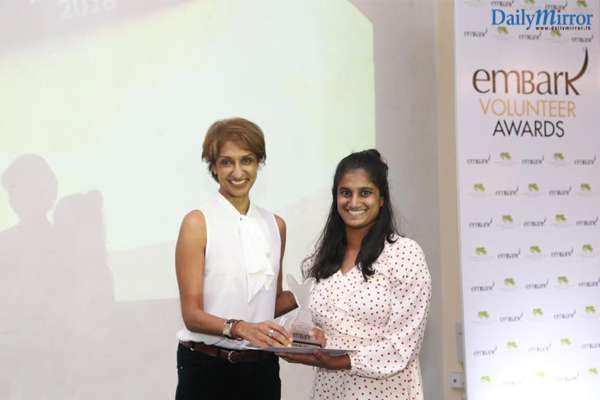 In addition, 6 special awards were presented to volunteers that increased their commitment and travelled an extra mile to contribute to Embark's goal. The Most Passionate Volunteer award was received by Maleesha Gunawardana, while Shaun De Hoedt was acclaimed as Volunteer with the Best Leadership Attributes and LakshikaWeerapura was recognised as the Best Site Leader. Shenal Burkey received the prize for being the Best Foster Volunteer, while the Most Inspiring Volunteer Award went to Carolyn Mathangaweera. Thisal Samarasinghe was rewarded as the Best Team Player.

The graduating volunteers gave a beautiful legacy presentation while the Award ceremony featured a live performance by soloist Amila Amarawardena, who had previously performed at the Embark Open Mic Night.
Addressing the gathering, Founder of Embark, Otara Gunewardene stated, "To the many families we have, I take this opportunity to thank you – not just for adding Embark to your multi-tasking lives but most importantly for teaching your children that every life matters. Because of your commitment to Embark, not only have doggie lives been improved or saved, but your children have practical experience in nurturing the vulnerable, from a young age. Because of you, your children will be an example of compassion and we hope they will continue to give back and pay it forward, just as you have taught them.As I look around this room, I see hope. I see a brighter future, and I see it in the hearts and minds of my team and our volunteers. Today is the day we celebrate your achievements."
The Embark Volunteers' platform is comprehensive. Volunteers contribute toward the work of Embark and the Otara Foundation and in doing so, give back to their country and acknowledge that there are many who care and work for a better Sri Lanka for all beings.