---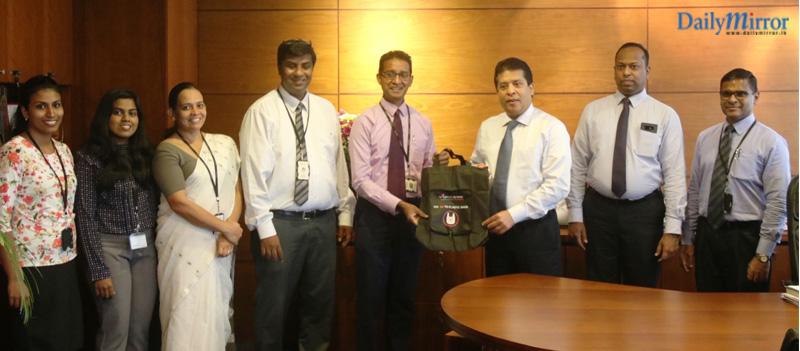 Team Sustainability of DFCC bank presents the Reusable Bag to Mr Lakshman Silva – CEO, DFCC Bank.
DFCC Bank is in tune with its responsibility to the environment, taking the lead in environmental initiatives and continues to embrace sustainable practices. As a Bank that has a strong sustainability agenda embedded in its values, DFCC works closely with its stakeholders to raise awareness about the need to make a tangible contribution. As part of DFCC Bank's commitment to protecting the environment, the Bank will be giving away 10,000 reusable bags to its customers in addition to another 2,000 bags for entire staff in order to commemorate World Environment Day which fell on 5th June. These bags will be given to DFCC customers who deposit funds to new or existing Savings Accounts across 139 branch locations from 06th June onwards, on a first-come first-serve basis until stocks last.
Commenting on this initiative, CEO, Lakshman Silva said, "On the occasion of World Environment Day, DFCC Bank is making a significant contribution to reducing use of plastic bags by donating reusable bags amongst customers and employees. The increasing indiscriminate use of plastic bags has become a global problem. The world uses 5 trillion plastic bags per year or 160,000 plastic bags every second, which go on to pollute our environment. In order to combat the plastic bag menace in Sri Lanka, DFCC Bank is distributing 12,000 reusable bags which are expected to contribute to a reduction of approximately 5 million plastic bags during a period of two years."
The Bank's sustainability initiatives focus on entrepreneur development, education, environment, and emergency relief in line with emerging issues and the Bank's strengths. Protecting and caring for the environment is of paramount importance to DFCC Bank and it engages its staff and community it works with to build a better environment for future generation through initiatives such as beach clean-ups, tree planting for staff birthdays and plastic recycling and e-waste disposal, in addition to promoting reusable bags.
DFCC Bank PLC is a fully fledged commercial bank offering the full gamut of commercial and development banking services. The Chartered Institute of Management Accountants (CIMA) and the International Chamber of Commerce of Sri Lanka (ICCSL) recognized DFCC Bank as one of ten "most admired companies" in Sri Lanka for 2018. The Bank was also ranked No 14, in Business Today's list of Top 30 businesses in Sri Lanka and was placed in the 25th position in Brand Finance Top 100 Most Valuable Brands, 2019. DFCC Bank is rated AA- (lka) by Fitch Ratings Lanka Limited.