---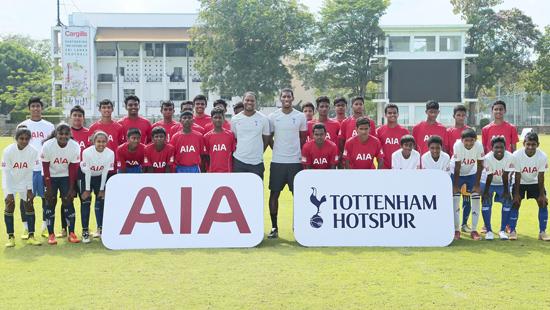 AIA Insurance brought down two of the famous English Premier League team Tottenham Hotspur's coaches to Sri Lanka, to conduct a football workshop in Colombo.
This elite coaching camp was for 50 young and talented football enthusiasts from around the country who were chosen by Papare.com, based on their performance during the Dialog Football National tournament.
The camp was held in partnership with TAFA (Thaabit Ahmed Football Academy), which provided a group of supportive coaches and other necessary ground assistance.
AIA is the Official Shirt Partner of Tottenham Hotspur Football Club which is one of the top-ranked teams in the English Premier League with millions of fans in across Asia.
AIA recognises the vital role that active participation in sport plays in promoting a healthy lifestyle and in conveying the positive values of teamwork, discipline, and sportsmanship, to positively impact on people's lives.