---
Number One and a Blue party politico from Gampaha district, a namesake of Sinhala poet of a bygone era, had the other day arrived for the funeral of Harin's father together in the same vehicle. They were fresh from participating in the Blue party meeting at which they took the final decision to cast their lot with Pohottuwa and back Gota's candidacy.,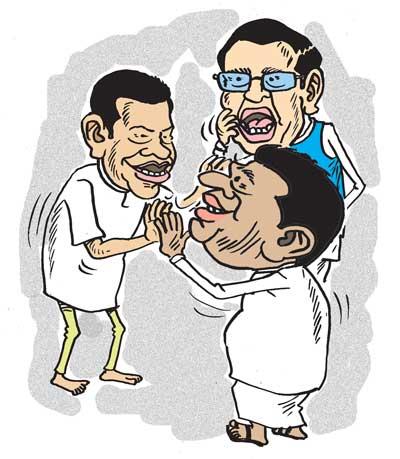 A close loyalist of the former Madam, the Gampaha politico is said to have always held the view that allying with the Elephant was better than teaming up with Pohottuwa though he finally said 'aye' to the Blue party – Pohottuwa marriage.

During the cordial chat they had had at the funeral house, Harin had tried to impress on Number One that the differences that had marred their relations during the Yahapalanaya days were things of the past now and the present environment was quite conducive for the Blues and the Greens to work together once again.

At this discussion, Number One had found to his surprise that the Gampaha politico was lending support to the arguments being adduced by Harin despite the fact that he had given nod to the Blue-Pohottuwa alliance a short while ago.

However, Number One brought the discussion to a sudden end when he rose up saying that time was up for him to leave on a visit to a distant place, they say.