---
Our actor-turned politico was a guest the other day at a party hosted by the lady envoy representing the land of the Stars and Stripes to mark her country's Independence Day.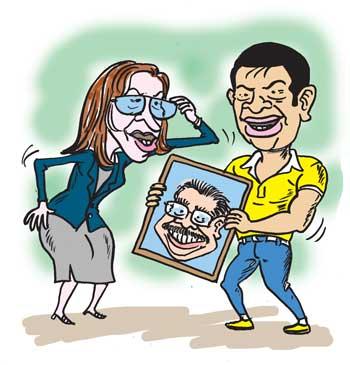 The actor, now a deputy posed a question to the lady envoy when she was chatting with her guests: "Madam, there is a rumour that Gota is going to be Pohottuwa's candidate for the upcoming big poll of ours. But I understand that he is a citizen of your country…Would you mind telling me whether he has already renounced his citizenship of your country?"

The lady envoy was momentarily taken aback as if it was a question that she hardly expected from a guest.

However, being a diplomat, the envoy gave the politico a diplomatic reply: "Honourable Minister, you are making an inquiry about a private matter relating to a third party… If you make an official inquiry about it in writing, I might be able to give a reply…!"

The actor-turned politico once back home had written to the envoy enquiring about the current status pertaining to Gota's citizenship of her country.

All Diyawanna members from both sides are said to be eagerly waiting to hear about the envoy's reply to the politico.

Meanwhile, an opposition member said if the actor received a reply to his letter from the envoy, he would announce its contents to the world at large and if he failed to get a reply he would just keep quiet about it.