---
The Madam now determined to take the crisis-hit Blue party under her charge, has already asked the Blues who have defected to Pohottuwa to return to the ranks. But so far, she has not received a positive response from any of them, they say.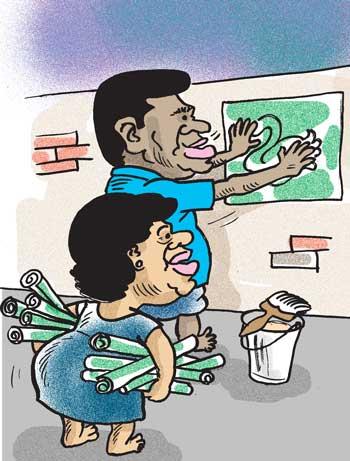 She had initially planned to form a new party with the Blue party loyalists, but on second thought she had decided to formally take over the leadership of the Blue party when the incumbent Number One goes out of office shortly.

Meanwhile, the Kalutara rebel already assured of the secretary post who has also cast his lot with her and some of her loyalists are set to go round the country raising the cry, "We want Madam as our leader!"

They have also planned to run a poster campaign prominently displaying the 'Hand' symbol saying that the Hand is for Punchi Dasa.

They also propose to appear later on the stage at 'Swan' rallies to announce their support for Punchi Dasa.

A Diyawanna Blue of the Gampaha district who half-heartedly defected to Pohottuwa the other day is expected to follow the Madam again, they say.