---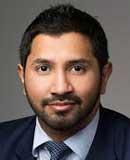 By Aritha Wickramasinghe
Solicitor, England and Wales
Increasing unemployment following the COVID-19 pandemic will create a new class of poor. Governments cannot respond the same way they did following the 2007 Great Recession.
The COVID-19 pandemic has seen the development of an unprecedented health and economic crisis. With nearly two million confirmed cases and 120,000 deaths so far, it is the biggest health disaster in living memory.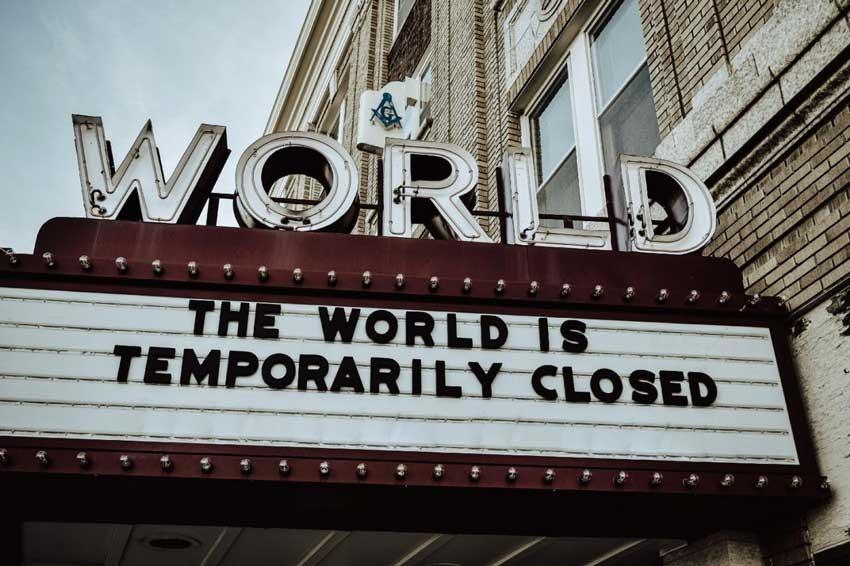 Photo by Edwin Hooper on Unsplash

The Great Lockdown
The last three weeks has seen the world, literally, closed. The global lockdown has forced one third of the planet to stay inside their homes. Never in human history has such a global, coordinated effort of staying indoors ever taken place. This Great Lockdown, will not come without its costs. Unfortunately, its economic fallout will likely overshadow the health costs.

Unemployment on the rise
During the first week of April, unemployment in the U.S. jumped by 6.6 million. Last week, U.S. joblessness increased by another 5.5 million. At the time of writing this story, 22 million Americans were out of work. This is roughly the net number of jobs created over the last decade.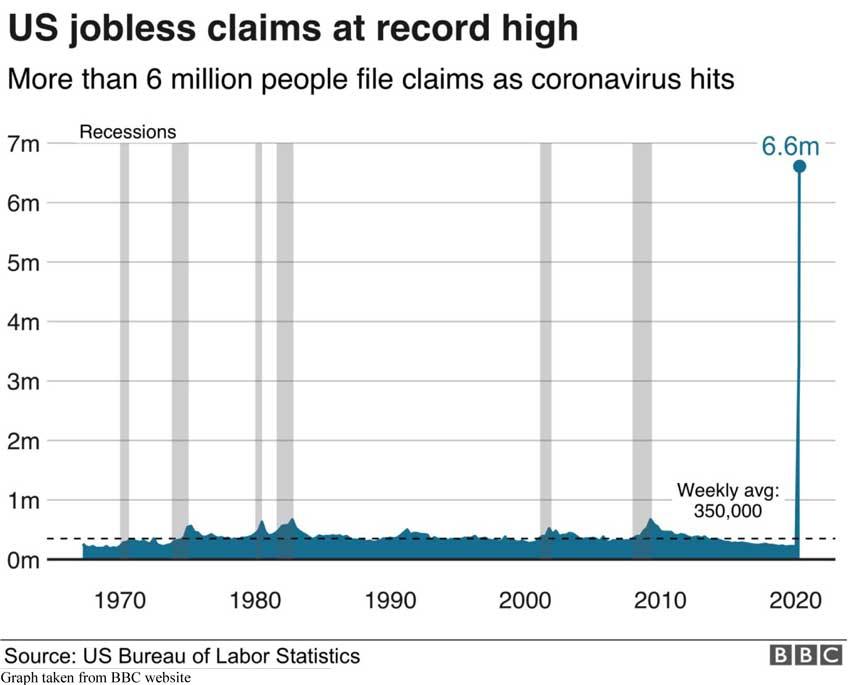 Claudia Sahm, director of macroeconomic policy at the Washington Center for Equitable Growth and former Federal Reserve economist is saying that 30 percent unemployment in the U.S. is "the most likely forecast". In India, unemployment has already hit 23 percent.

The International LabourOrganisation expects COVID-19 to lead to nearly 200 million job losses across the world. This will take global unemployment to almost 400 million or a 12 percent worldwide jobless rate. The last time we saw figures like this was nearly a century ago, during the Great Depression.

With more than one in ten out of work and an expected global economic contraction of up to USD 9 trillion — the world is heading for another depression. One like it has never seen before.

Life during the Great Depression
During the Great Depression, the U.S. saw nearly a quarter of its workforce out of work. In Europe unemployment hit 20 percent. Those lucky enough to keep their jobs saw their wages cut or their hours reduced.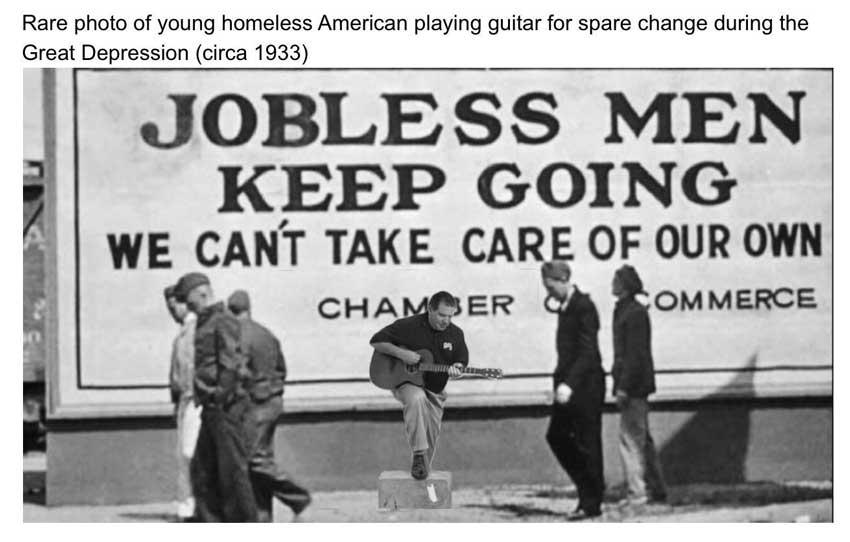 Image taken from Reddit.com


The upper middle class saw their incomes drop by as much as 40 percent. Families who who were used to economic security were suddenly thrown into financial instability or, ruin.

The Great Depression saw the reversal of decades of global economic growth and wealth creation. It created a new class of poor. The Great Lockdown is going to do the same. But, in an unprecedented scale.

The new poor
Phenomenal unemployment and steep wage cuts will push hundreds of millions of people across the world back into poverty.

Even before this crisis, a 2018 study by the Federal Reserve showed that 27 percent of Americans were only US $400 away from financial difficulty. In emerging markets, 60 percent of people are classified as financially struggling.

The 2007 financial crisis, created a new struggling class of zero-hour contract, shared economy and low paid workers. The rise of payday lenders was testimony to the large number of workers who were living pay cheque to pay cheque. The present crisis will push these already vulnerable workers well below the poverty line. But they won't be there alone. Millions of previously middle-class families will soon be joining them too.

Mistakes of the past cannot be repeated
Following the Great Recession of 2007, rescue packages by several Governments were limited to helping big corporations and banks. According to Rosa Pavanelli, General Secretary of Public Services International the consequence of this mistake meant that:

"things got even worse as public budgets bailed out private finance while struggling households and public services took the hit. Corporations cashed in, spending trillions on stock buy-backs and bonuses while avoiding their fair share of taxes. Meanwhile, right-wing extremists took advantage of widespread — and justified — public anger and social alienation to promote false solutions and fear mongering."

Italy — with one of the highest death tolls from this pandemic, saw funding for its health service slashed by nearly EUR 30 billion in the last decade. Britain's NHS saw parts of it sold to private businesses. Its blood plasma supplier, now seen as crucial in the fight against COVID-19, was sold to Bain Capital in 2013 for U.S. $250 million. Bain sold it three years later to a Chinese company for nearly U.S. $1 billion.

The response to 2020 cannot be that of 2007. Tax payer money cannot be used to rescue billionaires at the expense of the struggling family. Trillions of dollars being flushed into financial markets cannot be used to prop up hedge funds and private equity firms at the expense of small and medium enterprises and the self employed. The pockets of public services cannot be slashed to fill the bank accounts of investment bankers.

A New Deal for the New Poor

In 1931, at the height of the Great Depression, President Roosevelt started the New Deal. The programme increased Government spending to build new infrastructure, rebuild depressed towns and create new jobs.

In 2009, in response to the Great Recession, the U.S. Government passed the American Recovery and Reinvestment Actof 2009 ("ARRA"). This programme was, in many ways, a sharp contrast to the New Deal. It also cost much more in adjusted terms.

In 1931, the New Deal cost U.S. $41.7 billion, a figure roughly equivalent to U.S. $653 billion in 2009 dollars. ARRA, on the other hand, cost U.S. $840 billion. However, whereas the New Deal went to fund public infrastructure and livelihoods. ARRA enriched bankers and billionaires. The result was a recovery that was fragile and one that has collapsed under the pressure of a virus.

A New Deal for the new poor, cannot be another ARRA. Also, unlike the 1930s, this New Deal will have to be one for the whole world. The benefit of 2020 as opposed to 1930, is the network of global financial and non-financial institutions that have been painstakingly built over the last century. From the United Nations, World Bank, IMF, Asian Development Bank and World Trade Organisation — the world is resourced with the money, knowledge and infrastructure to recreate the new economic order.

Multilateral institutions are not the only ones with the ability to help the recovery effort. Multinational corporates today, are more networked and resourced than ever before. They are also sitting on unprecedented piles of cash. U.S. big tech companies alone have unspent cash reserves of about U.S. $450 billion. This is readily available money that can be incentivised or compelled to be spent on the recovery.

Help, transform, prepare
This New Deal must have the worker at its core. The flood of money being made available must go towards increased social security for the new poor as its primary recipient during the first phase of the response. The first phase must also see increased spending on health care, education and key Government services. Firstly, to support strained public services and secondly, to prepare for phase two.

In the second phase, money must be diverted to new physical, digital and social infrastructure programmes — to increase employment, encourage innovation and stimulate social transformation; training and re-skilling — to prepare workers for the new economy and create its new entrepreneurs; and, to combat climate change.

This last spending programme may sound out of place. But, it's not. If our world is collapsing at the presence of a virus invisible to the naked eye, we are not going to survive when our planet turns its forces against us. Recovering from this crisis must also include preparing for and mitigating the next one. Climate change will bring about an economic devastation that will overshadow COVID-19. We weren't prepared for this crisis, despite its many warnings. Will we at least be ready for the next?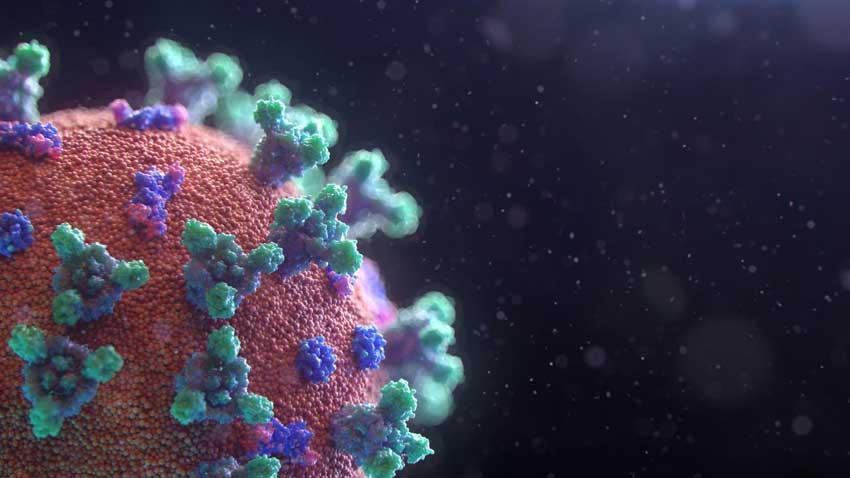 Photo by Fusion Medical Animation on Unsplash

Aritha Wickramasinghe is an international banking and finance lawyer and social rights advocate. He is currently Equality Director of iProbono - a global legal charity. Aritha was, until recently, Head of Legal of the now dissolved National Agency for Public Private Partnerships at the Ministry of Finance. He was also part of the legal team that drafted the Special Economic Zone law for the Colombo Port City. Prior to him joining the public service, Aritha worked in London in the finance teams of the international law firms Clifford Chance and K&L Gates. For his legal work and social advocacy, Aritha was ranked No.1 LGBT Future Leader by the Financial Times in their OUTstanding rankings alongside Facebook Founder Mark Zuckerberg.