---
Dinesh weerakkody speaks about his latest book the Great Novemeber Revolution. The book is scheduled to be released today.

By Shanuka Tissera
Essentially what is the book trying to convey to the public?
This volume unlike the previous 4 books, is a very inspiring account of what I saw that happened between August 7, 2014 and January 9, 2015. Never told before and inscrutably uniamaginable. It highlights the courage of a handful of people who were willing to go beyond their call of duty to bring good governance back into the country.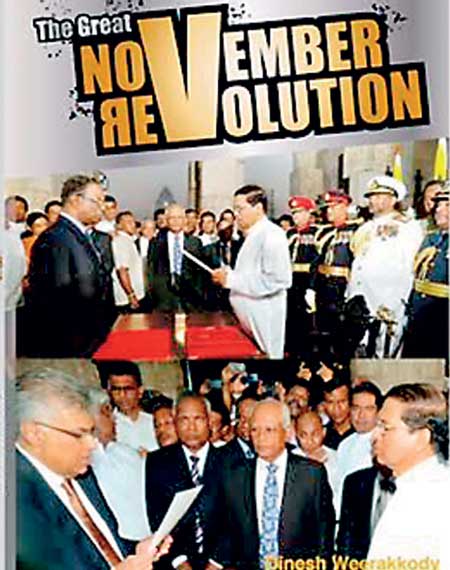 Where do you get your inspiration to write this book?
Since my youth, I have always been greatly inspired by leaders who have demonstrated political maturity and the courage to do what is good for the public and not for themselves.

This current volume has been put together to salute those political and non political heroes who risked their future for the larger interest of society. This is certainly not the full story. This is only my account, therefore no one should get upset with it.


The timing of the book, why not Jan 8 th 2015?
Many people who knew me urged me to put this book together and release it on the 21st of November. It was on the 21st of November 2014, that President Sirisena publicly announced that he was leaving the government. I remember on the 21st of November, 2014 The New York Times had a headline saying suddenly, Sri Lanka Presidential Elections Becomes a Real Contest.


How is the book structured?
The book is around 150+ pages. It is structured into three sections. The first section, which comprises five parts is my account of the silent revolution.
The second section includes Ranil Wickremesinghe's and Maithripala Sirisena's meetings with the private sector before and after the elections and the final section comprises the annexures and the references list that support the story in the book.


How did you get the name for the book?
I would say after reading the great October Revolution. The Maithri inspired revolution happened in November. So, I decided to call it the November revolution. Some said to call it the silent revolution.


In the book, you are fairly dismissive of the effort to bring about electoral reforms?
Well, not dismissive. With out all the major parties in the loop it is just not going to get done.


Was there any US, British or Indian involvement in the revolution and were the meetings held oversees?
Health Minister Dr Rajitha Senaratne, a key figure in the movement has said publicly there was no foreign involvement in the November 21, 2014 crossovers. Furthermore, all their secret meetings took place in Sri Lanka and not abroad.


Have you discussed the role of social media in your book?
Certainly, I have dedicated a chapter for this, because social media played a visible and unprecedented role.


Who do you hope to reach with your book?
Everyone in the country. I hope it will inspire people to get out of their comfort zones and get their leaders to work for them and for the betterment of the country.


Any other objectives?
I am donating all the proceeds to the National Kidney Foundation. So no free books.
(The writer is a freelance journalist, a graduate in Business Administration and works in the financial services industry in the UK)