---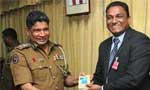 Sri Lanka Telecom (SLT), the nation's number one ICT solutions provider, together with its mobile arm, Mobitel (Pvt.) Ltd, the national mobile service provider in the country, proudly announced that the group has been entered into a tri-party agreement to provide an exclusive total communication solution to the Sri Lanka Police Department, which heads and monitors social security of the country.
The group won the contract after a competitive bidding for the tender was called by the Department of Police, Sri Lanka.The group signed an agreement with the Sri Lanka Police to provide a total fixed and mobile communication solution. It features voice communication facilities including state-of-theart PABX infrastructure with inter branch calling facility and mobile solution at a minimal cost among police stations throughout the island in addition to sophisticated data communication infrastructure that was put in place many years before.Speaking on the significance of the agreement, SLT Group CEO Lalith De Silva said, "This is a momentous occasion for the Sri Lanka Telecom group. As the exclusive service provider to the Sri Lanka Police, we will be providing them with a comprehensive total communication solution covering fixed, mobile and data services.

We have always had very close associations with state institutions and departments such as the Police, since we share the same ideology of providing a service to the nation."Adding further De Silva said, "We believe SLT's communication solution will bring immense freedom to the Sri Lanka Police to concentrate on its core duties that are to do with national interest, especially in establishing a peaceful society in the country irrespective of the ethnic diversity and language towards a connected Police Department a SMART country."

Police Administration Senior Deputy Inspector General Gamini Nawarathna said, "We are extremely pleased to have SLT continue to partner with us and provide assistance, especially as a beneficiary of being powered by the leading communication service provider in the industry. This is part of several projects that we are working on, in terms of further streamlining and upgrading our communication network with the best available technology. This will ensure that we are able to serve the public better in the future."

SLT Chief Enterprise and Wholesale Officer Kiththi Perera commenting on this agreement said, "This agreement is projected to cut down costs whilst increasing productivity, as a direct cost-saving measure for Sri Lanka Police, due to inter-branch voice communication for both fixed and mobile at minimal cost. This will result in cost-effective real-time communications as well as a well-informed Police Department.

It will also make operations smoother by facilitating communication and information sharing among police stations. We give our assurance to all corporates and institutions in Sri Lanka that we will continue to provide the most secure and reliable, data and voice services, which are very much needed for their operations."
In addition to this total communication solution, SLT already supported the introduction of a Closed Circuit Television (CCTV) Surveillance System to strengthen the national security in Colombo City.