---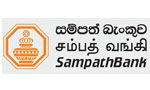 Sampath Bank PLC yesterday said it has decided to go for Rs.7 billion debenture issue with the bank hoping to have it quoted on the Main Board of the Colombo Stock Exchange.To this end, the bank plans to issue 60 million debentures with an option to issue up to a further 10 million in the event of an over subscription at a par value of Rs.100."The funds will be used for general lending purposes," Sampath Bank PLC Group CFO Ranjith Samaranayake said.

The bank had previously issued 5 year debentures of Rs. 1.5 billion and Rs. 5 billion in 2012 and 2013 respectively which had helped improve the group's tier 2 capital adequacy ratio to 14.14 percent last December, which moderated to 13.35 percent this June.Its tier 1 capital adequacy ratio moderated from 10.08 percent to 10.00 percent for the periods respectively.

Pan Asia Banking Corporation recently issued Rs.3 billion debenture with an interest rate of 9.75 percent, while the state's Bank of Ceylon issued a Rs.8 billion debenture with a range of options of around 8 percent interest rates.The issue by Sampath Bank PLC will equal the Rs.10 billion debenture last year by NDB PLC for the largest ever issuance if oversubscribed.