---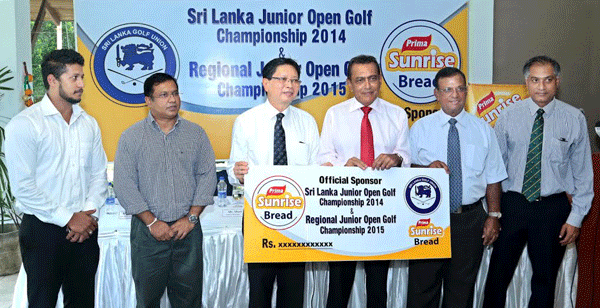 Anuradha Hewage - Brand manager -Prima Sunrise, Sajith Gunarathne - Senior Business & Marketing Manager - Ceylon Agro Industries (Prima Group),Shun Tien Shing - General Manager - Ceylon Agro Industries (Prima Group) )Lal Dias - President Golf Union, Priath Fernando - Vice President - Golf Union, Michael Magala - Captain, RCGC
This year's Sri Lanka Junior Open Golf Championship, sponsored by Prima Sunrise Bread for the seventh consecutive year, will be held from 15 to 17 December at the Royal Colombo Golf Club, morning play. The inaugural Sri Lanka Junior Open was held in 1968 which was won by Miss. Druki Fernando It is the most prestigious tournament for young golfers in Sri Lanka and over 70 players are expected to battle it out for top honours indicating the growing popularity of the sport in the country. It is a tournament that is open to both boys and girls under the age of 18 years and is the most prestigious tournament in the golfing calendar. It is conducted by the Sri Lanka Golf Union who uses it as a platform to identify potential talent to play at national level.

Past champions at this tournament who have achieved professional status are Nandesena Perera and Anura Rohana who also won Silver Medals at the Asian Games, Mithun Perera, winner of the Asia Pacific Golf Championship, Lalith Kumara and Tissa Chandradasa. Also golfers such as Binupa Wijesinghe, Alain Gyi, Ranil Peiris,Rusi Captain have all gone on to become Sri Lanka's top golfers to name a few on the boys side. On the girls side Thuhashi Selvaratnam, Dhinuka Boralessa, Anuk Chanmugam, Niloo Fernando and Dhanushi Senadhira have gone to play at national level. Last year's winner was 18 years old Sachin De Silva of Royal Colombo Golf Club.

This event will be conducted according to the following age groups; 15-17 years (Gold Division), 11-14 years (Silver Division) and 10 years and under (Bronze Division). The overall winner will be declared the Sri Lanka Junior National Golf Champion for the year 2014. Prima Sunrise is the main sponsor of this tournament and will provide nutrition for all players during the tournament. The brand has been committed to building a long term relationship with the SLGU and been a key driver in promoting the sport among youth and uplifting the standard of junior golf in Sri Lanka. The commitment to the development of the sport has been extended to broad base regionally and thus scheduled to sponsor Regional Junior Opens in Kandy and Nuwara Eliya in the coming year 2015.

This year's tournament is likely to see the talents of Lamidu Rainika, Ishira Fernando, Tania Balasuriya, Sathsara Dilshan,Hiruna Siegera, Armand Flamer Caldera, Vinod Weerasinghe, S Flamin, S Praveenraj, Arun Aslam, Mahisha Hirushan and Tienn Kapilasena battling for the top spots.