---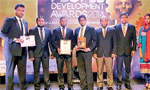 NOLIMIT won the Silver Award in first category at the recently concluded SL I TA D People Development Awards 2014 organised by the Sri Lanka Institute of Training & Development for their efforts in prospering its human capital.

Commenting about the achievement, HR Manager of NOLIMIT Riswan Zawahir said, "The Success of any organisation depends on its people. Understanding t his, we have continuously invested on our people to groom them as well rounded personalities, so that they can execute their tasks efficiently to keep our valuable customers happy. It's worth mentioning that many of our senior managers have been with us ever since NOLIMIT's inception. This award is a sheer token of recognition of our efforts in this area of human capital development."

NOLIMIT started its journey in 1992 and has now grown to be the largest fashion retail chain in Sri Lanka employing over 1800 passionate people; thanks to their trustworthy customers, who has backed them up in their progress over the years.