---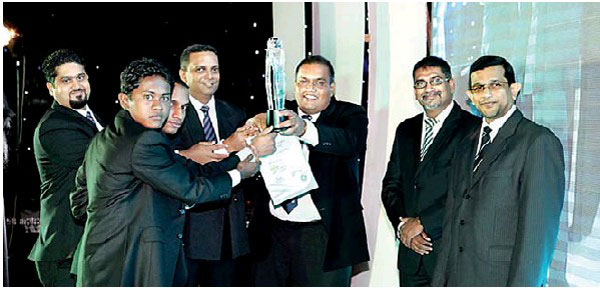 Nippon Paint Lanka, walked off as winners of a Gold award at the recently held National Best Quality Software Awards (NBQSA) 2014.NBQSA, is the national awards competition for best software products in Sri Lanka organized by the Sri Lanka section of the British Computer Society, the Chartered Institute of IT.

Over t he years, t he event itself has grown in recognition and prestige, both locally and internationally. Nippon Paints Sales Force Automation System software "Smart Sales", bagged the award under the in-house application category. The competition was open to twenty one categories overall. Today, NBQSA "Seal of Excellence" is regarded as an acknowledged symbol of achievement, and serves as an effective means to gain international recognition for locally developed ICT products, enabling them to successfully compete in the global market.

"Nippon paints are delighted with the win. This gives us the endorsement that we are the best in the country and we will continue to innovate and give our customers the best possible service," Raja Hewabowala, Managing Director of the Nippon Paint Lanka Pvt. Ltd. said.

"We have been in the market for more than 30 years. Over the years people have experienced the good quality of our product and now we have this worthy appreciation from a national body." "With the implementation of "Smart Sales" we have been able to put together a smooth order processing system and build stronger and better relationships with our dealers. This is a great achievement and we are especially thankful to our IT department for their efforts in improving the way we do business. Our appreciation goes out to the entire Nippon staff as well," Thusitha Premarathna, General Manager of the Nippon Paint Lanka Pvt Ltd. said.

The competition was open to organizations, groups and individuals in Sri Lanka under the theme locally designed and developed ICT products. NBQSA 2014, the 16th Anniversary of the competitionwas held in October 2014, at the Galadari Hotel in Colombo. The competition provides recognition to outstanding achievements of individuals and organizations in the island who have contributed to the development of ICT while creating a window to gain international recognition for locally developed ICT products. Awarded since 1998 under several categories the winners of each category represent Sri Lanka at the Asia Pacific ICT Awards.

Judging panels compromised leading industry and academic professionals in Sri Lanka from diverse disciplines such as IT, engineering, management, accounting, marketing etc. The j udges were appointed on stringent criteria and were briefed on the process to ensure unbiased and objective evaluation as well as strict confidentiality.

Japan based Nippon Paint is the largest paint manufacturer in Asia with 30 companies spread across the Asian region, North America and Europe. Nippon Paint Lanka started operations as a joint venture between Silicon Coatings (Pvt) Ltd and Nippon Paint Singapore. Nippon Paint is also the first and only paint in the country to be recognized as an eco friendly paint product.