---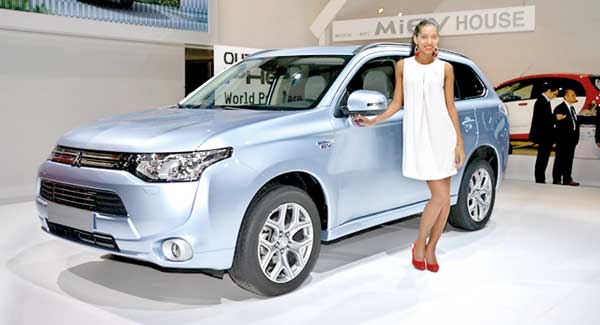 United Motors Lanka PLC (UML), the sole distributor for Mitsubishi vehicles in Sri Lanka launched yet a another ground breaking technology jointly with the tech firm Leap Strategic Concepts.

UML hopes all readers will try the fun and exciting augmented reality experience which is a first of its kind on a local newspaper. Turn to page A7 and follow the instructions. Visit United Motors Lanka PLC on Facebook for more details.

In an era where all industries are exploring the possibilities of protecting nature and driving for sustainable productivity, Mitsubishi Motor Corporation, Japan has taken a giant leap by manufacturing the world's first Plug in Hybrid Electric SUV combines Electric Vehicle (EV) technology nurtured through many years of intense research and development. This concept empowers the vehicle to run in EV mode which ensures clean and highly efficient performance. The PHEV, however, does not solely rely on an electric battery; it contains a gasoline engine which provides propulsion and generates electricity making it not completely reliant on power of the charging facility alone.

The second model launched by UML, is the new gasoline seven-seater Outlander for customers looking to master urban motoring. With its agile handling and spirited response the vehicle puts you in total control. The newly refined Outlander is offered with a host of features and futuristic design. This variant too has been smartly designed to minimize the environmental impact through high fuel efficiency and low CO2 emissions.

The new L200 double cab is built with total agile drivability, comfort, utility, solid toughness and reliability in mind. Mitsubishi Motor Corporation has changed the entire design of the L200 giving it a fresh outlook in terms of its front and rear design. The L200 is built for maximum stability and traction. Its new rugged frame contributes to solid handling and its body is aerodynamically contoured for stable highway performance. The L200 is sturdily built to handle whatever challenges that come your way.

United Motors Lanka PLC is one of the oldest automobile companies in Sri Lanka having been established in 1945. Over the last decade United Motors has been featured amongst the 100 Most Respected Entities and also amongst the top 50 companies by LMD on several occasions. Business Today has listed the company amongst the Top 25 Companies consecutively for two years. United Motors has also been honoured by the Chartered Institute of Accountants as the Winner of the Annual Report for the automotive sector for 7 consecutive years.