---
Etihad Airways has announced a number of schedule changes to the airline's flights between its Abu Dhabi hub and Chicago, New York, and Toronto, which will start on Sunday 29 March 2015.

The move will provide convenient schedule options for Sri Lanka-based passengers, flying from Colombo, via Abu Dhabi to those cities in North America.




The daily EY151 flight to Chicago will move from a 9.30am departure to 3.40am and the three flights a week Toronto service, EY141, will depart at 2.50am rather than the current time 10.25am and will have seamless connectivity to Colombo.


Return flight EY150 from Chicago will arrive in Abu Dhabi at 12.20pm, and EY140 from Toronto will arrive at 12.05pm, which will allow for faster connection times through the hub at a non-peak period for travel to Sri Lanka.


The new schedule will see the return flight from New York, EY102, depart JFK three hours later than it currently does to ensure its arrival in Abu Dhabi to meet the early afternoon departure to Colombo.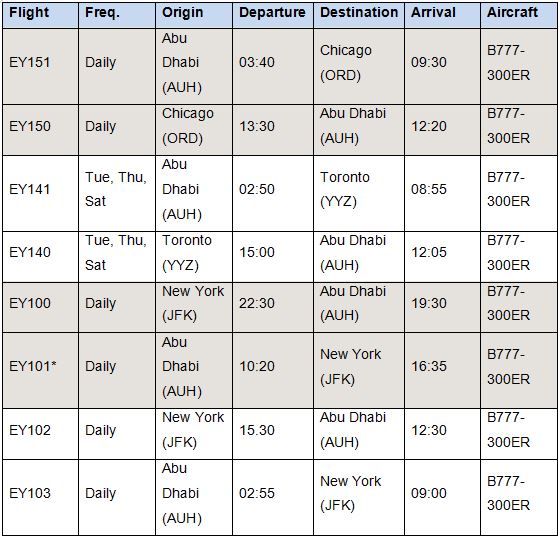 Kevin Knight, Etihad Airways' Chief Strategy and Planning Officer, said: "Demand for travel between the Indian Subcontinent and North America continues to grow year-on-year and we're delighted to change our schedule in order to support this requirement and to increase the travel options for our guests.


"The new schedule will create a more even balance of Etihad Airways' flights to North America across the early morning and mid-morning banks. This will result in fewer passengers transiting through the hub at peak periods and will enhance the customer experience."


Passengers on the retimed outbound Chicago flight will continue to be processed through United States Preclearance at Abu Dhabi Airport, following the recent expansion of the facility's hours of operation to include early morning flights to the US.


US Preclearance allows passengers to conveniently pass through all required checks including US customs, immigration and security while in Abu Dhabi before they board their flight, enabling them to avoid queues on arrival in the US and arrive as domestic passengers.


Passengers on all Etihad Airways flights from Abu Dhabi to the United States, which also includes Dallas-Fort Worth, Los Angeles, San Francisco, New York JFK, and Washington DC, are processed through US preclearance.


The schedule changes for Chicago and Toronto have been made in conjunction with Etihad Airways' key partners, American Airlines and Air Canada in North America, and Jet Airways in India.


The partner airlines will implement new codeshare flights as well as re-accommodate guests who are affected by the new schedule. Etihad Airways began operations in 2003, and in 2013 carried 11.5 million passengers. From its Abu Dhabi base, Etihad Airways flies to 111 existing or announced passenger and cargo destinations in the Middle East, Africa, Europe, Asia, Australia and the Americas. The airline has a fleet of 110 Airbus and Boeing aircraft, and more than 200 aircraft on firm order, including 70 Boeing 787s, 25 Boeing 777-X, 62 Airbus A350s and nine Airbus A380s.


Etihad Airways holds equity investments in airberlin, Air Seychelles, Virgin Australia, Aer Lingus, Air Serbia, Jet Airways and Alitalia, and is in the process of formalising an equity investment in Swiss-based Etihad Regional, operated by Darwin Airline. Etihad Airways, airberlin, Air Serbia, Air Seychelles, Jet Airways and Etihad Regional also participate in Etihad Airways Partners, a new brand that brings together like-minded airlines to offer customers more choice through improved networks and schedules and enhanced frequent flyer benefits.