---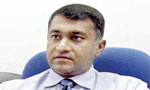 Motha Investments Corporation (Pte.) Limited (MICL) exits from TVS Auto Parts (Pvt.) Limited selling its 35 percent stake in the company to Douglas & Sons Ltd.MICL is a group company of the diversified Queens Group of Companies, headed by the third generation Group Managing Director Dinesh Motha.The Queens group was founded in 1956 by the late C.B. Motha, who was awarded the title MBE, gazetted by the Order of her Majestic the Queen of England in recognition of his efforts made in the field of commerce.

The group's primary focus is marine electronics, aviation electronics, automotive, railway sectors and projects.Today, however, after a strategic synergy and consolidation, MICL has decided to exit the auto component distribution business and sell its stake in TVSAP - a fullyfledged distribution company with an established islandwide dealer network - a joint venture company formed with TVS Group, a leading conglomerate and established industrial group in India since 1911.

It has diversified in the automotive and finance sectors with a turnover of US $ 6.8 billion with over 39000 employees engaged in the manufacturing and the distribution of OE Auto Components with offices Europe and the USA. The other joint venture (JV) partner United Motors PLC is the market leader in brand-new vehicle segment and the sole distributors of Mitsubishi vehicles in Sri Lanka.TVS Auto Parts (Pvt.) Limited is a successful distribution company with established business partners and a dealer network, which would further strengthen and add value to already established lines and dealer network of Douglas & Sons Ltd, which will make them the market leader in this sector.
"We are indeed glad that we had identified a professional company with an established long-standing credibility such as Douglas & Sons Ltd. They are already the market leader i n automotive t yres and batteries, which will make them the market leader in the auto component sector as well. DSL currently has a t urnover of US $ 50 million annually. They are a specialized and well-organised auto components distribution company. This new move would no doubt complement and strengthen their existing product portfolio," said Group Managing Director Dinesh Motha.