---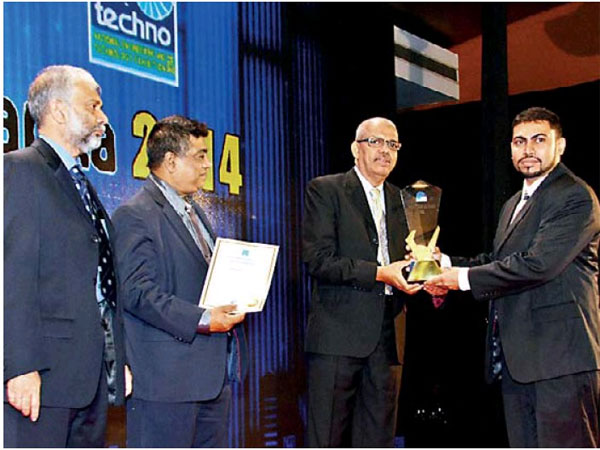 The National Mobile Service Provider Mobitel was honoured for the eight consecutive year at the Annual Techno Sri Lanka 2014 Awards night where it bagged two prestigious Gold awards for 'Product with Highest Social Impact' and 'Best Demonstration' for the year.Techno Sri Lanka 2014 - The National Engineering and Technology Exhibition organized by the prestigious Institute of Engineers Sri Lanka (IESL) was held for the 29th consecutive year at BMICH recently.

Over the years, the flagship event became a strong platform for engineering organizations, engineers, undergraduates, students, innovators, entrepreneurs, relevant government institutions and the public at large to network and share new ideas, innovations while strengthening links to facilitate and promote technological advancements, engineering resource potential and business opportunities. The annual exhibition is increasingly visited each year due to the diverse and attractive features that have been showcased each year.Mobitel, with its vibrant stall themed 'Connected Home' portrayed smart living through its latest technologies such as Internet of Things (IoT) with many other innovative, diversified and informative product demonstrations that grabbed the primary focus of the participants at TECHNO 2014.

The stall filled with many specially designed product demo stations and kiosks focused on providing hands-on experience and the easy understanding of complex technologies. Mobitel NFC Solutions, mTrack – GPS Tracking, mGate – access control, mEvent – live event broadcast, Fuel Sensor, mCallCentre – Mobile Call Centre, mHome – smart Home, mJournalist – live media broadcast were among the top products and solutions demonstrated at the stall.
Mobitel has maintained a track record for value innovation and customer centricity via a multitude of service offerings in education, healthcare, insurance, tourism, transportation and other areas.By infusing ICT in each area of development and progress, Mobitel intends to spearhead the country towards a futuristic Sri Lanka that embraces ICT to further push toward a technologically and hence economically developed Sri Lanka.